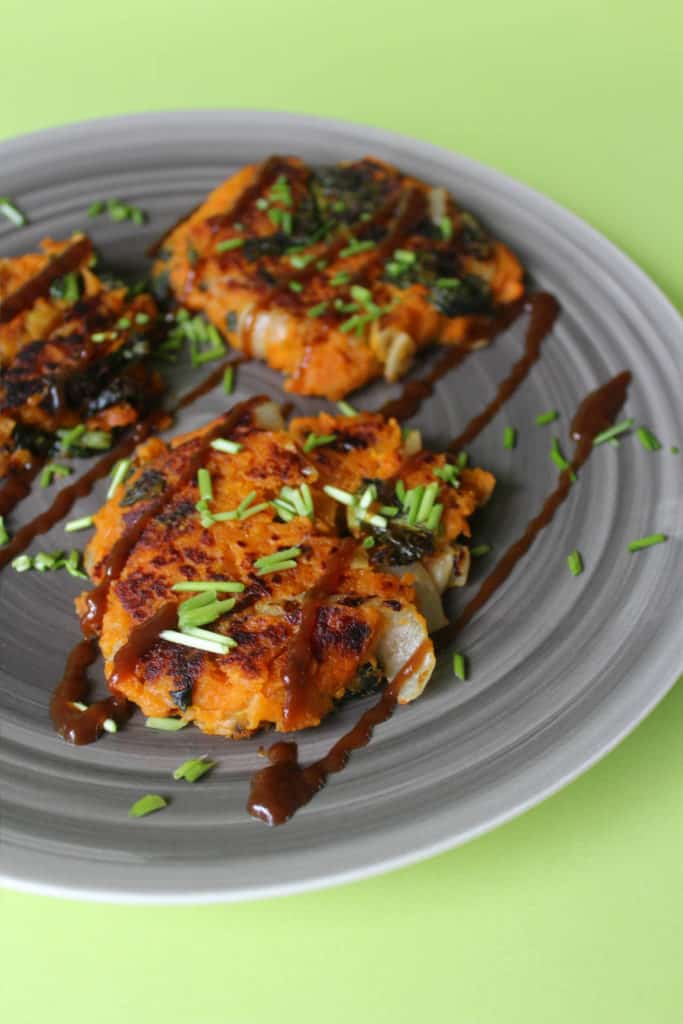 Using sweet potatoes is an awesome twist on the traditional bubble and squeak recipe. They crisp beautifully in the pan, developing a sweet, slightly smoky crust.
Bubble and squeak is a simple recipe for using up leftovers. and can be adapted in many ways. Traditionally it's made with vegetables leftover from Sunday lunch. Boiled and roasted vegetables get mixed up, seasoned, then fried slowly to form a crisp, golden crust with a soft inside.
The choice of vegetables is flexible, but most recipes rely on mashed white potato. It's used to form much of the dish and sticks everything together. This recipe doesn't use any white potato, instead it uses roasted vegetables that have been mashed up – either by hand, or with a food processor.
The example recipe calls for 1 kg of sweet potato, but you can easily replace some or all of this with other roasted vegetables you have available. Just add them at the food processor step.
Some good strong cabbage creates a bold contrast to the roasted vegetables. Cavolo Nero is awesome, but brussels sprouts would be excellent too.
As for garnish, if you have some, chives are perfect. Tangy and fresh, they're an excellent addition to vegan food. They've already found their way in to my chive scones and mushroom & leek tofu omelette.
Sweet Potato Bubble & Squeak
Sweet potatoes add a new twist to this easy British classic. Garnish with some fresh chives for a delicious breakfast or a light meal. Recipe from veganrecipebowl.com
Ingredients
1

kg

sweet potato

(peeled and roughly diced into 3cm cubes)

1

large

onion

(peeled and finely diced)

100

g

cavolo Nero cabbage

(cut into thin strips)

1

tablespoon

sunflower oil + extra as needed to grease pan

salt and pepper

(to taste)
To garnish
2

tablespoons

fresh chives

(finely diced)

brown sauce
Instructions
Preheat oven (200 °C, Fan 180 °C, 400 °F, Gas 6).

Spread out the sweet potato chunks on trays and bake in the oven for 60 minutes – or until they can be easily sliced in half. While they're still warm from baking, mash them in a large bowl until they're starting to break down and form a sticky mixture (alternatively, use a food processor).

Heat a large, non-stick frying pan. Add the oil and onion, stirring and cooking for a couple of minutes until translucent. Add this to the mashed vegetables.

Put the cavolo nero and a few tablespoons of water into the hot frying pan and cook for a couple of minutes until softened, then add it to the mashed vegetables.

Stir thoroughly to distribute the additions.

Season the mixture generously with salt and pepper. Once cooled enough to handle, use your hands to squeeze and press everything together, mixing it up and forming a sticky mass. Divide into eight balls and press these flat to form fritters.

Fry the fritters in batches in a preheated, well greased pan until golden, flipping over half way to cook the other side. A low heat and long slow cooking brings out the best flavour and crisp crust, but keep a close eye on these as they can brown fast. Serve hot and fresh, garnished with some chives and brown sauce.