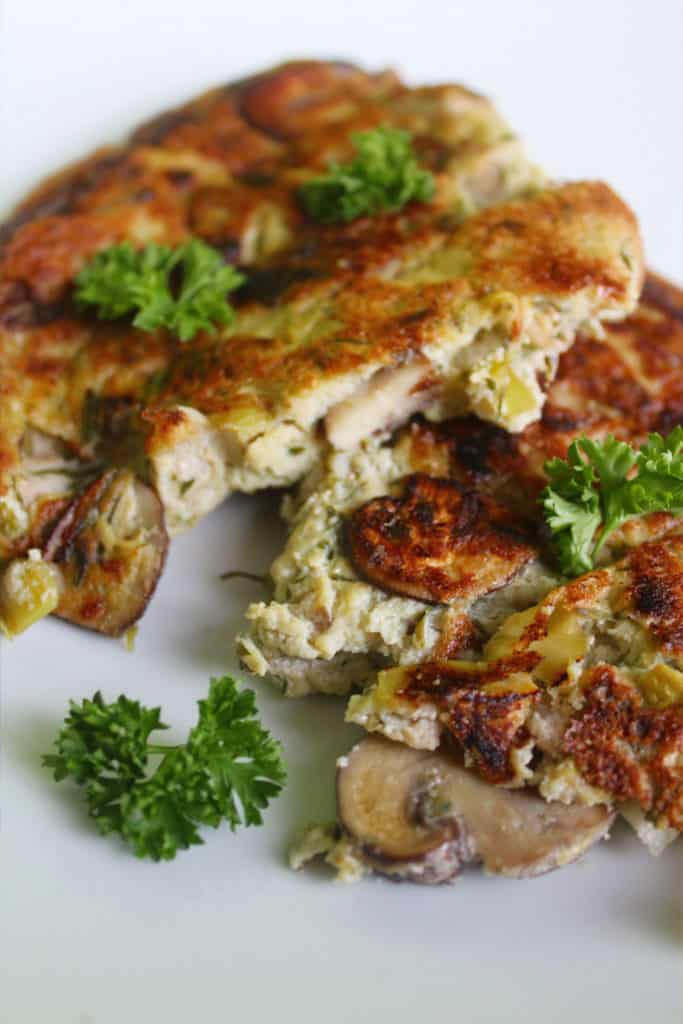 This post contains affiliate links, which means if you purchase something through my link, I will earn a small commission. This does not affect the price you pay for the item. I only advertise products that I have used myself and would genuinely recommend!
Easy to make and protein-packed, this tofu omelette is filled with soft, umami-rich mushrooms, juicy sautéed leeks and fresh chives.
Replacing eggs is a major goal for this site. So far I've been replacing eggs in cakes, breads and batters – but what about recipes that use lots of eggs, like omelettes? I haven't made any recipes like this yet. And for good reason.
Taking out the eggs isn't trivial. An omelette in it's simplest form is nothing but eggs and a pinch of salt and pepper. So that leaves … a pinch of salt and pepper?!
So the experimenting and research began. There's a good variety of recipes out there using chickpea flour, and others using silken tofu. Plenty of cooking methods too.
I eventually mixed together tofu and chickpea flour. The two seem to compliment well. Of the cooking method I tried, one that closely resembles Spanish frittata proved best. The key difference between my method and frittata is placing a lid on the pan so the omelette steams while it cooks. This initial cooking with a lid is crucial because it allows the omelette to puff up a little and set while staying soft inside.
It's easily repeatable too. Bringing the right ingredients, ratios and method together makes excellent tofu omelettes time after time.
Flavouring tofu omelettes
But aside from the browned surface – which is seriously delicious – tofu is inherently lacking flavour. Its light flavour is often presented as a downside of tofu, but it's actually a huge strength. Like any light flavour ingredient, it's versatile and the right flavours can bring it to life in diverse ways.
For this recipe I had in mind a field mushroom style omelette with fresh herbs and mild, juicy leeks.
It's a delicious combination, and pan frying – allowing for staggered additions and quick changes in temperature – is a great opportunity to cook ingredients differently at each step and bring out distinct flavours we want.
First the leeks go to a hot pan for a quick sauté, cooking them fast so they get some flavourful browning on their surface while staying tangy and fresh inside. Then the mushrooms and garlic go in to the pan, cooking them gently now to make them soft and juicy. Then tip everything in to the tofu-chickpea flour batter (mushroom juices too!) mix, and return to the pan to cook.
Choosing a good frying pan
This recipe is suited to a 28-30 cm frying pan. Since you won't be able to move the omelette around during cooking, a thick base that helps smooth the heat out is best.
Quality pans make a real difference in the kitchen. My favourite pans by far are Meyer Circulon. Their thick, solid bases deliver even heat, and their non-stick coatings just keep going.
As for the future of replacing eggs in recipes like this, I'm feeling more confident in general. I'm also looking at other potential uses for the batter.
I love this flavour combination, but it certainly won't be the only omelette recipe I create! The basic tofu omelette batter is highly customisable.
Early experiments with the tofu/chickpea flour/soy milk ratios created some surprising textures – including some that strongly resembled soufflé. We'll see how that goes … but for now, enjoy some omelettes!
Mushroom & Leek Tofu Omelette
Easy to make and protein-packed, this tofu omelette is filled with soft, umami-rich mushrooms, juicy sautéed leeks and fresh chives. Recipe from veganrecipebowl.com
Ingredients
Omelette Batter
349

g

silken tofu

75

g

soy milk

(unsweetened and unflavoured)

50

g

chickpea flour

(aka gram flour)

1/8th

teaspoon

salt

small bunch

fresh chives

(around 20-30g)
Filling
2

tablespoons

olive oil

175

g

leeks

(white and light green section only, sliced)

black pepper

(few good grinds)

250

g

mushrooms

(sliced)

2

cloves

garlic

(minced)
Instructions
Place all of the omelette batter ingredients – excluding the chives – into a food processor or blender and process until smooth. Add the chives and pulse until they're roughly chopped and mixed throughout. Set mixture aside.

Heat a 28 cm frying pan over medium heat. Once hot, add 2 tablespoons olive oil, leeks and a few good grinds of black pepper. Sauté quickly until the leeks are soft and their surfaces have browned in places. The more browning the more rich, savoury flavours are created. I tend to cook until 1/4 of the leeks' surface are browned. When you're happy with the leeks, add the mushrooms and garlic, frying with regular stirring until the mushrooms are soft and juicy. Tip everything in to the omelette batter and stir through until the filling is completely coated.

Return frying pan to the heat. Once hot, brush with 1 tablespoon olive oil, then pour in the omelette mixture and level out it's surface. Place a lid on the pan and cook on a medium-low heat for around 10 minutes until the underside is golden brown (just carefully lift the edge to check!). Place the omelette under a hot grill until it's surface is set and lightly browned.

Turn out, allow to cool a little – the flavours come through best when warm rather than hot – then serve. Crusty wholegrain breads or salad make a great addition to this omelette.
Notes
Tofu omelettes do not keep well, so cook and serve immediately.