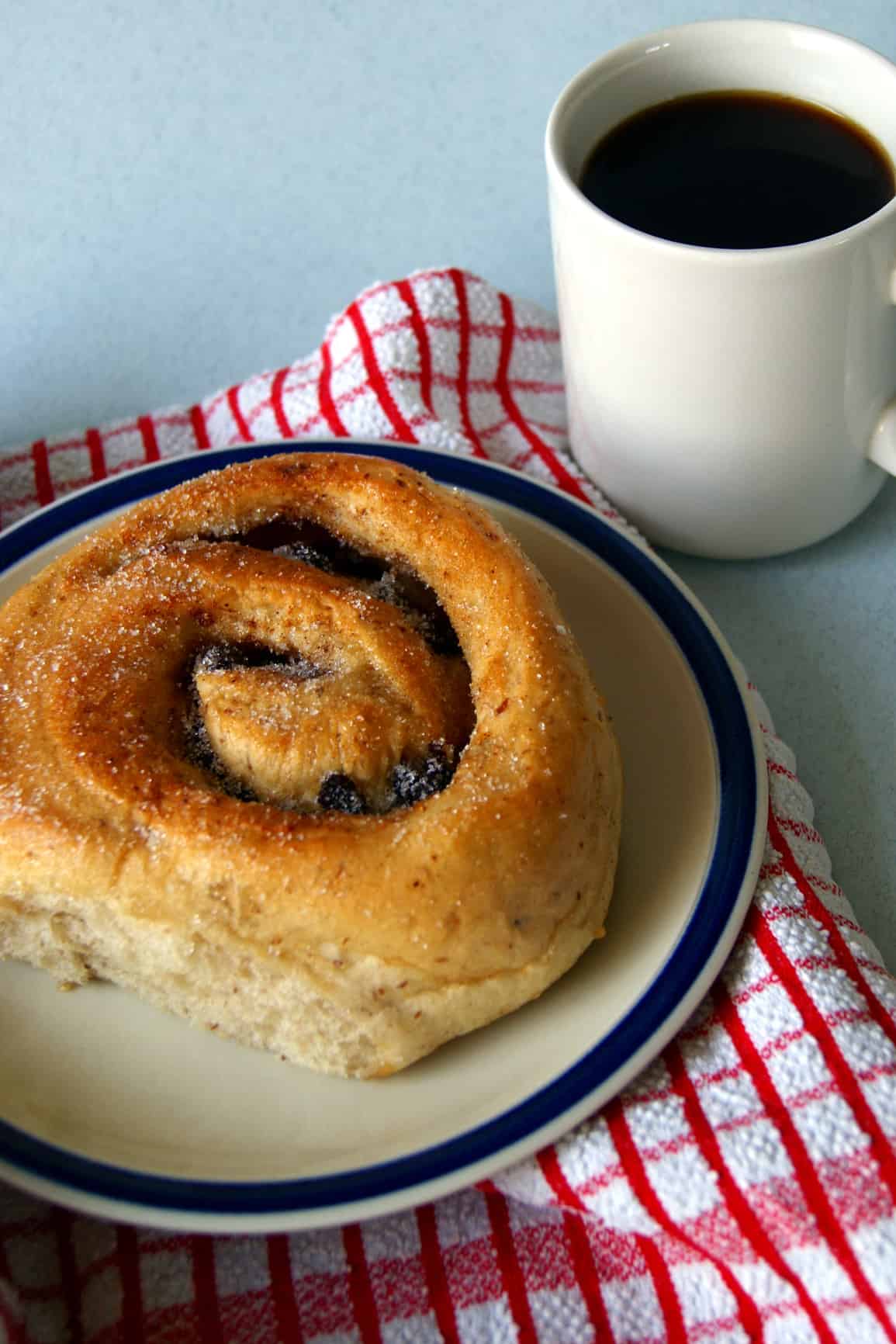 Before going vegan I'd made a chelsea bun recipe I loved, one that is soft, light and filled with rich, sweet, spicy layers of fruit. But taking out the butter and eggs and keeping all the things that make them delicious – it's an interesting challenge…and not one I was willing to compromise on. I wanted to know, could it be done?
Developing this recipe raised a lot of questions about why eggs change breads in the way they do, and of course how can this be done in 100% plant based cookery?
For a start, egg containing doughs prove differently to those without. Long chain proteins from the egg hold the dough together as it rises, resulting in a light, airy dough with a fine texture. Ground flaxseed is great for giving the dough remarkably similar properties, and the finished bread even has those characteristic soft layers that can be gently pulled apart.
However, the other hallmark of an egg containing bread is tenderness, and flaxseed doesn't doesn't seem to help here. This is where soy yogurt – a powerful softening ingredient for breads – came in to the recipe. Previously my recipe used dairy milk for liquid, I've chosen to replace this with a mix of soy yogurt and soy milk.
Another benefit of the soy yogurt and milk is the addition of protein to the recipe – a key ingredient to produce flavourful and attractive browning during baking. Although all breads will brown if baked for long enough, the rate at which they brown matters greatly. Add an egg and it speeds up. Attaining a golden surface without needing prolonged baking is essential for keeping the buns soft and moist inside. When I added in soy yogurt and milk the faster browning and delicious golden crust came back.
The final property to tackle was richness. In my original recipe the thin layer of butter inside the rolls creates an interesting effect, soaking in, but not too deeply, so it retains a rich, juicy layer around the fruit. In contrast, soft tub margarine seemed to migrate in to the bun rather than stay concentrated as a layer. So, I swapped to block margarine, and it worked, block margarine creates those soft, rich layers inside the spirals.
I'm excited to share these Chelsea buns, it's exactly the recipe I wanted. The eggs and butter are gone, but the buns are still here and as good as they ever were. Here's the recipe, happy baking!
Vegan Chelsea Buns
Ingredients
Ingredients for dough:
500

g

White bread flour

50

g

light brown sugar

2 x 7

g

sachets of instant yeast

(or 14g from a packet)

100

g

block margarine

½

teaspoon

salt

1

level tablespoon milled flaxseed

3

tablespoons

water

125

g

soy yoghurt

125

g

soy milk

½

teaspoon

apple cider vinegar
Ingredients for filling:
25

g

block margarine

(softened)

50

g

light brown sugar

125

g

Mixed dried fruit

1

rounded tablespoon ground mixed spice
Ingredients to glaze:
2

tablespoon

light brown sugar

1

tablespoon

hot water

caster sugar to sprinkle

(optional)
Instructions
Combine soy yogurt, soy milk and apple cider vinegar and set aside to sour for about 10 minutes.

Mix ground flax seed and three tablespoons of water, set aside to thicken for about 5-10 minutes.

Combine all remaining dough ingredients, stirring together the dry ones to distribute evenly, then add the liquids created in steps 1 and 2. Knead to form a soft, elastic dough.

Roll out the dough on a lightly floured surface to make a rectangle (approximately 45 x 30 cm). If the dough tears easily it should be kneaded more and the rolling out attempted again.

To fill them, spread the softened margarine over the dough and sprinkle on sugar, mixed spices and dried fruit.

Starting at one of the long dough edges roll up in to a tight cylinder with the filling inside. Then cut the cylinder in to ten equal sections. Place the buns facing upwards on greased baking trays and press them down to about ½ their original height. They should be given enough space to double in size when risen. Loosely cover with cling film, making sure to seal the edges around the trays so the dough doesn't dry out. Place somewhere warm to prove.

Once they have expanded to double their size (takes up to 2 hours depending on how warm your kitchen is), bake for 15-20 minutes in the centre of a preheated oven (220 °C, Fan 200 °C, 425 °F, Gas 7) until golden brown.

While they're baking make a glaze by mixing the two tablespoons of sugar with one tablespoon of boiling water. Immediately after removing from the oven, brush on the glaze, sprinkle with caster sugar (if desired) and then place on a rack to cool.
Notes
Once cooled they can be stored by wrapping in a cloth. Best eaten the same day they're made.