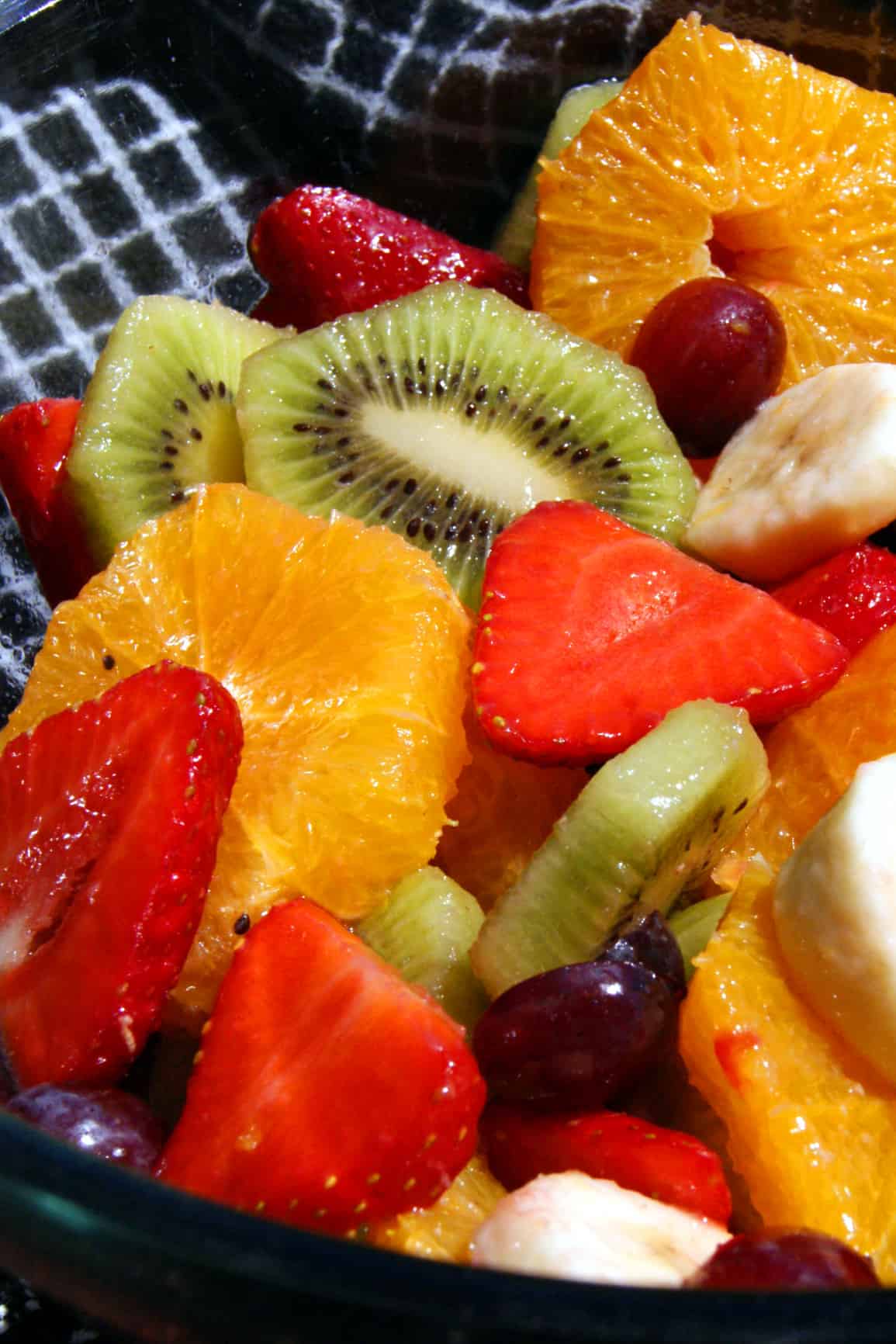 The first thing you taste in a good fruit salad is the juicy combined flavor that coats the fruits – but bite in and you'll discover each piece retains its own flavour and somehow it now bursts out more, as if amplified. But the good stuff doesn't end there, it's also a useful addition to your recipe book. Fruit salad stores and travels well, making it perfect for taking out and about to a picnic or barbecue to share with friends. Plus it's easy and fast to make (no hot cooking is a bonus in the summer). So far everything about it is great. But the classic recipe has a sugar syrup, and that never felt quite right.
A sugar free version sounds awesome, but I didn't just want a bunch of chopped up fruit in a bowl. The classic recipe's sugar syrup does add something of value in bringing out flavours. It needs replacing, not just removing. Several ingredients replace the sugar in my fruit salad. Top of the list is lime juice. Not lemon, this needs lime juice for a very specific reason. Underneath the sharpness lime is intensely fragrant and fruity, and in small amounts it greatly enhances the flavour of other fruits – just like sugar does. Just a little lime though, we only want to bring out the flavour, not make the salad sharp. The other fruits in this salad can be varied to suit tastes and availability, but something sweet and juicy is needed to create a natural syrup. Ripe, juicy nectarines are perfect, so are sweet oranges. The addition of black grapes is also good, they add an excellent sweet, rich, base flavour. Finally, allowing it to mellow together in the fridge for a few hours finishes the salad perfectly.
So, a little lime juice, at least one sweet juicy fruit and time to meld together are the must have ingredients. As long as these three elements are there, it's an easy recipe to adapt. Here's my usual version.
Sugar-free fresh fruit salad
Ingredients
2

Oranges

(slice and cut away peel)

3

Kiwi

(slice and cut away peel)

2

Nectarines

(stones removed and cut in to segments)

100

g

Black grapes

(cut in half)

100

g

Strawberries

(remove tops and slice)

1

Banana

(peeled and sliced)

½

Lime

(juice only)
Instructions
Place all fruits in a bowl, pour on the lime juice and gently stir to coat the fruits.


Cover and chill for at least 3 hours before serving to allow the fruits to release their juices and combine.


Stir gently to coat the fruits with their mixed juices before serving.

Notes
Will keep well for about 24 hours in the fridge.
Banana can be quite soft when ripe, so it's an exception to the trend here that the riper the fruit the better. Use a banana that is reasonably firm. It will soften and sweeten from soaking in the juices anyway.