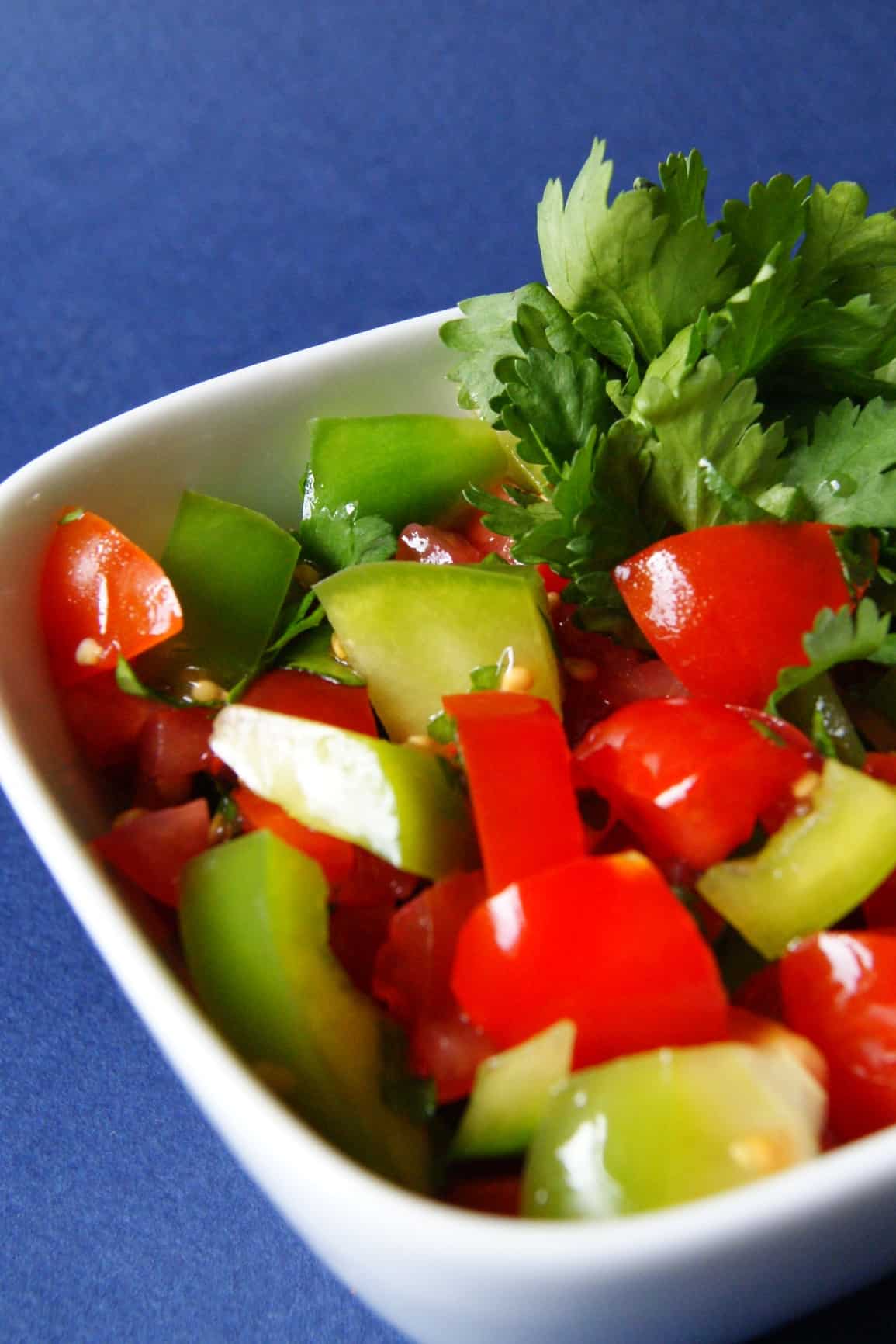 Salsa is the perfect partner for a bean chilli or spicy burger. Crisp and cooling yet bold, it balances the dish's heat, the contrast making it delicious bite after bite. Crucial to this is the salsa's balance of fruity to spicy. First it's refreshing, then a little bit of a hot kick at the end. The secret to a great salsa is flavourful ingredients and a recipe which makes the ideal fruity-spicy spot easy to hit just right each time it's made.
This recipe uses cherry tomatoes. They're usually more richly flavoured than other tomatoes, and they have a lot more tomato flesh than liquid inside. I've also chosen lime juice. Lemon is good too, but lime brings an intense fruity tang. Finally, to easily get the balance right, rather than use whole chilli – heat varies so much from one chilli pepper to another – this recipe uses diced up green bell pepper and chilli flakes. Dried chilli is pretty consistent stuff – and with ½ a teaspoon this recipe makes a mild salsa, the perfect addition to a hot dish. You can absolutely adjust to taste though, and using a whole teaspoon makes a hot chilli which is perfect for serving with crisps. Once you know the right amount it's easy to get your salsa perfect every time in the future (you'll need to repeat the testing if changing chilli brand though). The lime juice can also be increased if needed. I aim for enough to make the tomato taste bold, but no more or it gets sharp and hides the other flavours.
Mexican Salsa
Ingredients
300

g

cherry tomatoes

(diced finely)

½

green bell pepper

(diced finely)

½

lime

(juice only)

½ – 1

teaspoon

dried chilli flakes

few sprigs coriander

(chopped)
Instructions
In a bowl, mix all ingredients until well distributed.

You can serve your salsa immediately, but allowing it to sit in fridge for at least an hour helps combine the flavours.
Notes
Keeps well in fridge for up to two days.