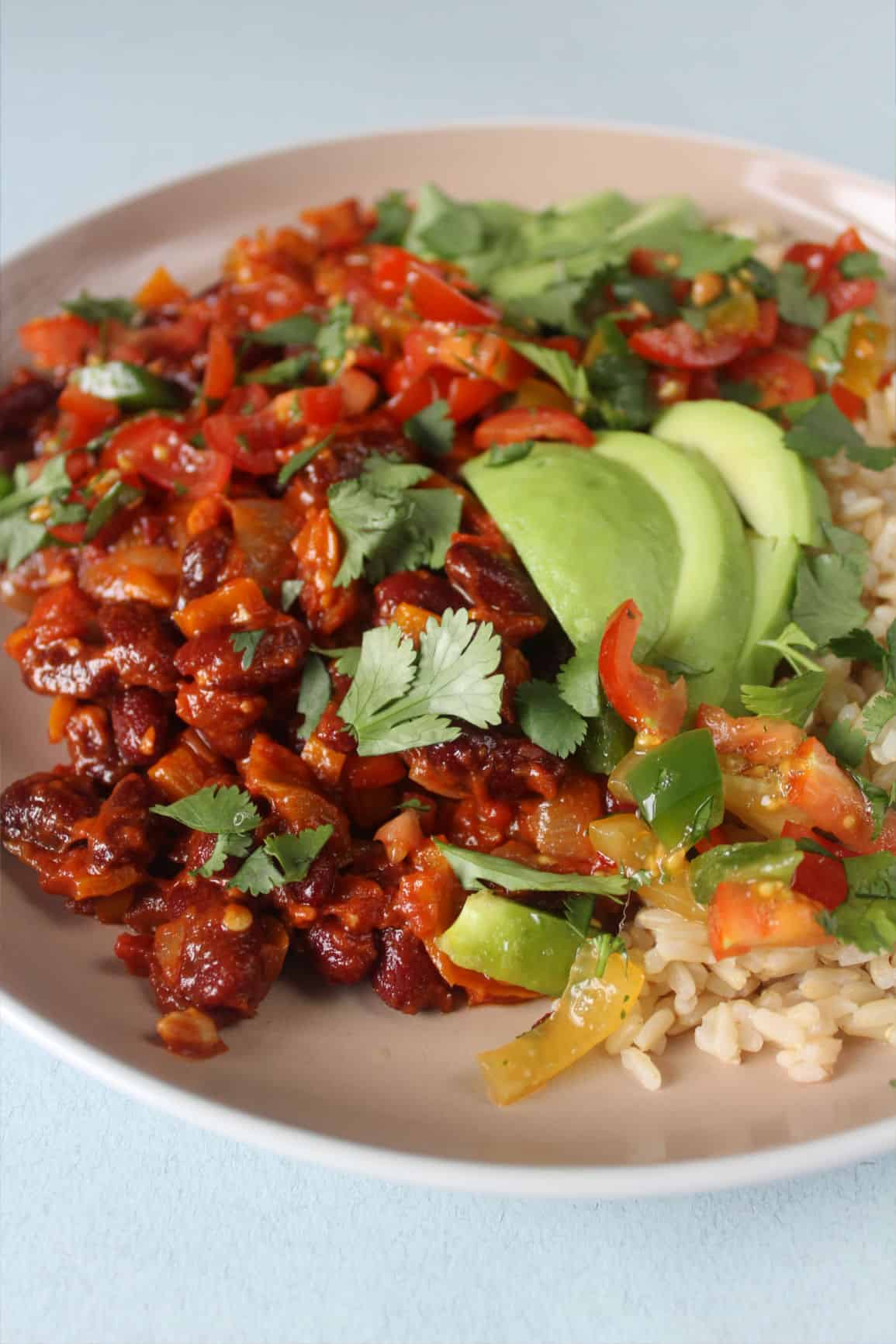 This simple vegan bean chilli is packed with spicy flavours. Delicious enough to serve simply with a bed of rice, but adding some homemade salsa, avocados and thinly sliced cucumber make awesome additions. There's always the option to add some tortilla and make burritos too!
Crucially, flavour is developed in the first step while the onions, garlic and bell peppers are sautéed long and slow to develop sweet, rich tones. It takes a few minutes, but it's easy, relies on few ingredients and the result is delicious.
Cooking the chilli involves two distinct cooking stages, during which different aspects of the dish's flavours are created. The first step – sautéing the vegetables – sets the sweet-savoury balance.
I usually sauté the vegetables on a low heat for around 10-15 minutes, until they turn golden and sweet. I love the sweet-rich balance this creates. You can increase the time and/or heat however. Creating darker browning will make a deeper, more savoury chilli.
The second cooking stage starts after the tomatoes are added. Adding a water rich ingredient cools down the pan and keeps it cooler for the remainder of the cooking. The vegetables won't caramelise any further once the tomatoes are added, so you need to be happy with their flavour before proceeding.
During the simmering stage flavours blend and the tomatoes cook down to a thick, rich sauce. A gentle, steady simmer is perfect at this point. Aim for thicker if making burritos (stops them leaking sauce!) or leave it a little wetter for serving on a bed of rice. Either way, don't boil the chilli hard, it takes time to bring out the best flavours. Excessive heat can also harm the flavour of tomatoes.
An important part of vegan bean chilli is of course … the beans! I love red kidney beans, soft and floury, they just seem to fit the recipe perfectly.
You can make the chilli with canned beans, or alternatively dried beans – provided you soak and cook them in advance. Canned beans are great for last minute meals, while the dried type are great for saving money and avoiding packaging waste. As for recipe outcome, canned beans come precooked so you have less control over their texture compared to cooking your own.
This is an excellent make ahead and serve later recipe. Reheating the chilli is no problem. In fact letting it stand in the fridge for a few hours or overnight helps the flavours blend together better.
Here's the vegan bean chilli recipe!
Vegan Bean Chilli
Ingredients
2

tablespoons

flavourless oil

(eg. sunflower, light olive oil, canola, etc.)

2

bell peppers – red, orange or yellow

(remove seeds and stalks, finely diced)

2

medium onions

(peeled and finely diced)

3

garlic cloves

(peeled and finely diced)

3

teaspoons

dried paprika

½

teaspoon

dried chilli flakes

400

g

can chopped tomatoes

2 x 400

g

cans of red kidney beans, drained

(Alternatively, 200g dried red kidney beans cooked according to packet instructions)
To Garnish
1

bunch

fresh coriander

(leaves only, finely chopped)
Instructions
Add the oil, finely diced peppers, onions and garlic to a hot pan and gently fry until sweet and flavourful (10-15 minutes).

Add spices and cook with brisk stirring for about 60 seconds.

Add chopped tomatoes and kidney beans, stir in, then gently simmer for about 30 minutes to reduce down and thicken. Serve with a sprinkle of fresh, finely chopped coriander.

Notes
Cover and store for up to three days in the refrigerator.
Reheat in a saucepan while stirring to heat through evenly.