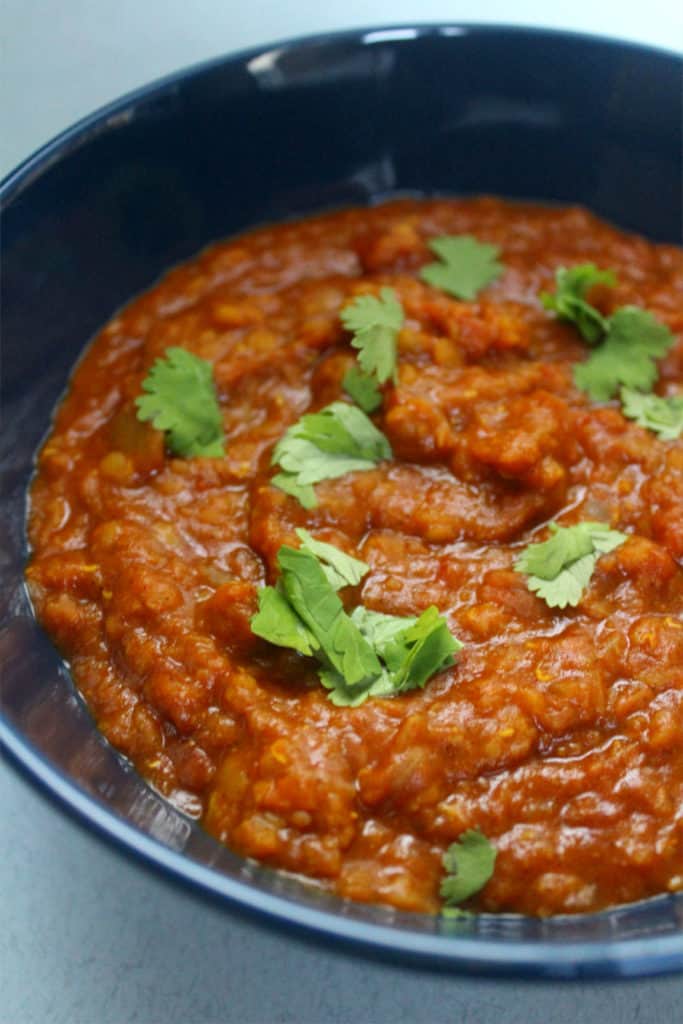 This post contains affiliate links, which means if you purchase something through my link, I will earn a small commission. This does not affect the price you pay for the item. I only advertise products that I have used myself and would genuinely recommend!
Lentil dal is delicious and easy to make. Cook lentils slowly – or better yet in a pressure cooker – and they'll become soft and creamy, a melt-in-the-mouth experience. A great base for a delicious flavour. This recipe balances bright tomatoes and rich spices.
Right now, however, I'm asking myself, how have I not put up a lentil recipe yet? They're an awesome store cupboard essential. Versatile, nutritious and by far the easiest pulse to prepare. No soaking needed, just open the packet and cook from dried.
Green Tip – You can cook this lentil dal in a pressure cooker or a regular pan, there are instructions for both ways. However, pressure cooking uses much less energy than simmering in a pan.
Either way, the finished dal has an excellent texture, soft, creamy and rich. Perfect for dipping some Indian flatbreads – like these easy to make chapatis I blogged about a while ago.
How to Cook Onions
Like so many recipes, step number one is cooking some onions – in this case, a generous amount of diced white onion. Onions can be taken for granted in cooking, but it's a step worth thinking about.
Onions mean options. Not just the choice of variety, equally influential is how we cook them.
This recipe is a great way to see the possibilities for yourself. If you sauté the onions for about 5 minutes until soft and translucent, they'll be juicy, bold and fragrant in the dal. The overall taste of the finished dish will be bright and sweeter. Sauté them longer, however, around 15 minutes – until they're turning golden – and the dish turns out very differently. Now it's umami-heavy, deep and intensely savoury. There's no right or wrong way here, it's a matter of taste.
That's the great thing about onions, any time there's an onion cooking step – which is most recipes – you can make the flavour you want.
Choosing Spices
Picking and balancing the spices in this dal took some experimenting. However, they're used in a simple way. No toasting, no blooming in hot oil, just add to the pot before simmering – except cinnamon. Cinnamon changes flavour during cooking – and I want to keep it bright for contrast, so add it at the end just before serving.
Crucially, seasoning with cinnamon at the end makes it easy to get the balance just right. Take your time to hit the perfect spot where it's hard to decide if it's savoury or sweet, it just seems to exist in both places at the same time.
Add the cinnamon a little at a time (~1/2 teaspoon additions) right before serving, stir well and taste with each addition. Follow your tastes, you'll know when it's right for you.
Using good stock matters!
It's easy to overlook stock or even think you can skip it, but don't do that. Good stock can make a real difference to the finished dal. Crucially, it introduces those savoury undertones that give it depth.
My favourite stock is Kallo's yeast-free vegetable cubes. They're full of flavour, but don't overtake the recipe's flavour in the way yeast containing stock does.
I buy them on Amazon for their low price and fast delivery. The price fluctuates, however, so click this link to check their current price.
I hope you enjoy this easy to make lentil dal. It's been one of our go-to quick dinners or sides for many years.
Lentil Dal
Servings
4
people (as main)
Ingredients
To Fry
2

tablespoons

flavourless oil

(light olive, canola, sunflower, etc.)

3

large

white onions

(peeled and diced)

4

cloves

garlic

(peeled and minced)

1/2

teaspoon

dried ginger powder
To Simmer
400

g

can chopped tomatoes

1

litre

vegetable stock

175

g

dried red lentils

1

tablespoon

dried paprika powder

3

teaspoons

dried cumin powder

2

teaspoons

dried tumeric powder

1

teaspoon

dried chilli flakes

(can substitute with 1/2 teaspoon chilli powder)

1

teaspoon

cardamon pods

(insides only, pods removed and discarded)
To Season/Garnish
3

teaspoons

dried cinnamon

(add 1/2 teaspoon at a time to taste)

Salt

(if needed)

1

small bunch

fresh coriander

(finely cut)
Instructions
Heat oil in a large pan or pressure cooker. Fry the onions, garlic and ginger.

For a bright, sweeter flavour – sauté at moderate heat for around 5 minutes until the onions are soft and translucent.For a deeper, umami rich flavour – saute at a moderate heat for around 10-15 minutes until onions are soft, translucent and turning golden.


Add the tomatoes, stock, lentils and spices from the 'to simmer' list and stir to combine everything.


You can cook the dal in either a regular pan, or a pressure cooker.
Regular pan:
Place lid on pan, bring to the boil, then immediately turn down to a gentle simmer. Keep covered and cook with regular stirring for around 20-30 minutes until lentils are soft and creamy.
Pressure cooker

Place the lid on your pressure cooker with the 15 psi weight. Bring up to pressure and cook for exactly four minutes. Remove from the heat and allow to vent naturally.

Before serving, check consistency and add additional hot water if needed to get a thick – but pourable consistency. Season to taste with cinnamon and salt (if needed). Garnish with fresh coriander.

Notes
Keeps well covered in the fridge for up to three days.
Reheat by gently heating through, either on the hob, or in a microwave. Season with cinnamon and garnish with coriander after re-heating.