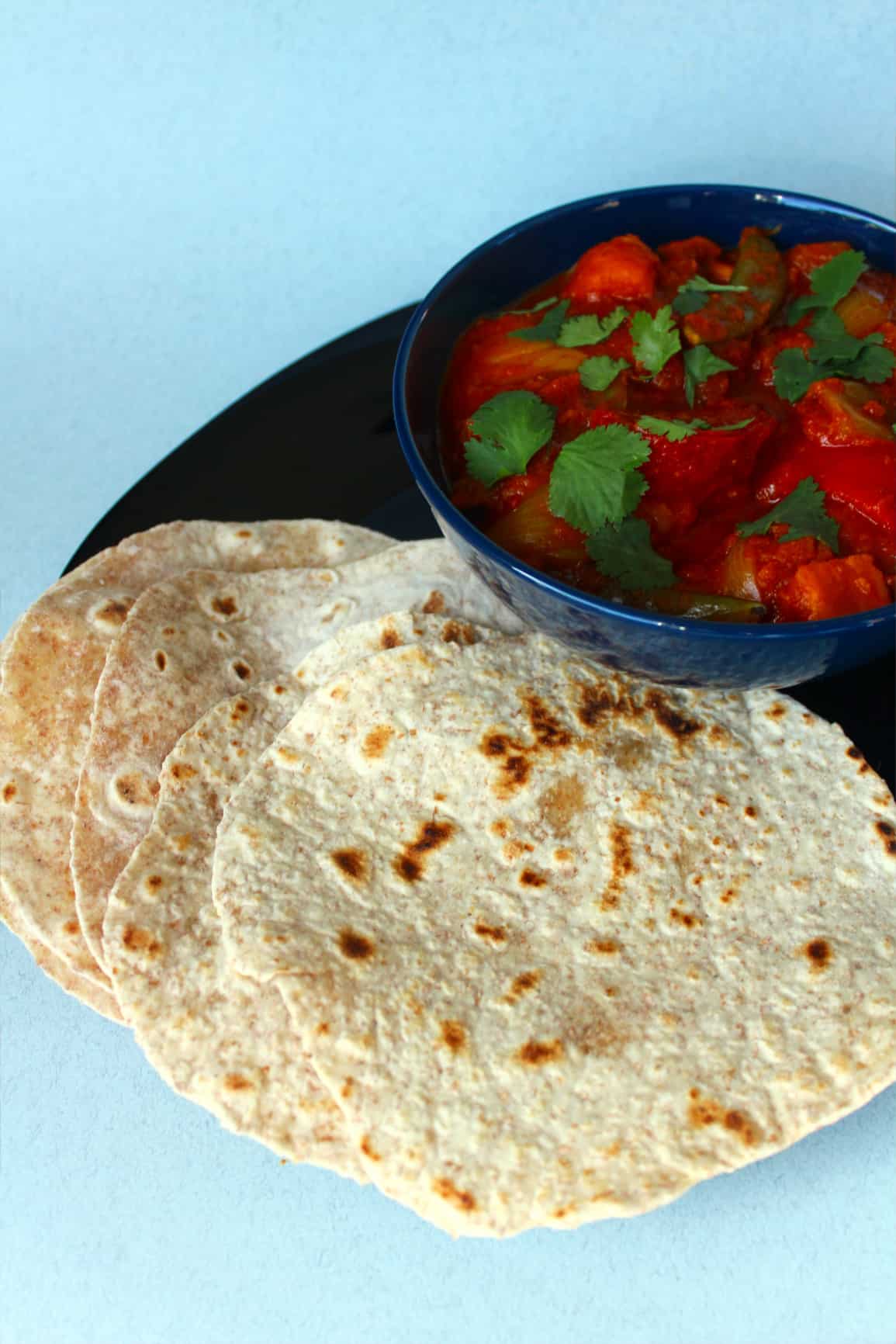 I don't think about making chapatis, I just find myself doing it. It's like a habit – but a good one! These Indian flat breads are quick and simple to make from a few common ingredients. Ingredients you likely already have. And they're delicious. Lots of surface area to develop a golden brown crust, and the fast cooking keeps them soft.
Just make the dough, rest it for ten minutes, roll the breads out and cook them right away. By far the fastest bread I know. The dough can also be made in advance, just cover and store it for later in the day.
Soft, fresh and fast – chapatis are the perfect addition to a curry or dal
The choice of flour is flexible. I'm using a mix of white and wholegrain bread flours since they're easy to find where I live. However, you can absolutely substitute 100% chapati flour into this recipe if you have it. Chapatti flour has an excellent flavour, and also the interesting property of being a wholegrain flour that makes soft breads. You don't get that same softness with other wholemeal wheat flours, so when using them I blend in some white bread flour to keep the right texture.
Thickness is crucial to making great chapatis. Too thick and they'll be tough, but too thin and they don't have the soft inside. There's a sweet spot, so pay attention as you make them to how they feel. Once you know it you can easily make them again and again. This quantity of dough divided in to ten equal pieces, each rolled out to 17cm diameter discs is right in that sweet spot.
Cook them hot and fast. Typically I get out the electric skillet and set it to 380 °F / 190 °C. Thermostatic control makes things consistent and reliable. However, I've also made them many times in a pre-heated steel frying pan with great results – but avoid teflon pans for this, heating them dry for this period of time will easily damage the coating.
Cook one side for about 1-2 minutes until it has golden patches (see photo), then flip over and cook the other side.
They will bubble up during cooking – this is a good sign you're cooking the outside well and keeping the inside soft as steam is being trapped inside.
Stack the cooked breads together wrapped in a cloth to keep them warm and soft. Serve freshly cooked with a curry or dal.
Chapatis
Ingredients
150

g

white bread flour

100

g

wholegrain bread flour

25

g

margarine

150

ml

warm water
Instructions
Stir together flours to mix evenly, add margarine and warm water then knead to form a smooth, elastic dough.

Cover the dough and rest it for 10 minutes – or set aside until you're ready to cook them later in the day.

Divide your dough to 10 equal pieces and roll in to balls. On a lightly floured surface roll each ball out to a 16cm disc. Thickness is crucial for making perfect chapattis. Sticking to this number and diameter will ensure the right thickness.

Cook in a well heated, hot, dry frying pan (steel – not teflon!) for 2-3 minutes. Flipping over once half way through to cook both sides. Once cooked, promptly stack them in a tea towel to keep warm and soft until ready to serve.
Notes
Serve hot and fresh, they don't store well.
The white and wholegrain flour can be 100% substituted with chapati flour. Use what you have available, they're delicious either way.