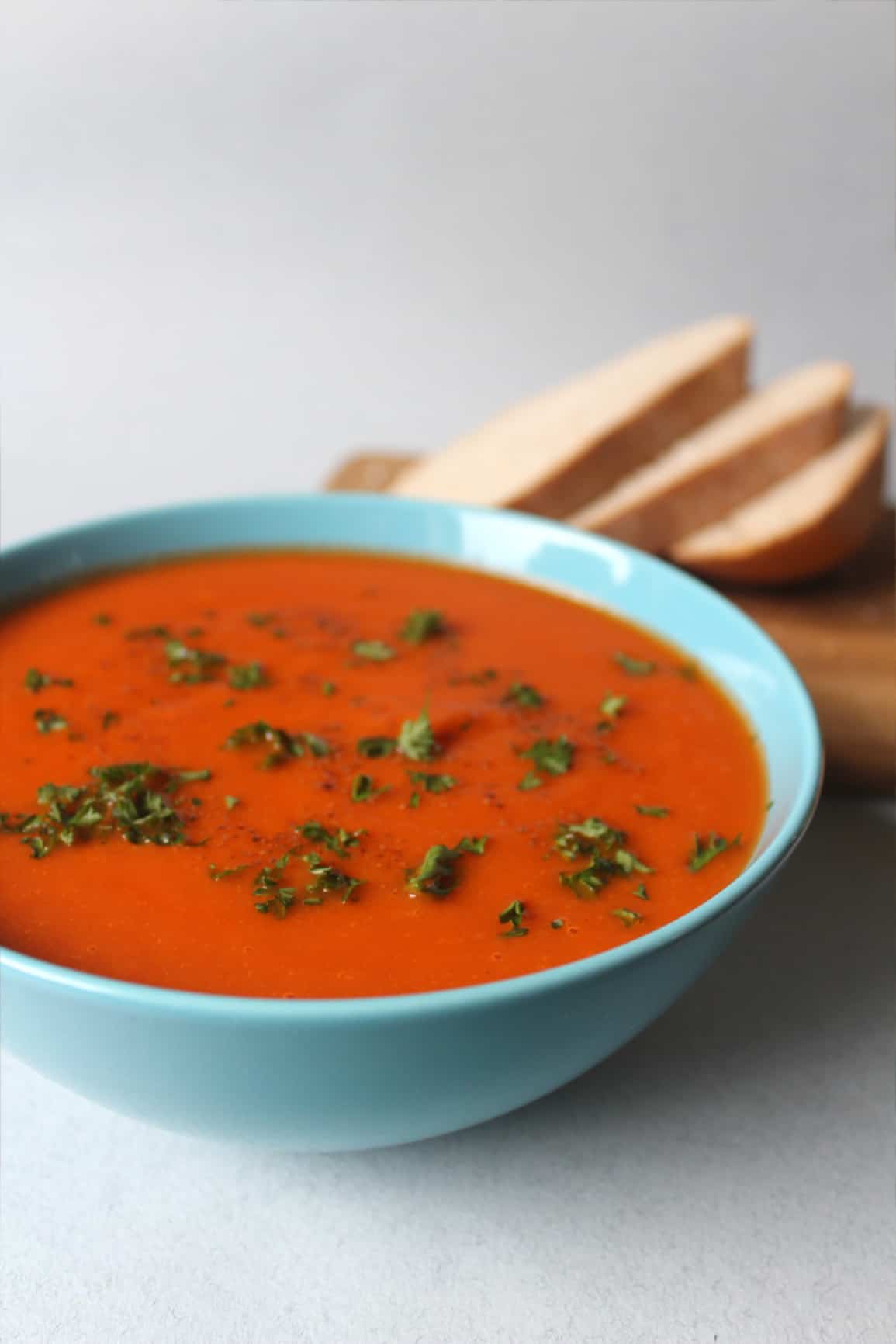 This post contains affiliate links, which means if you purchase something through my link, I will earn a small commission. This does not affect the price you pay for the item. I only advertise products that I have used myself and would genuinely recommend!
Tomato soup has been on my mind. I love it any time of year, but right now the weather is getting cooler and a pot of hot, delicious tomato soup sounds like a great idea. I like it rich and bold, and balancing just on that sweet-yet-savoury edge.
Building the flavour in this tomato soup
Tomato is the most important flavour here, and I'm using passata (sieved tomatoes) for that. A good quality brand contains tomatoes picked at the peak of their ripeness, and unless you can get ripe tomatoes in season, use the passata. Chopped tomatoes will substitute if needed. Either way, choose a good brand for the best results.
Onions are crucial too, they're the savoury balance to the sweet tomatoes. Most tomato soup recipes I've tried use onion in modest amounts. However I wanted a deeper base of onion flavour, so in went a few white onions and the flavour was immediately awesome. Then I discovered the downside of using more onions – a strong and unwelcome aftertaste at the end of each mouthful.
Fortunately, onions aren't simply onions. There's many varieties to choose from.
So I experimented, and one combination stood out ahead of all others – a mix of red onion and leek. Red onions are mild yet flavourful. Just these alone would be an excellent choice. However, there is a distinctive sharper tang they lack, and for tomato soup I missed that. So I added in a leek – including quite a bit of the green part. Leek is rich in flavour yet milder than white onion, and the green part has a certain tang to it that turned out to be just right.
Choosing a good stock
Stock can make a soup delicious, or it can give it a bad aftertaste. Homemade is great, but I often don't have time to do that so I use stock cubes.
My favourite stock is Kallo's yeast-free vegetable cubes. They're full of flavour, but don't overtake the recipe's flavour in the way yeast containing stock does.
I buy them on Amazon for their low price and fast delivery. The price fluctuates, however, so click this link to check their current price.
Cook tomatoes gently!
Cooking methods matter, particularly with tomatoes. Crucially, once the soup comes to the boil, immediately turn the heat right down and only simmer for the time it takes to soften the carrot.
Rapid boiling takes away the tomato flavour. Gentle cooking retains it.
The result is exactly the soup I had in mind. Nothing complex goes in the pot – either as an ingredient or method. It's a soup like any other on paper. What it's about is the balance. We need to play sharp tones off sweet ones to develop that deep juicy tomato flavour. The ingredient choices set this up, but the finishing touch is adding a little brown sugar to taste. It will make a big difference. Taste before and after its addition to see for yourself. A good seasoning is easy enough to do so don't adhered to the step as some kind of set amount, just add a pinch at a time and taste. You'll know when you've hit the right spot – the flavours all come through perfectly.
Tomato Soup
Ingredients
2

tablespoons

oil

(olive, sunflower, canola etc.)

2

red onions

(peeled and diced)

1

leek – including most of the green part

(ends removed and sliced)

1

carrot

(ends removed and finely diced)

2

cloves

garlic

(peeled and finely sliced)

Ground black pepper

(to taste)

500

g

tomato passata

(can substitute with 500g chopped tomatoes)

1

litre

vegetable stock

1

teaspoon

dark brown sugar

(adjust to taste)

2

tablespoons

chopped fresh basil

(to garnish)
Instructions
Heat the oil in a large pan, then add the onions, leek, garlic, carrot and a few good grinds of black pepper. Fry over a medium heat with occasional stirring for about 10 minutes. The vegetables should not colour much, just become soft and lose the raw onion/garlic aroma.


You can cook the dal in either a regular pan, or a pressure cooker.Regular pan:

Add the passata and stock. Place a lid on the pan and bring to a boil, then immediately turn down to a gentle simmer until the carrot is soft (~15 minutes).

Pressure cooker

Place the lid on your pressure cooker with the 15 psi weight. Bring up to pressure and cook for exactly four minutes. Remove from the heat and allow to vent naturally.

Remove from the heat and blend the soup. To season, taste it and then add the brown sugar a pinch at a time and taste until you find the right spot – I typically find about 1 teaspoon is good.


Serve with fresh chopped basil sprinkled on the top.

Notes
Keeps well covered in the fridge for up to two days – but the fresh basil is best added to the soup right before serving to preserve its taste.