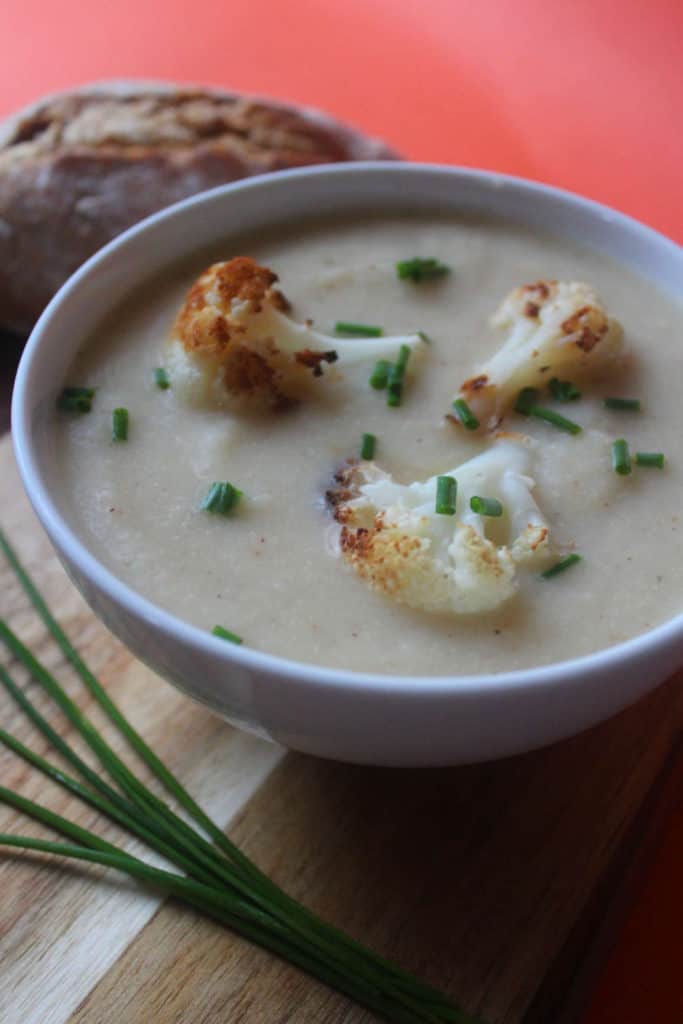 This post contains affiliate links, which means if you purchase something through my link, I will earn a small commission. This does not affect the price you pay for the item. I only advertise products that I have used myself and would genuinely recommend!
This vegan roasted cauliflower soup is one of the top winter soup recipes in our house. Like so many of my favourite recipes, this soup uses well-picked cooking methods to turn just a few seasonal ingredients into something special.
It's easy to see why we love it so much after you've tasted some. Roasting cauliflower develops this rich, umami-dense flavour. Meanwhile, the lemon and nutmeg are used as seasonings, adding a bit of tang and bringing out the flavours.
There's this totally mistaken idea cauliflower is bland – but it's all about how you cook it.
A friend who thought she didn't like cauliflower discovered she loves this soup and is now exploring more cauliflower recipes.
How to Make Perfect Roast Cauliflower
Start by cutting the cauliflower into florets, ideally quite small ones as they'll have more surface area to brown and develop flavour. It's all about that top thin layer that caramelises.
Green Tip – You can use the cauliflower stalk too, just cut it into chunks and put in the tray to roast with the florets.
Toss the cauliflower with oil and spread it out across a baking tray. I've tried seasoning at this point, but I didn't like it. In a comparative test, I found that salt pulls out moisture that keeps the surface wet and reduces browning. As for pepper, I add plenty later to this soup, but not on the cauliflower during baking because it tasted scorched.
It takes about 30 minutes in the oven, but exactly how long to roast cauliflower is best measured by its progress. You may finish a bit sooner or a bit later. The main thing is that there's a good amount of browning.
Just be sure to check the oven regularly and turn pieces as needed. Cauliflower can scorch if you leave it too long. But get it well caramelised and it will taste amazing.
Choosing a good stock
I enjoy using all kinds of stock, but one thing I always avoid is stock that contains yeast. It's strong and has this frustrating ability to make everything it's used in taste the same.
My favourite stock is Kallo's yeast-free vegetable cubes. They're full of flavour, but don't overtake the recipe's flavour in the way yeast containing stock does.
I buy them on Amazon for their low price and fast delivery. The price fluctuates, however, so click this link to check their current price.
How to Season Roasted Cauliflower Soup
I get asked a lot about seasoning – and it's a good question! Seasoning soup properly is crucial. It absolutely makes the difference between just soup and delicious soup.
The main thing is to taste before you do anything, adjust, taste again and repeat until you're happy. You'll know when you hit that perfect spot, it's like the flavours come to life.
As for this soup specifically, I wouldn't play around much with the nutmeg, I find the 1/4 teaspoon is good. The major ingredients I adjust are the salt and lemon juice. Salt brings out the umami and lemon juice adds important tangy flavours. A few grinds of black pepper are helpful too.
Vegan Roasted Cauliflower Soup
Recipe from veganrecipebowl.com
Ingredients
To Roast
1

medium cauliflower

(discard stork and leaves, cut into small florets)

2

tablespoons

neutral flavour oil

(light olive oil, sunflower, etc.)
To Fry
1

tablespoon

neutral flavour oil

1

onion

(peeled and diced)

2

cloves

garlic

(peeled and minced)

1

litre

stock
Seasoning
1

tablespoon

lemon juice

1/4

teaspoon

ground nutmeg

ground black pepper & salt

(to taste)
Garnish
small

bunch

fresh chives

(finely diced)
Instructions
Preheat the oven to 220 °C/Fan 200 °C/400 °F/gas 6.

Toss cauliflower florets in oil and spread across a large baking tray and roast for ~30 minutes. Check regularly throughout this time and turn over pieces as needed to roast evenly.

Because the browning makes so much of this soup's flavour, it's important to take the time it needs and don't progress to the next step until it's ready.

In a large saucepan, gently fry the onion until it turns golden, then add the garlic and cook briefly – just until the raw smell is gone. The moment it's just cooked enough immediately add the stock to stop the frying and lock in the garlic's bright, fresh flavour.

Add the cauliflower (reserve a few florets for garnishing later), bring it to a boil and then turn down to simmer for 15-20 minutes until the cauliflower is soft.

Blend until smooth. To season, taste it and then blend in the lemon juice and nutmeg. Add salt and pepper, and a little more lemon juice if needed until the flavours come out.

Serve with the reserved roasted cauliflower florets and chives to garnish.
Notes
Keeps well covered in the fridge for up to three days.
Have you tried this vegan roasted cauliflower soup recipe? Or have questions? I'd love to hear from you in the discussion below!