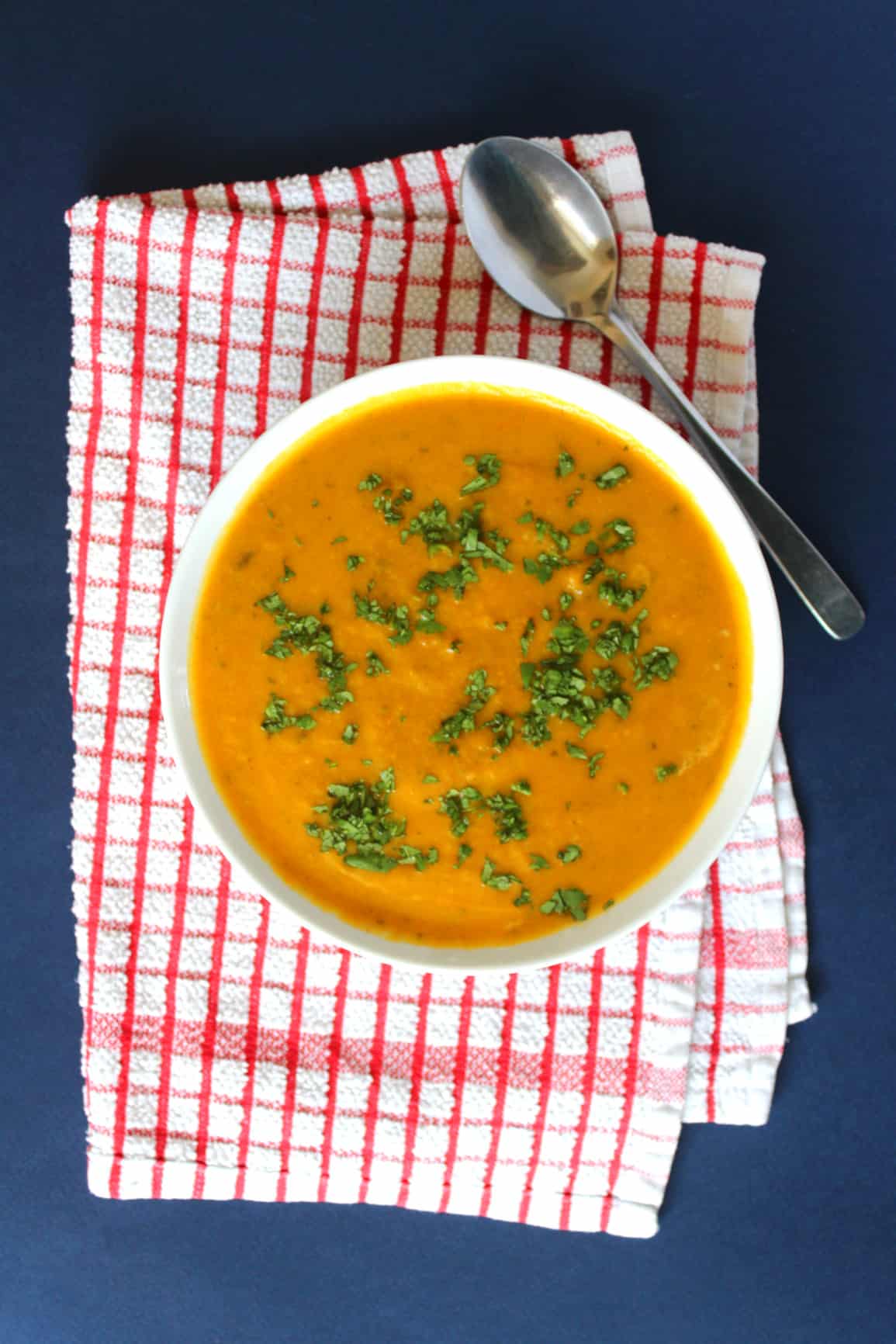 This post contains affiliate links, which means if you purchase something through my link, I will earn a small commission. This does not affect the price you pay for the item. I only advertise products that I have used myself and would genuinely recommend!
Some recipes for carrot and coriander soup use dried coriander, others use fresh. This recipe uses both. Fresh for its bright, crisp taste and ground for its deeper, richer flavour that takes down the sweet edge by just the right amount. The result is a balance that stays interesting from the first spoon to the last.
Flavouring carrot and coriander soup
Unusually, at least for me, I'm using celery in this recipe. It isn't a big feature in my cooking because I find it intensely bitter. However, I also find carrot and coriander soup can be intensely sweet. Turns out celery is a great addition to even things out! Even ingredients we don't usually enjoy can have their places at times. It's still sweet and distinctly a carrot and coriander soup, but it's not extreme.
The red onion is a little mellower compared to white, and I felt it suited this soup better – but you can absolutely use white onions if that's what you have available. Using lighter flavour onions also allows for the addition of more onions – which are a useful thickening ingredient in soups and sauces.
My favourite stock is Kallo's yeast-free vegetable cubes. They're full of flavour, but don't overtake the recipe's flavour in the way yeast containing stock does.
I buy them on Amazon for their low price and fast delivery. The price fluctuates, however, so click this link to check their current price.
How to store and serve
This soup keeps well when covered in the fridge for a couple of days. However, it's worth blending in the fresh coriander when the soup is about serving temperature, right before serving each time. Some herbs ride out the effects of heat well, but coriander leaves are not one of them, so I don't add them to very hot soup.
Carrot and Coriander Soup
Ingredients
2

tablespoons

light flavoured oil

(eg. light olive oil, sunflower oil, etc.)

1

large

red onion

(peeled and diced)

1

stick

celery

(diced)

3

cloves

garlic

(peeled and minced)

1

rounded teaspoon

ground coriander

1

litre

vegetable stock

200

ml

water

500

g

carrots

(ends removed and diced)

4-5

sprigs

fresh coriander

(aka cilantro)
Instructions
Gently cook the onion, celery and garlic in a large pan with the oil for about 4 minutes. When they have softened, but not coloured, and lost their raw aroma, add the ground coriander and cook for a couple more minutes – it will soak up the oil, so be careful not to burn the pan.


As soon as the coriander is cooked add the 1 litre of stock, 200 ml of water and the carrots. Bring to the boil, then cover and turn down low to simmer until the carrots are soft (about 15-20 minutes)


Remove from the heat and blend. The soup will cool a little during blending. Right before serving, blend in the fresh coriander. Some chopped coriander leaves can be sprinkled on top to garnish.

Notes
Have the stock prepared and ready to hand before adding the spices, as you'll need to add it promptly once they're cooked.
Keeps well covered in the fridge for up to two days – but the fresh leaf coriander is best blended in to the soup right before serving to preserve its taste.