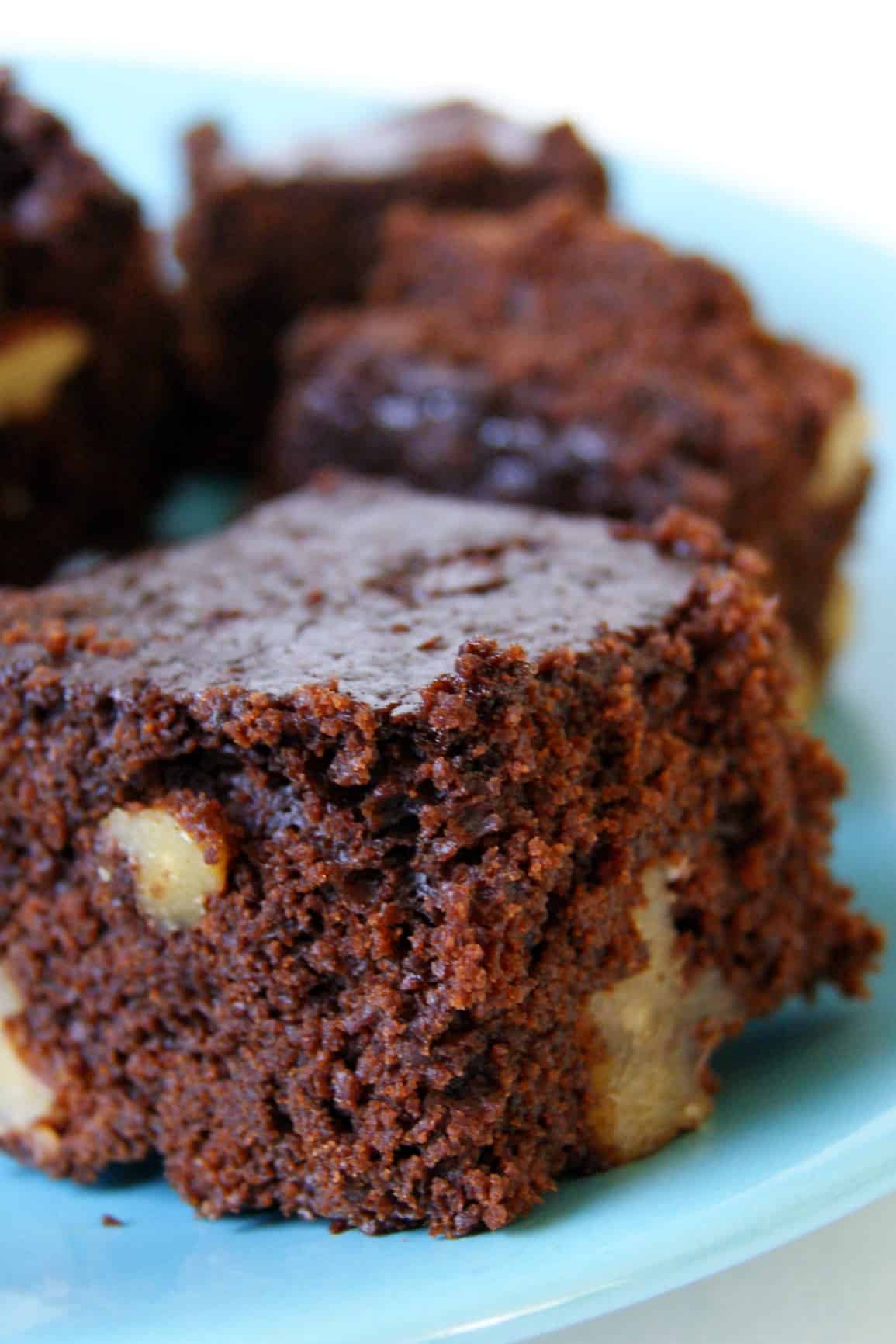 This post contains affiliate links, which means if you purchase something through my link, I will earn a small commission. This does not affect the price you pay for the item. I only advertise products that I have used myself and would genuinely recommend!
I'm excited to share this chocolate brownie, it's veganrecipebowl's first cake! Plus they're my favourite type of brownies, the intensely chocolatey ones that are light at first bite, yet turn fudgy as you eat them.
Releasing this cake recipe also means something else – I've found a way to make awesome cakes without eggs. I've been developing and testing a base recipe for a couple of months, an all in one method that makes simple, reliable vegan cakes possible. The goal is a ratio that can be adapted and customised to make new cakes in the future. Many experiments later, I'm satisfied it works.
The story gets kind of weird though. Unlike many vegan cake recipes, there's nothing I can point to that's officially the egg replacement.
I started developing this by making regular cake recipes with the eggs omitted. And I expected them to fail in some way – but that was the whole point. If you want to know what an ingredient does, take it out and see which properties vanish with it. To be reasonable though, I did replace the weight of the egg with water. It made a very thin, light batter that didn't look promising. But in the oven it went, and not long after…out came a surprisingly good cake! The recipe has been refined from this early stage – and I have learnt about its properties and quirks – but nothing has officially replaced the eggs.
Let's just take a minute to look at the weird thing that happened here, you take the eggs out and the result is…good cake? Have we been mistakenly thinking we need eggs or something like them in cakes all these years? Well, turns out the secret is already out. I soon learnt from a friend there are actually many cake recipes from the war that use no eggs or specific egg substitutes. Seems people knew it back then, and I accidentally found it out again – cakes can be made without a single egg. Crucially though, I've found these aren't just any cakes, they're good cakes. Potentially excellent cakes. With a little care they're light, soft, rich in flavour, hold together and slice well. No compromises.
The core ratio for my vegan cake base is:
1 part flour : 1 part soy milk : 1 part sugar : 0.5 part fat.
That's it, nothing exotic or hard to find. To turn it into a cake, add some raising agent and adjust cooking temperature/time to suit the texture you want. Hotter and faster for lighter, not so hot and bake a little longer for denser. This chocolate brownie takes the latter route to develop the perfect texture. You can customise the flavour with additional ingredients, different types of sugars, and decorate as you like. It can branch out to just about any cake you wish. From a light, fluffy swiss roll to this dense fudgy, chocolate brownie, I've made it with a variant of this base ratio.
Chocolate, of course, is no small aspect of a chocolate brownie. Building a great chocolate flavour means bringing in the right supporting ingredients.
Black treacle (aka molasses) is an important addition here. Its rich, complex flavour compliments chocolate exceptionally well. It also enhances the fudgy texture. Also important is salt. On paper that ¼ teaspoon doesn't seem a big deal, but don't skip it. Salt – in modest amounts – is a powerful flavour enhancer in chocolate cake. It just isn't the same chocolate brownie when you leave out the salt. For a while, I was making chocolate cakes with zero salt content. Everything seemed great, but even with an excellent cocoa, the chocolate flavour was mysteriously bland until I added just a little salt and it suddenly came to life.
Underneath these adjustments though, the core cake ratio I've made is still there, and all cakes made from it have similar properties to keep in mind. This method makes light, thin batters that must be baked in a well pre-heated oven. This is crucial – it gives them the best initial rise and sets them before they start to deflate. Under these conditions, your cakes will be light and moist. Make a slow start with a poorly heated oven however and the raising agent will produce the bubbles, but they'll just rise to the top and escape before the cake sets. The result is a flat, dry cake. Getting off to a fast start with a properly heated oven is the right way.
The choice of fat depends on your recipe goal. The base recipe works with margarine, coconut oil or a light flavour oil – for example, flavourless olive oil. I've picked margarine for these brownies. It makes the batter thicker, which means the walnut pieces stay suspended in it rather than rising to the surface during baking. The black treacle also enhances the batter's thickness.
As with any cake, don't bake alongside other foods, just bake your cake by itself in the centre of the oven. Even heating means an evenly baked cake.
Vegan Chocolate Brownies
Ingredients
100

g

plain flour

(aka all purpose)

150

g

light brown sugar

50

g

cocoa powder

2

level teaspoons

baking powder

¼

teaspoon

salt

150

g

soy milk

75

g

margarine

(melted)

50

g

black treacle

(aka molasses)

50

g

walnut pieces
Instructions
Pre-heat oven (180 °C, Fan 160 °C, 350 °F, Gas 4), grease and line a 20x20cm (8×8 inch) square baking tin with baking paper.

In a large bowl sift together the dry ingredients (flour, sugar, cocoa powder, baking powder, salt), then stir in liquids (soy milk, melted margarine, treacle) until a smooth batter forms. Finally, mix in walnut pieces.

Pour batter in to the lined cake tin, smoothing it out and distributing the walnuts evenly.

Bake in the centre of the oven for 30-35 minutes. Towards the end of this time test by inserting a cocktail stick into the middle of the cake. It should come out clean. If there is wet batter on the stick, return it to the oven and cook for a couple of minutes more, then test again. Repeat as needed until the stick comes out clean.

After 10 minutes remove the cake from its tin and leave to cool completely on a wire rack before slicing.
Notes
These slice best after cooling…but they're also awesome hot and fresh from the oven. I'll let you figure out this dilemma your way : )