This post contains affiliate links, which means if you purchase something through my link, I will earn a small commission. This does not affect the price you pay for the item. I only advertise products that I have used myself and would genuinely recommend!
Frankly, making a cake with parsnip in sounded weird, and I was wondering what would come out of the oven when I first tried this! Parsnips are not a subtle flavour, and definitely not one I associated with cake. But that's exactly why parsnip cake caught my attention. It's a bit weird, and I wanted to know more. Plus, I could use another parsnip recipe, so why not try something a bit different to the usual roasted or baked parsnips.
Turns out parsnip cake is delicious! It has a texture exactly like carrot cake – but it has its own entirely distinct flavour.
So, if you're wondering what to do with parsnips, like I often am when they're in season, this cake is a valuable option to add to your recipe book.
Crucially, the parsnips mellow during baking – but they retain that fragrant edge. This transformation is awesome. I hadn't noticed it in isolation before making this cake, but parsnips are really fragrant. Both fruity and floral. There's also a subtle umami tone that grounds everything. They're potent enhancer for the right kind of flavours. The result is a cake that's similar in texture to carrot cake (check out my vegan carrot cake recipe), but it can be flavoured in new ways with a new focus.
I love the texture of both carrot cake and parsnip cake. Inherently moist and well structured – they're ideal for vegan cake baking. They're also perfect for making a wholemeal cake, due to the reduced quantity of flour allowing the wholemeal flavour to balance well without being overpowering.
I'm going to have to explore parsnip recipes more – both sweet and savoury recipes.
I've chosen a rich, warming flavour centred around spices and orange zest. Orange zest and mixed spice is a pretty standard flavour profile, but they're perfect for the parsnips to transform. The orange is super-smooth in this cake, and the spices perfectly rounded.
Have you tried this vegan parsnip cake, or have some of your own tips and suggestions? I'd love to hear from you in the comments below!
Yield: 9
Vegan Parsnip Cake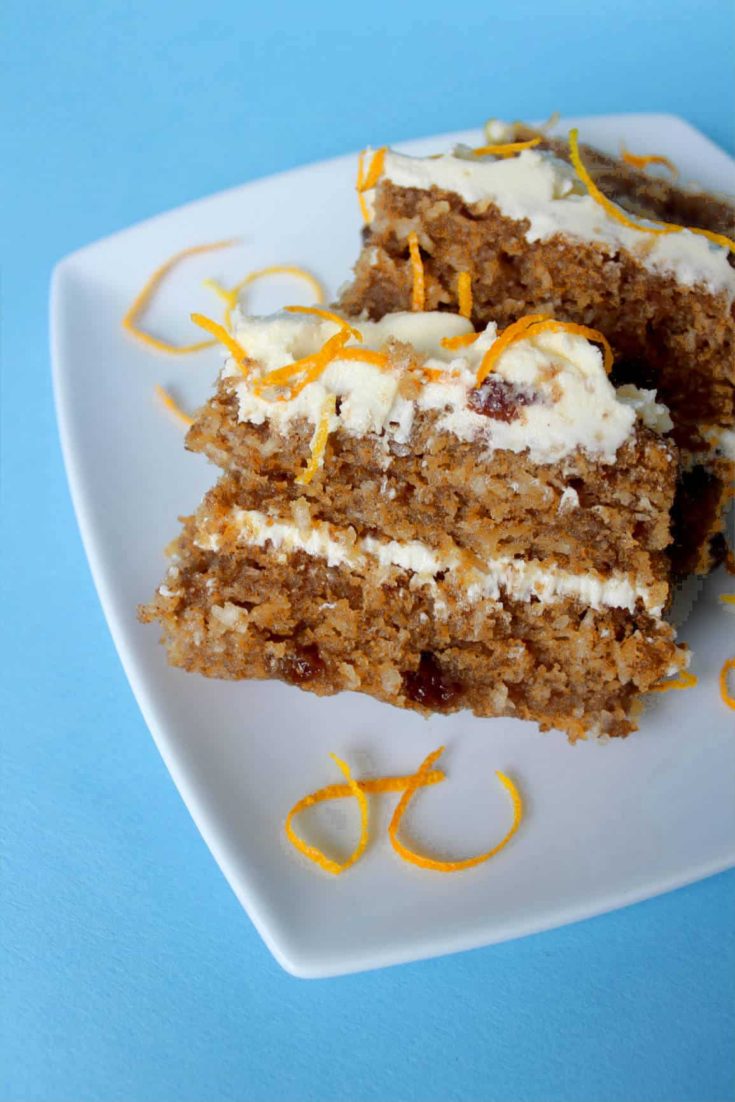 Ingredients
Cake Ingredients
100 g wholemeal flour (aka wholegrain)
100 g soft brown sugar
2 teaspoons baking powder
1.5 teaspoons mixed spice
1/4 teaspoon salt
1/2 teaspoon lemon zest
1/2 teaspoon orange zest
50 g desiccated coconut
50 g sultanas
175 g parsnips (finely grated)
50 g light flavour olive oil
100 g soy milk (plain, unsweetened)
2 tablespoons maple syrup
Buttercream
125 g icing sugar (aka confectioner's sugar)
50 g dairy-free margarine
To decorate
1 orange (zested strips only)
Instructions
Making the sponge

Pre-heat the oven (190 °C, Fan 170 °C, 375 °F, Gas 5).
Lightly grease and line the bottom of a 20cm (8 inch) square baking tin with baking paper.
In a large bowl, rub together the flour, sugar, baking powder, spices, orange and lemon zest, and salt until they are well mixed and no clumps remain. Stir in the grated parsnips, desiccated coconut, and sultanas until evenly distributed. Mix in the oil, soy milk, and maple syrup until a thick batter forms. Scoop into the lined cake tin and spread out level.
Bake in the centre of the oven for 25-30 minutes until risen and set. Towards the end of this time test by inserting a cocktail stick into the centre of the sponge. It should come out clean. If there is wet batter on the stick, return it to the oven and cook for a few minutes more and test again. Repeat as needed until the stick comes out clean.
When the sponge is cooked, remove it from the oven and gently run a sharp knife around the edge to separate it from the tin. It's a very soft, moist cake, so wait until it's cooled and firmed up before taking it out of the tin.

Filling and decorating

To make the icing, cream together the margarine and icing sugar. Cut the sponge down the middle into two pieces. Spread half the buttercream over the top of one of the sponges, then sandwich the second sponge on top. Spread the remaining buttercream on top and sprinkle with some orange zest.
Notes
Substitute options:
Golden icing sugar is a delicious option for this cake's buttercream, but regular white icing sugar works great if golden can't be found.
Plain wholemeal flour can be a bit hard to find. Wholemeal bread flour works just as well in this cake.
Storage: Cover with an air-tight wrapper or container. Keeps well for up to three days in a cool place.
Nutrition Information:
Yield:
9
Serving Size:
1
Amount Per Serving:
Calories:

303
Total Fat:

12g
Saturated Fat:

3g
Unsaturated Fat:

8g
Cholesterol:

0mg
Sodium:

196mg
Carbohydrates:

49g
Fiber:

3g
Sugar:

35g
Protein:

3g