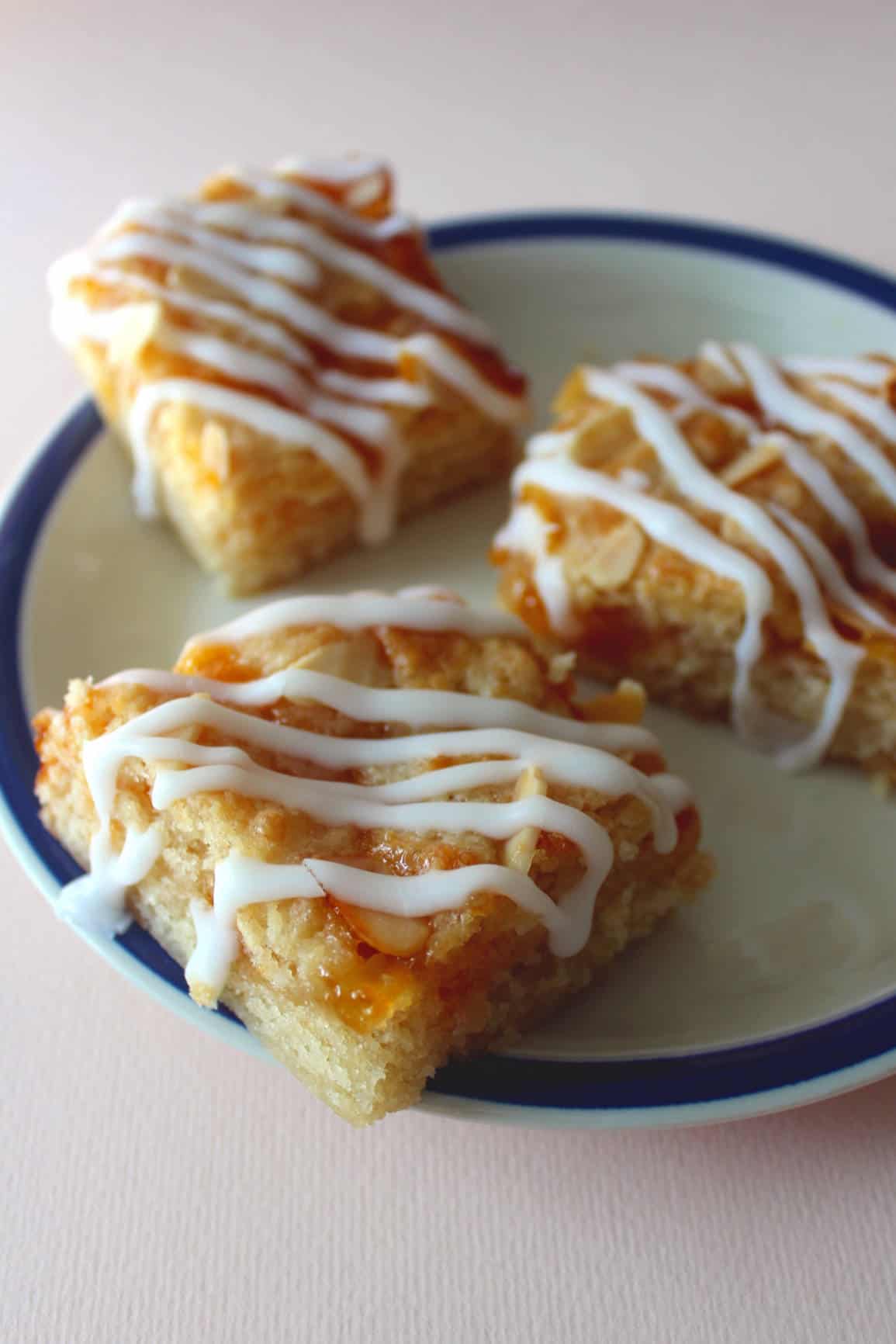 This post contains affiliate links, which means if you purchase something through my link, I will earn a small commission. This does not affect the price you pay for the item. I only advertise products that I have used myself and would genuinely recommend!
A rich, moist vegan almond cake topped with sticky, tangy apricot and sweet icing that snaps as you bite into it. It's a delicious balance of sweet and tart.
My last vegan cake making involved making some of the lightest cakes possible – vegan lemon cupcakes. This time my idea is quite different. Something sticky and rich. The goal – a cake bar resembling an apricot almond danish pastry.
There's only so close a cake can get to a danish pastry, but this one has the flavour just like the pastries I enjoyed so much, and the mouth feel is surprisingly close. Best of all, it's very easy to make.
Ground almonds are perfect for creating this texture, they make excellent, moist cakes.
It's a very thick batter, actually more like a dough. You don't pour it, you press it in to the tin. Then you spread the layer of apricot jam mixed with a little water. The water helps it spread, and it ensures that as the cake bakes it doesn't dry out too much. Spoonfuls of the cake dough are dropped across the jam, creating the distinctive texture of golden peaks and dips filled with sticky apricot. Finish by scattering with flaked almonds, they'll toast while the cake bakes.
Make sure it's well cooled before icing – ideally overnight for the flavours to develop. It's much better the next day if you can wait that long!
Have you enjoyed this vegan almond cake or have a question? Join the conversation below!
Vegan Almond & Apricot Cake
A rich, moist vegan almond cake topped with sticky, tangy apricot and sweet icing that snaps as you bite in to it. It's a delicious balance of sweet and tart. Recipe from veganrecipebowl.com
Ingredients
Cake dough
200

g

granulated sugar

(golden, if possible)

175

g

plain flour

(aka all-purpose)

50

g

ground almonds

(aka almond flour)

1/2

teaspoon

baking powder

1/2

teaspoon

fine salt

125

g

plain soy yogurt

75

g

light olive oil

1/2

teaspoon

almond extract

(optional)
Jam layer
125

g

apricot jam

2

tablespoons

water
To decorate
2

tablespoons

flaked almonds
Icing
75

g

icing sugar

(aka confectioner's sugar)

2-3

teaspoons

Water
Instructions
Making the cake
Pre-heat the oven (180 °C, Fan 160 °C, 350 °F, Gas 4), and line a 20x20cm (8×8 inch) square baking tin with baking paper.

Sift together the dry cake dough ingredients (flour, sugar, ground almonds, baking powder and salt) until evenly distributed, then stir in the wet (yogurt, oil and almond extract) until a thick, smooth dough forms.

Set aside 1/2 a cup of the dough and press the remainder in to the lined cake tin to form an even layer.

Whisk together the apricot jam and water until dissolved, then spread evenly over the cake dough. Using the reserved 1/2 cup of dough, dot small spoonfuls of it randomly across the top. Scatter with the flaked almonds.

Bake in the centre of the oven for 40-50 minutes. Towards the end of this time test by inserting a cocktail stick into the middle of the cake. It should come out clean. If there is wet batter on the stick, return it to the oven and cook for a couple of minutes more, then test again. Repeat as needed until the stick comes out clean. Leave to cool completely on a wire rack before applying icing.
Icing the cake
Sift the icing sugar in to a bowl, then add two teaspoons of water and stir briskly to form a thick icing that pours slowly. If needed add just a little more water – a few drops at a time – until you reach this consistency.

Place the icing in a piping bag with a small tip and pipe lines across the top of the cake.
Notes
Storage: These cakes are best served within 24 hours of baking, but they will keep well for up to three days in an airtight container in a cool place.