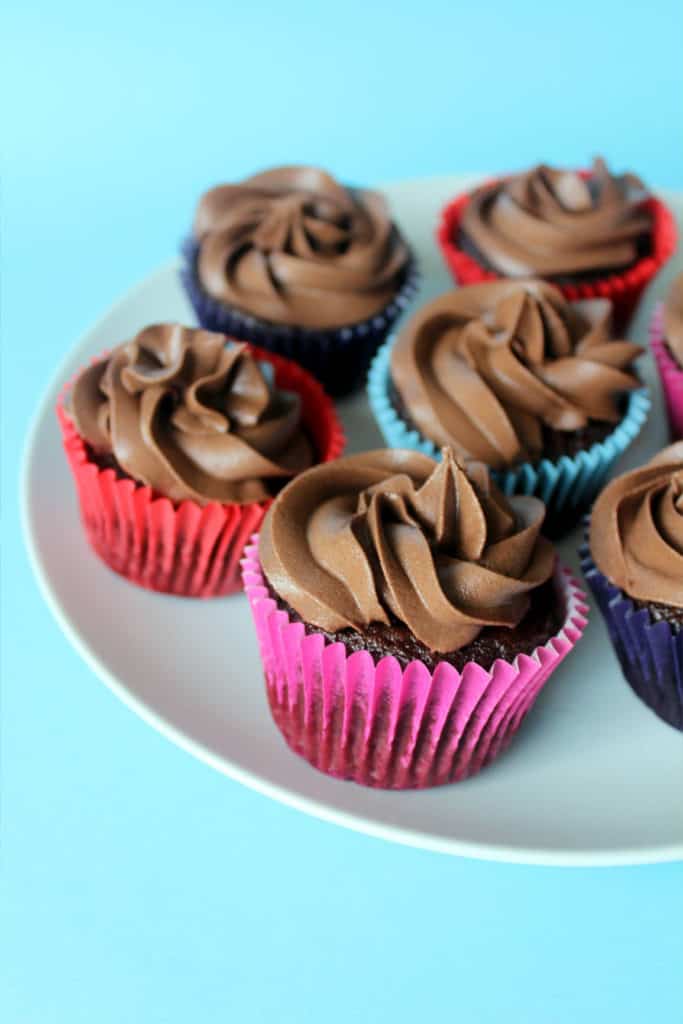 I'm making cupcakes again – this time with a new chocolate variety of my earlier recipe, vegan lemon cupcakes. I needed chocolate cake right away for a party, and those lemon cakes were deliciously soft, moist and light… I really couldn't imagine a better vegan cupcake. So, I decided to take out the lemon and create a chocolate version.
Usually I lean towards rich chocolate cakes, like brownies or sachertorte, but not this time. I was in the mood for light, sweet vegan chocolate cupcakes.
Developing the original vegan cupcake recipe took a lot of time and experiments. It's worth it though, because with the right recipe and method cupcakes can be lighter than any other cake. Creating a specific recipe for the best results paid off.
Beyond the technical side, I also love how cupcakes are easy to portion out for groups of people. And they're easy to share without needing any cutting.
I also love how they're simple decorate – because I'm a far better at making cakes than decorating them!
Creating easy to decorate cakes is one of my goals. Birthdays and events in general require something a bit more decorated. With vegan cakes being harder to find in shops there's a big need for simple to make, attractive-looking vegan cakes.
Admittedly my piping isn't the neatest (check out the photo), but something about cupcakes with buttercream swirls just looks great anyway. You can enjoy them as they are, or add some sprinkles for an easy, uncomplicated addition. They'd certainly pop out visually against the chocolate icing.
The lighter sweeter taste of these compared to my rich, intense chocolate brownies is far more child-friendly, but you definitely don't have to be a child to enjoy them!
Vegan Chocolate Cupcakes
These vegan chocolate cupcakes are light, sweet and topped with creamy chocolate icing. A perfect vegan treat for parties and picnics. Recipe from veganrecipebowl.com
Ingredients
Cupcake Batter
125

g

plain flour (aka all purpose flour)

150

g

soft, light brown sugar

25

g

ground almonds (aka almond flour)

25

g

cocoa powder

2

teaspoons

baking powder

1/4

teaspoon

salt

250

g

plain soy yogurt

50

g

light olive oil
Chocolate Buttercream
250

g

icing sugar

125

g

vegan margarine

25

g

cocoa powder
Instructions
Making the cakes
Pre-heat the oven (190 °C, Fan 170 °C, 375 °F, Gas 5). Line a 12-hole cupcake tray with paper cases.

Put all of the dry cake ingredients (flour, sugar, ground almonds, cocoa powder, baking powder and salt) into a large bowl and rub together with your hands until evenly mixed and free of any lumps. Stir in the liquids (oil and soy yoghurt). Do not beat heavily, and stop as soon as a smooth batter has formed to avoid over-mixing.

Divide the mixture evenly between the paper cases. You only need to fill each case 1/3 full with batter – it will expand plenty to fill them!

Bake in the centre of the oven for 20-25 minutes, or until well risen and a cocktail stick inserted into one of the cakes comes out clean. Set aside to cool for 10 minutes, then remove from the tin and cool on a wire rack.
Icing the cakes
The cupcakes must be completely cooled before icing them!

Beat the margarine in a large bowl until soft. Add the icing sugar and cocoa powder, then beat until a smooth buttercream forms.

Spoon the icing into a piping bag with a star nozzle and pipe a swirl of chocolate buttercream on to each cake.
Notes
Storage: These cakes are best served within 24 hours of baking, but they will keep well for up to three days in an airtight container in a cool place.