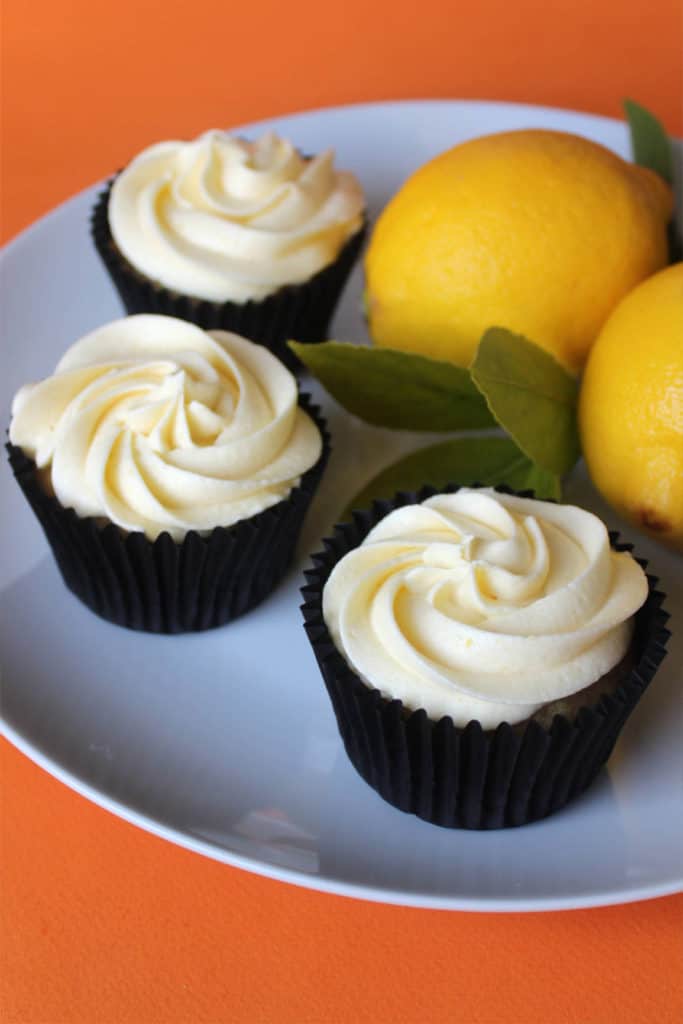 Bursting with fresh lemon zest, these light, moist vegan cupcakes create a delicious combination. Somehow subtle and bold at the same time.
The inspiration for these cakes goes back to when I lived in Norwich. At the time the east of England co-op sold amazing lemon cupcakes. It's been years since I bit into one, but I haven't forgotten those cakes! First the bright lemon buttercream, then into the soft, light sponge cake.
Unfortunately, those amazing lemon cupcakes have three significant problems. They stopped making them. I now live hundreds of miles away. And they're not vegan. So, the options are pretty clear, either quit veganism and find a way to travel through time and space … or make an equally delicious vegan version.
Well, after developing that vegan apple sharlotka, I've been in the mood to try a new vegan baking challenge and cupcakes are a great place to explore some more egg-free baking.
The interesting thing is that cupcakes aren't just mini cakes, they have distinct properties. With the right recipe, cupcakes allow for the absolute lightest of cakes to be made.
Being small they rise fast and set fast during baking. A perfect combination for locking in a light texture – provided your cake recipe can set firm yet soft.
Feather-light cakes aren't just delicious however, they're the product of a conflicting balance of properties. As cakes get lighter they need to become stronger … despite also simultaneously containing less cake and more air!
I tried many things, and it turns out soy yoghurt is the ideal ingredient. This genuinely surprised me. Although often recommended as an egg replacement in baking, I haven't found it much use before now. For cupcakes, however, it struck just the right balance between building structure and maintaining lightness.
Moisture was still going to be a challenge though. I recall those awesome lemon cupcakes being super-moist. Not in a greasy way, just a delicious way. I'm not sure how they did it, but one of my favourite cake ingredients for doing this is ground almonds. Plus, a hint of almond is a great enhancer of lemon flavour.
However, ground almonds come with upsides and downsides in cake making. They don't just add moisture, they also affect a cake's ability to rise.
Interestingly, on paper, they look like the perfect addition to a vegan cake recipe. Ground almonds are high in protein – and protein is an essential ingredient in cakes. During baking, the batter initially foams up, then as it heats further the proteins bond together and set the cake.
But ground almonds are not good for setting cakes. In fact, they commonly reduce the rise of cakes. My conclusion is that the protein they contain isn't free to mix in the batter and bond together when heated. Ground almonds are pretty large particles and do not break down during baking, so it's reasonable to assume their protein stays trapped inside them. Rather than build structure, they hinder it.
Time after time my attempts to bake vegan cakes with ground almonds were unreliable or outright failed. But I've kept at it because I want vegan cakes with ground almonds in. This recipe is the one that finally solved the puzzle.
The additional protein from the soy yogurt is sufficient to set these cakes. I wonder if it's working because it can coat the almond particles and trap them? Further experiments with ingredients that usually hinder cake setting may help explain this more.
But whatever underlying properties make it work, the resulting recipe is simple, reliable and robust. The cake step is a one-bowl recipe, just mix it all up, pour it and bake it.
I hope you enjoy baking these vegan lemon cupcakes! Let me know in the comments what your favourite cupcake flavour is? I'm going for lemon, but maybe there's room for some chocolate or salted caramel ones in my life too.
I'm also interested to see what else can be created this new, ultra-light yet stable cake base and derivatives of it. Perhaps a vegan Swiss roll could be a thing one day…
Vegan Lemon Cupcakes
Bursting with fresh lemon zest, these light, moist vegan lemon cupcakes create a delicious combination. Somehow subtle and bold at the same time. Recipe from veganrecipebowl.com
Ingredients
Cupcake Batter
150

g

plain flour

(aka all purpose flour)

150

g

soft brown sugar

25

g

ground almonds

(aka almond flour)

2

teaspoons

baking powder

1/4

teaspoon

salt

zest of 1/2 a lemon

50

g

light olive oil

250

g

plain soy yoghurt
Lemon buttercream Icing
275

g

icing sugar

125

g

margarine

zest of 1/2 a lemon
Instructions
Making the cakes
Pre-heat oven (190 °C, Fan 170 °C, 375 °F, Gas 5), and line a 12-hole cupcake tray with paper cases.

In a bowl combine the dry ingredients from the cake batter list (flour, sugar, almonds, baking powder, salt and lemon zest) and rub together with your hands until well mixed and free of any lumps. Then with a spoon stir in the liquids (oil and yoghurt) until a thick, smooth batter forms. Do not beat heavily or mix any longer than needed to form a smooth batter.

Spoon the batter into the cupcake cases. You only need to fill each case 1/3 full with batter – it will expand plenty to fill them!

Bake in the centre of the oven for 20-25 minutes. Test by inserting a cocktail stick into the middle of a cake. It should come out clean. If there is wet batter on the stick, return the cakes to the oven and cook for a couple of minutes more, then test again. Repeat as needed until the stick comes out clean. When the cakes are cooked, remove them from the oven and allow to fully cool on a wire rack before icing them.
Icing the cakes
To make the buttercream icing, cream together the margarine, lemon zest and icing sugar. Assemble a piping bag with a star nozzle, fill with the icing and pipe a swirl of lemon buttercream on to each cake.

Notes
Storage: These cakes are best served within 24 hours of baking, but they will keep well for up to three days in an airtight container in a cool place.