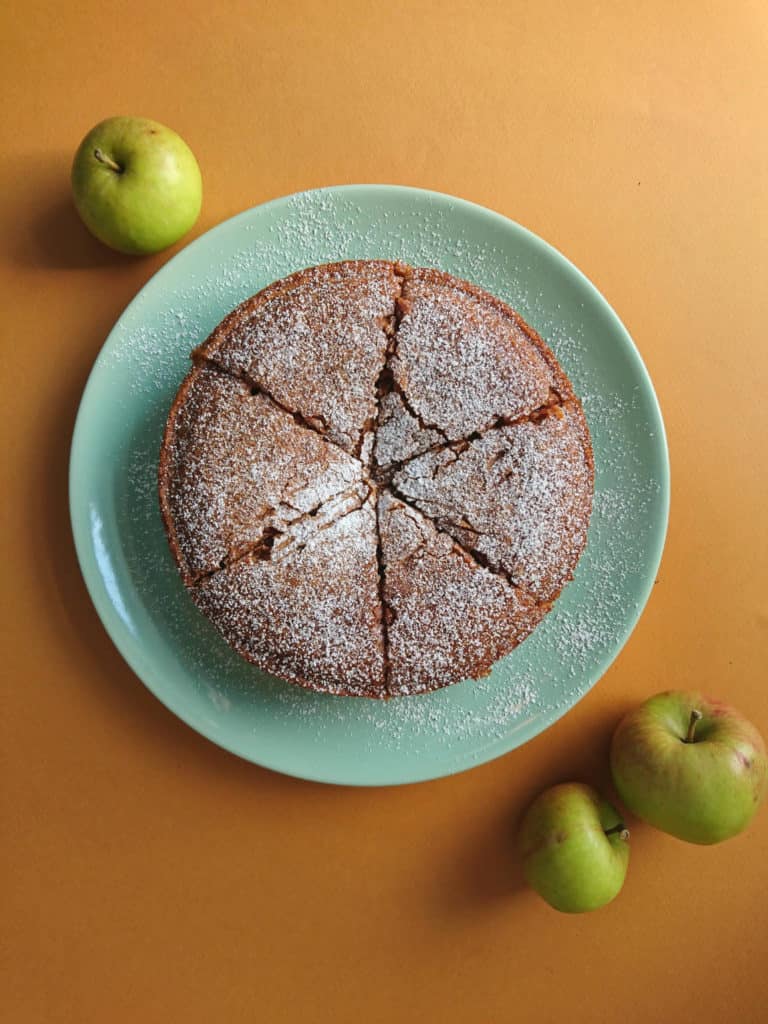 This vegan apple cake is based on a traditional Russian recipe. It's easy to make but creates something surprisingly complex. Serve it warm and freshly baked from the oven and you'll find out for yourself. The layers are perfect. First, your fork breaks through a crisp, golden top into a soft, lightly spiced sponge, then a layer of sweet, juicy apple. It's an awesome combination of flavours and textures.
Surprisingly, all you have to do to create it is pour some cake batter over apple slices and bake it. There's a reason why these classic recipes stand up to the test of time, so I'm excited to share my vegan apple sharlotka recipe. I plan to make more Russian vegan recipes in the future, but for now this cake makes a delicious alternative to an apple pie. Actually, a vegan apple pie should be my next project, so watch this space. I can always do with more ways to use apples while they're in season.
Anyway, before I get caught up talking about apple recipes in general, back to this specific cake!
How to make a Russian vegan apple cake
Traditionally it's a whipped egg sponge. It's light, and the top browns well. The moisture from the apples steams it as it bakes, so the result is moist and light.
The key to its special texture and layering is using the right sponge.
But this recipe is egg-free of course. I've used a vegan cake ratio I've used many times and made adjustments to suit vegan sharlotka (check out a variant I used to make chocolate brownies here). Crucially to make a sharlotka, I've reduced the soy milk to make the batter thicker. This stops the apple layer floating up into the sponge during baking – so we get the layers and the steaming. Being thicker it also absorbs the additional moisture without getting too wet.
To enhance the flavour I'm using light brown sugar because it adds a whole additional layer of flavour over white sugar. Spices are also a key part of making an excellent Russian apple cake. Not too much, not too little, the goal is to balance them just right against the apple. I find one level teaspoon each of cinnamon and nutmeg is perfect.
After multiple tests, this has proved itself as a robust cake recipe. Sinking in the middle is the only risk I identified. Fortunately, you can avoid this by having all of your ingredients at room temperature and using warm soy milk.
I baked two identical cakes side-by-side in the same oven, one with cold apples and soy milk, and one with room temperature apples and warm soy milk. The benefit of using warm ingredients was clear as this was the cake that came out nicely risen.
This isn't my first cake experiment with cold ingredients vs. room temperature. Cold ingredients increase the time it takes heat to reach the centre of the cake, and the result is the outside cooking much faster than the centre. Cold ingredients are a risk for all cakes, but most of all a sharlotka due to its apple layer. A half kilo of cold apple in the bottom will greatly slow down the heat penetration. The ideal situation is rapid heating throughout the cake during baking, so get the apples into a warm environment well in advance and warm the soy milk right before mixing it in.
Why soak the apples in lemon juice and sugar?
The lemon juice and sugar soaking of the apples is not intended to flavour them – although it will impart a little. It's a physical process needed for any apples used. The sugar draws out excess moisture from them, and the lemon juice stops them from browning. So don't skip this step or move on before they've had the required 30 minutes.
Follow these steps and it's easy to bake your own Russian vegan apple cake.
Yield: 6
Russian Vegan Apple Cake (aka vegan apple sharlotka)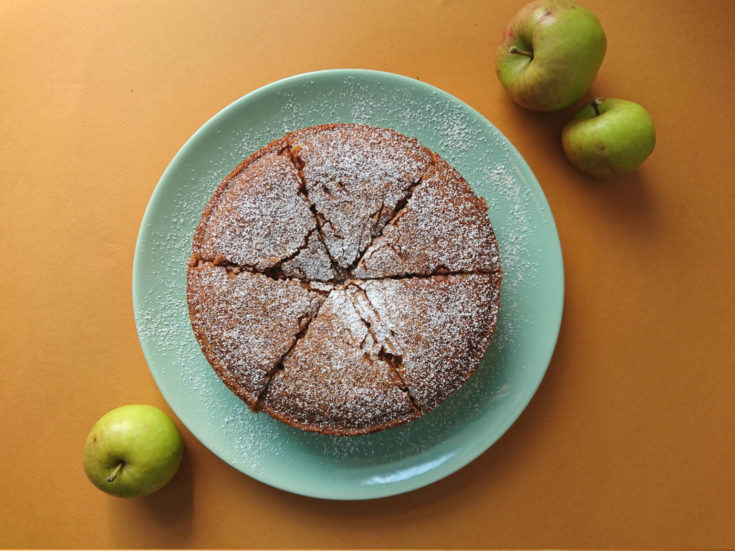 I love making this vegan apple cake in Autumn, it's warming and makes the house smell delicious. And the texture is perfect! First, your fork breaks through a crisp, golden top into a soft, spicy sponge, then a layer of sweet, juicy apple. Recipe from veganrecipebowl.com
Total Time
1 hour
15 minutes
Ingredients
apple layer
500 g cooking apples (peeled, cored and thinly sliced)
1 tablespoon lemon juice
2 level tablespoons soft brown sugar
to grease tin
1-2 teaspoons light olive oil
cake layer
150 g plain white flour (aka all purpose)
150 g soft brown sugar
3 level teaspoons baking powder
1 level teaspoon ground cinnamon
1 level teaspoon ground nutmeg
1/4 teaspoon salt
125 g unsweetened soy milk (warmed)
75 g light olive oil
3 tablespoons maple syrup
Instructions
To prepare the apples mix together the two tablespoons sugar and one tablespoon lemon juice in a large bowl. Add the sliced apples, and using your hands rub the lemon juice and sugar all over them. Set aside for 30 minutes. During this time water will release from the apples.
While the apples are standing, preheat the oven (190 °C, Fan 170 °C, 375 °F, Gas 5).
Lightly grease a 20 cm (8 inch) cake tin with high sides. Don't use any baking paper – it gets wet and breaks down where the apple is touching it.
When the apples are nearly done standing, start making the cake batter. In a large bowl mix together the dry ingredients (flour, sugar, baking powder, spices and salt) until evenly distributed and there are no lumps. Then mix in the liquids (soy milk, olive oil and maple syrup) until a smooth batter forms. Do not beat heavily or for any longer than needed to form a smooth batter.
Remove apple slices from their bowl (discard the liquid extracted from them), and place them in an even layer across the bottom of the cake tin. Over this pour an even layer of the cake batter, then promptly place the cake in the centre of the preheated oven.
Bake until the top is golden brown and a cocktail stick inserted in to the centre pulls out cleanly. This takes approximately 45-60 minutes – but ovens vary, so make sure to check it at about 40 minutes to avoid overcooking. When it is done, gently run a knife around the edge to separate it from the tin and allow to cool a little before serving.
Notes
Serving: Allow to cool for 5-10 miniutes before serving. Although delicious warm or cold – the crisp top and soft sponge are only present when served warm and fresh.
Storage: Cover and keep in a cool place for a up to two days.
Nutrition Information:
Yield:
6
Serving Size:
1
Amount Per Serving:
Calories:

400
Total Fat:

15g
Saturated Fat:

2g
Trans Fat:

0g
Unsaturated Fat:

12g
Cholesterol:

0mg
Sodium:

344mg
Carbohydrates:

67g
Fiber:

3g
Sugar:

43g
Protein:

3g
Got any ideas or questions about the recipe? Join in the conversation below!