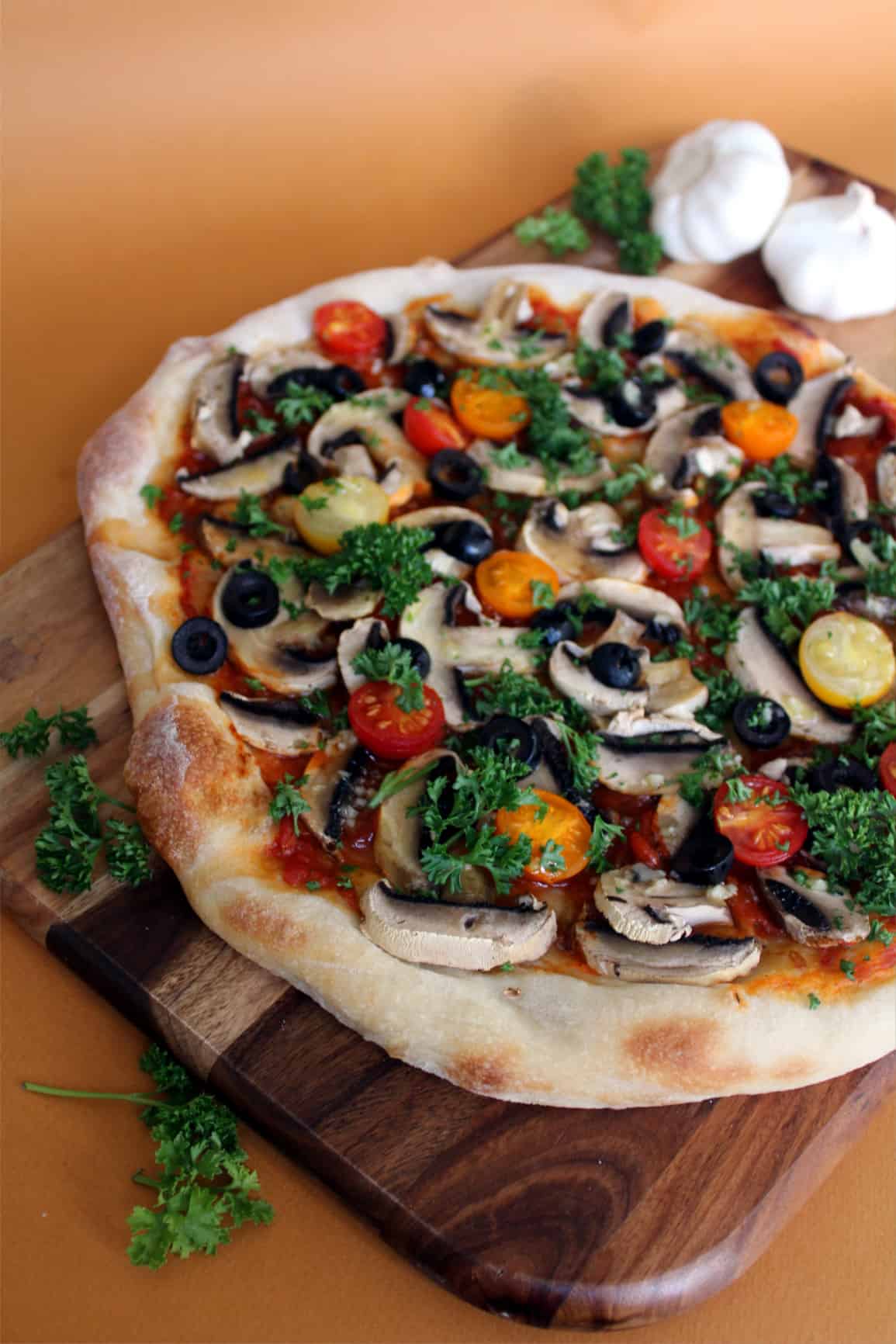 People always ask me, what about vegan pizza? This recipe is my answer. A vegan pizza so good everyone – vegan or not – will want another slice…or two. This means bold flavours that compliment and contrast. And finding the perfect balance of these ingredients.
It's purposefully rich. I want to show the potential to build complex, layered flavours from plants.
I'm using the slow cooker tomato sauce and vegan pizza dough I developed earlier. I love the pizza crust for its crispness and lightness, and the sauce for its intense flavour. However, any base and sauce could be used. This post is all about the choice and balance of toppings to complete a vegan pizza. Mushrooms, olives, garlic and fresh herbs. Oh, and cherry tomatoes. These turn out to be surprisingly important for this recipe.
Mushrooms were a clear choice. Their soft, creamy texture, firm bite and rich, deep umami tones are ideal. This pizza uses them generously to create a base flavour and texture. It will look like a lot when topping the pizza, but they shrink significantly when cooked so don't worry if they're overlapping.
Black olives bring a bold savoury taste and saltiness. My daydreaming about pizza research revealed that all great pizzas have at least one salty topping. To brighten it, however, there are some halved cherry tomatoes. These become rich, sweet and juicy during baking. Eating them releases refreshing bursts of flavour. Because they're cooked differently their taste is distinct to the tomato sauce. Using the same ingredient at different stages of cooking is a great way to build flavour.
Creating contrast and balance is important. Every bite of this pizza will have mushrooms, but only some will have an olive, or tomato, or both. There's a certain anticipation of these flavours cycling that keeps us enjoying and eating the pizza. It's satisfying.
This is why I'm using the olives and cherry tomatoes in moderation. More is not always more, least of all for pizza. Great pizza teases you with the flavours – but just a little, not too much. Tempting as it can be to try to load up on flavour, excessive use of toppings – volume or number – takes away the contrast needed, and if they're really piled on can also lead to a soggy base. I used to think a delicious pizza would just have loads of toppings, but that's not at all what I found.
Garnishing the pizza after cooking is the final step before serving – and a chance to add flavours that wouldn't withstand the heat of cooking. Extra virgin olive oil is one of these. Use before baking and the flavour vanishes, but drizzle on a hot pizza from the oven and something different happens. It releases the most amazing rich yet fresh aroma and flavour.
We could finish there. However, I want to take the flavour up one more step, so fresh garlic is mixed in with the olive oil. Just one clove for a large pizza. It's potent stuff, but without a doubt, a bit of raw garlic has the perfect sweet-sharp edge that brings the pizza together. Some fresh chopped parsley completes the pizza, and it's ready to serve.
Mushroom & Garlic Vegan Pizza Marinara
People always ask me, what about pizza? This recipe is my answer. A pizza so good everyone – vegan or not – will want another slice…or two. This means bold flavours that compliment and contrast. And finding the perfect balance of these ingredients.
Recipe from veganrecipebowl.com
Ingredients
1

portion

pizza dough

(aproximately 300g)

2

tablespoons

tomato sauce

200

g

mushrooms

(thinly sliced)

5-6

cherry tomatoes

(sliced in half)

1

tablespoon

black olives

(cut in to slices)
To garnish after baking
1

tablespoon

extra virgin olive oil

1

clove

garlic

(peeled and minced)

1-2

tablespoons

fresh parsley

(chopped up)
Instructions
Place pizza stone in the oven and preheat (240 °C, Fan 220°C, 475°F, Gas 9).

Mix together the garlic and olive oil, then set aside for the flavour to infuse.


When the oven and pizza stone are heated (takes about 45 minutes), hand stretch the dough on a lightly floured surface to form a 30 cm (12 inch) disc. Remove the pizza stone and quickly place the dough on it. Spread with tomato sauce, top with mushrooms, then olives and cherry tomatoes. Promptly return to the oven and bake for 10-12 minutes until the crust is golden and crisp.

Let the pizza cool for a couple of minutes, then drizzle with the olive oil and garlic. Sprinkle on the parsley, then serve.