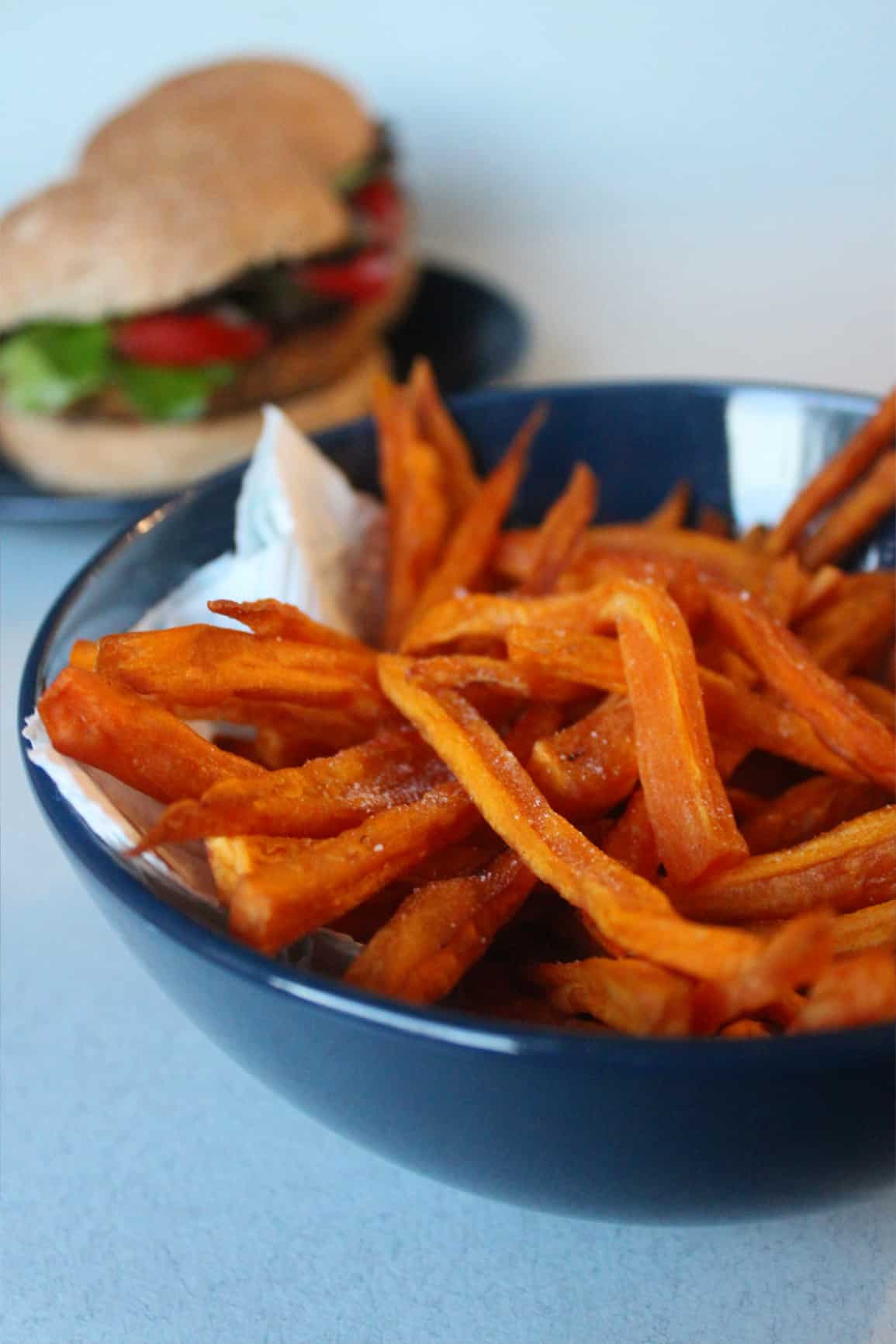 Sweet potato fries have become one of our favourite recipes lately. It's their delicious mix of crisp and chewy, sweet and savoury. They're also quick and easy to make! Sprinkle with a little salt and and enjoy on their own, or serve with a burger. Best of all a spicy burger – their sweetness compliments perfectly.
Turning sweet potatoes into fries is easy, but needs a specific method.
Sweet potatoes have a high water content – which may be surprising as they don't seem that way when raw. However, break down the structure a bit with cooking and out comes the water. Because of this, we need to cook them the right way to make the best fries.
Foods that contain a lot of water are hard to crisp in hot oil, they tend to just steam and cause the oil temperature to drop. Within a few minutes of adding them to the pan the oil will drop down to the boiling point of water – 100 °C.
100 °C, however, is below the temperature needed to form a crisp surface. So, how to make that awesome, flavourful crisp surface?
The best way to is to fry them twice. The first time boils out much of the excess water but does drop the oil temperature significantly. So, take them out and let the oil get hot again before returning them to the pan for the second frying. During the second frying the oil stays hotter and they'll crisp.
Cutting thin sweet potato fries is also part of the solution here. With an increased surface area the water boils out much faster. Chunky ones take too long.
Enjoy!
Sweet Potato Fries
Ingredients
1

medium

sweet potato

(around 350g)

1

litre

oil suitable for deep frying (sunflower, canola, etc.)
Instructions
Peel the sweet potato and cut in to thin fries (around 0.8 – 1 cm square).

Fill a large pan to 1/3rd or lower with the oil and heat to 160 °C / 320 °F. Add the fries (oil will foam up, so add carefully) and cook for around 4-5 minutes. Remove the fries and set them aside.

When the oil returns to 160 °C / 320 °F return the fries. Cook for around 5-6 minutes until they're crisp and golden. Remove, drain on absorbent paper and serve with a sprinkle of salt.
Notes
Fries don't keep, so make and serve fresh.
The oil does foam up a fair bit during the first frying, so use a tall sided pan and keep the oil level to 1/3rd or lower to accommodate this.