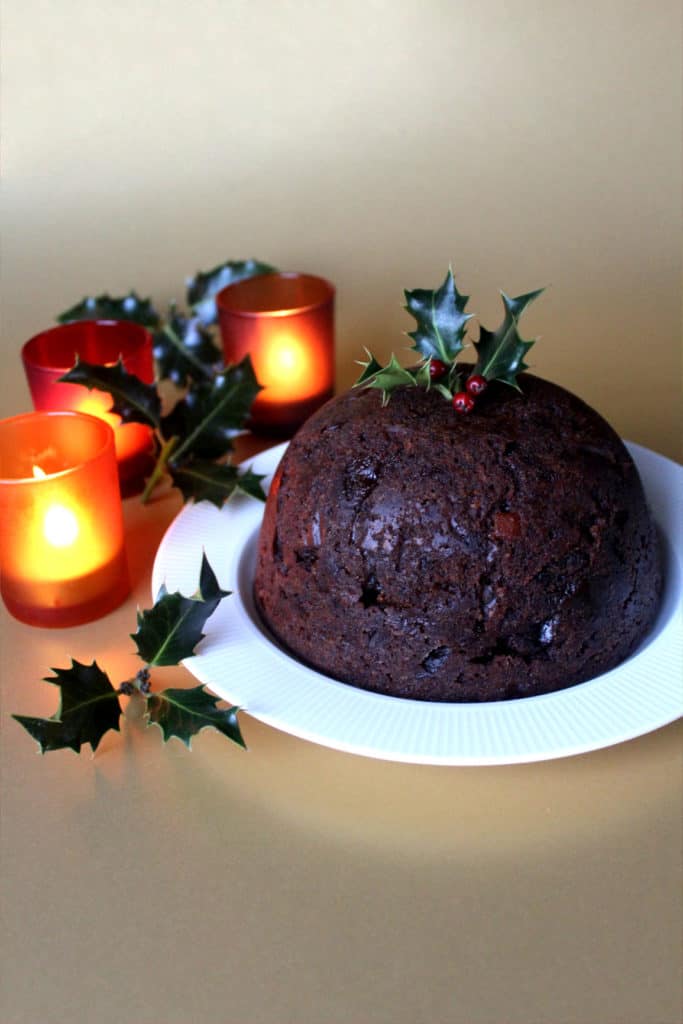 A classic vegan Christmas pudding made with plant based ingredients. Nothing new or weird, just a great christmas pudding. Richly spiced, filled with juicy fruit and a bit boozy.
One of the things I love about creating recipes for this site is getting to really dig in to a recipe. Christmas pudding is a fascinating dish to explore and make multiple times with small changes. Loaded with multiple bold flavours, yet it all comes together at the end in a surprisingly smooth way.
Something of a relative to another classic festive recipe – Christmas cake – it's all about building flavour through ingredient choices and a long, slow cooking. During cooking the sugars caramelise and the complex flavours meld together. Steaming is traditional – but that's starting to change with many cooks turning to their slow cookers.
Making your own vegan Christmas pudding is surprisingly little work when the cooking step is a matter of turn the slow cooker on and forget about it for six hours.
The slow cooker holds its temperature well throughout cooking, and with a good fitting lid it's unlikely to boil dry. However, if you don't have a slow cooker the recipe notes include alternative instructions to steam this pudding in a pan.
Don't be alarmed by the banana in this recipe! It blends in seamlessly among the fruit flavours. Enhancing them, but not at all jumping out. It's also valuable in a vegan Christmas pudding as a binder that replaces eggs.
It's absolutely fine to make this pudding last minute if needed. However, make it in advance and let it mature for about 6-8 weeks and you will be rewarded.
But does maturing for even longer mean more or better flavour? It's tempting to think if a little is good then a lot must be even better.
However, what's taking place as the pudding matures is a chemical reaction, and these do slow down and ultimately stop at some point. It is even possible the flavours created may eventually start to degrade! Unfortunately it's impossible to taste two puddings from the same batch side by side at different rates of maturation, so the exact answer may always be a mystery. What I can say is 6-8 weeks maturing has never let me down.
Almost any type and ratio of dried fruit will work. Just make sure you chop up large pieces with a knife in to chunks. I've kept things simple and used a bag of mixed dried fruit – but you can absolutely mix up your own. Dried figs and apricots make a delicious addition. Candied peel is valuable for it's crisp, sharper flavours so I would always keep some in the mix when selecting fruits. But never go above 50g as too much makes a bitter pudding. Balance is the key. Aim for good base of the rich, sweet fruits like raisins, currants and sultanas with a smaller fraction of the sharper ones.
Glacé cherries are another fruit I typically like to keep in the mix. They add bursts of fresher, lighter flavour to the pudding and retain a juicy texture.
Using a good quality, well-matured brandy (a Cognac is awesome) gives a huge flavour advantage. Crucially however, don't skip it. Any brandy will add a good flavour and it is needed for functional reasons. The alcohol is important for extracting the spices during the soaking stage. It also preserves the pudding as it matures. You can pour on 2-3 tablespoons of warmed brandy right before serving. Igniting it is traditional, and fun, but entirely optional!
Vegan Christmas Pudding (Palm Oil Free)
This classic vegan Christmas pudding creates the traditional pudding with plant based ingredients. It's richly spiced, filled with juicy fruit and a bit boozy. Recipe from veganrecipebowl.com
Ingredients
To soak overnight:
1

ripe banana

(peeled & thoroughly mashed)

350

g

mixed dried fruits

(sultanas, raisins, currants & mixed peel)

75

g

glacé cherries

75

g

dark brown sugar

50

g

ground almonds

2

tablespoons

molasses

(aka black treacle)

3

teaspoons

mixed spice

1

teaspoon

cinnamon

½

teaspoon

nutmeg

½

teaspoon

fine salt

Zest of one orange

100

g

light olive oil

75

g

brandy

150

g

soy milk
To add right before cooking:
100

g

plain white flour

(aka all purpose flour)

1/3

rd teaspoon baking powder
To grease pudding basin:
1

tablespoon

light olive oil
Instructions
Begin making your pudding the day before steaming it. Place all of the ingredients from the 'to soak overnight' list in a bowl, mix well, cover and set aside overnight.

The next day generously grease a 1.2 litre pudding basin with the 1 tablespoon light olive oil, then place a square of baking paper (6 x 6 cm) in the bottom, pressing down well to adhere it to the greased basin. This will help the pudding release from the basin when you serve it.

Sift the flour and baking powder in to the previously soaked ingredients, then mix together well to form a thick batter.

Pour your batter in to the basin. Cover the basin's top with a layer of greaseproof paper, then a layer of aluminium foil. Secure these tightly in place with an elastic band around the basin's rim.

Place the basin on a trivet in your slow cooker, then add boiling water to roughly 1/3rd the way up the sides of the basin. Put the cooker's lid on and cook on high for 6 hours (if using a multi-cooker set it to just below 100 °C). After cooking turn off the slow cooker, but leave the water and pudding in there until cool.

Once cooled, remove the pudding, replace the paper and foil with fresh pieces and secure with elastic band. Store your pudding in a cool, dry place for 6-8 weeks to mature.


Before serving reheat the pudding by placing it (still covered in the paper and foil it was stored in) in the slow cooker, then add boiling water to roughly 1/3rd the way up the sides of the basin. Put the cooker's lid on and heat on high for 2 hours (if using a multi-cooker set it to just below 100 °C). Run a flexible spatula around the pudding's edges to separate it from the basin, then turn out carefully on to a plate and remove the square of baking paper. Optional: 2-3 tablespoons of warmed brandy can be poured on.

Notes
If you don't have a pudding basin, a 1.2 litre pyrex bowl is also suitable.
If you're igniting the pudding use a heat proof plate with a high rim to catch any brandy that might leak out.
If you don't have a slow cooker you can place the basin on a trivet in a saucepan, add boiling water to roughly 1/3rd the way up the sides of the basin, put the lid on and cook over a low heat. You'll need to check periodically to ensure it doesn't boil dry however.