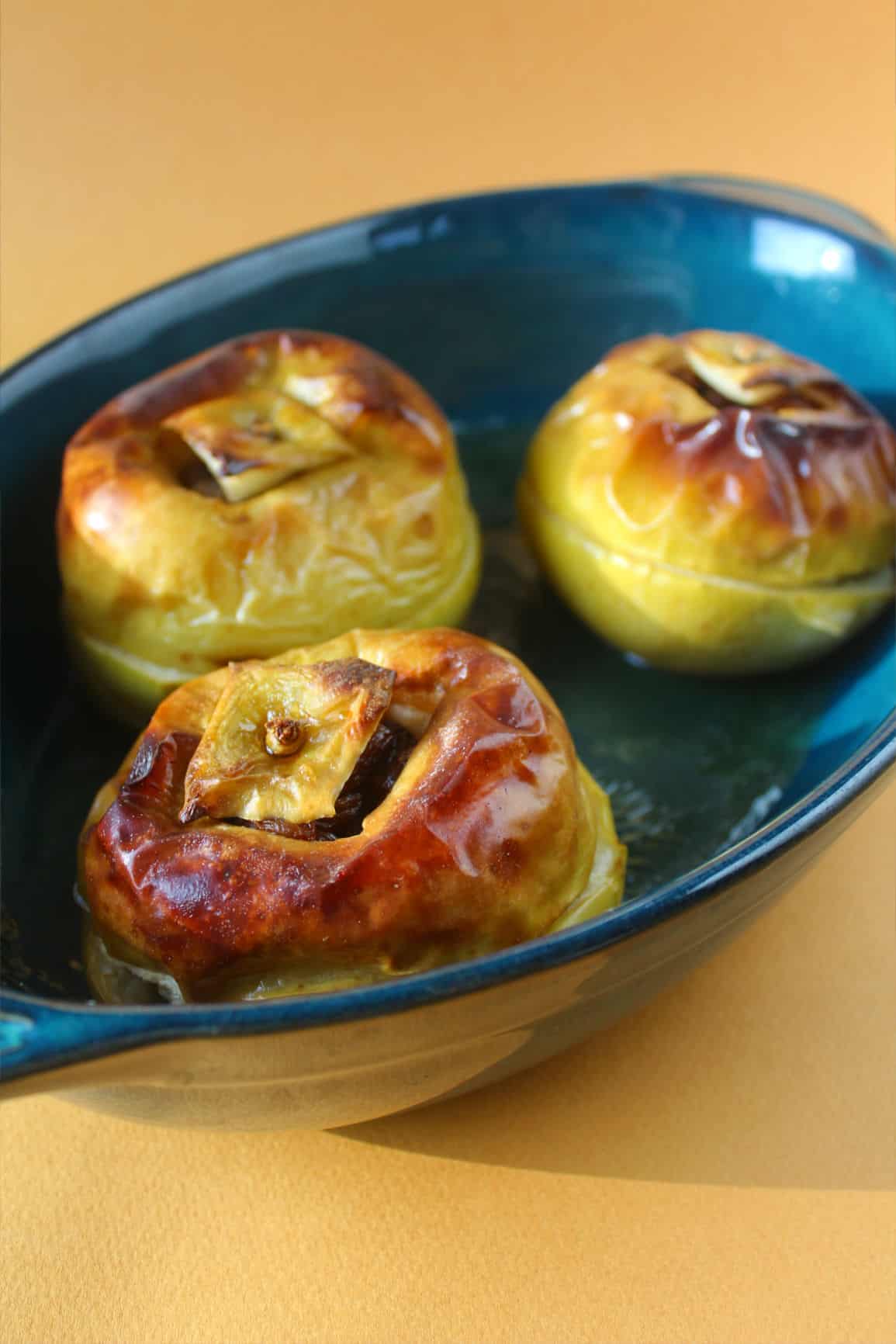 Baked apples instantly came to mind when a friend asked for a simple vegan dessert. They're about as easy as it gets, they're basically apples with the cores scooped out, stuffed with sultanas and maple syrup. The good stuff all happens during the next 60 minutes or so in the oven. The dried fruit becomes juicy and plump, the apple softens and soaks up the maple syrup. Oh, and the golden, caramelised skin!
There are a few ways to make baked apples. Many use golden syrup – my mother did when we were children. I've switched to maple syrup though and used less of it for these ones. The maple syrup adds so much more flavour, and I enjoy the sweet-sharp balance when using it sparingly. Sweet apple juice is released into the baking dish while they cook, just scoop it up and spoon it over the apples before serving.
I also appreciate they're nearly wholefood – all except the two teaspoons of maple syrup in each apple.
Some recipes just core them and leave the top open, but I've retained the tops and put them on during baking to avoid the sultanas burning. I love to eat them warm and fresh from the oven. They're also delicious cool, or can be saved and gently reheated in the microwave.
Maple Syrup Baked Apples
Soft baked apples stuffed with juicy sultanas and maple syrup. A delicious, simple vegan dessert that cooks in just one hour. Recipe from veganrecipebowl.com
Ingredients
3

large cooking apples

6

tablespoons

sultanas

(raisins work too!)

6

teaspoons

maple syrup
Instructions
With a knife score a ring around the circumference of each apple (this allows them to expand without bursting when baked). Cut out the top of each apple and set these to one side for later. Scoop out the hard cores with a spoon and discard them. Stuff each apple with two tablespoons of sultanas and pour in two teaspoons of maple syrup, then replace the tops.


Place the apples in a baking dish (glass or ceramic is best) and bake in a preheated oven (200 °C, Fan 180 °C, 400 °F, Gas 6) until golden brown – takes roughly 60 minutes.

Notes
Cut raw apple turns brown quite fast from exposure to the air, so assemble and bake them right away. Once cooked however they're stable and can be saved for up to a three days while covered in the fridge. You can reheat on medium-high in the microwave before serving.