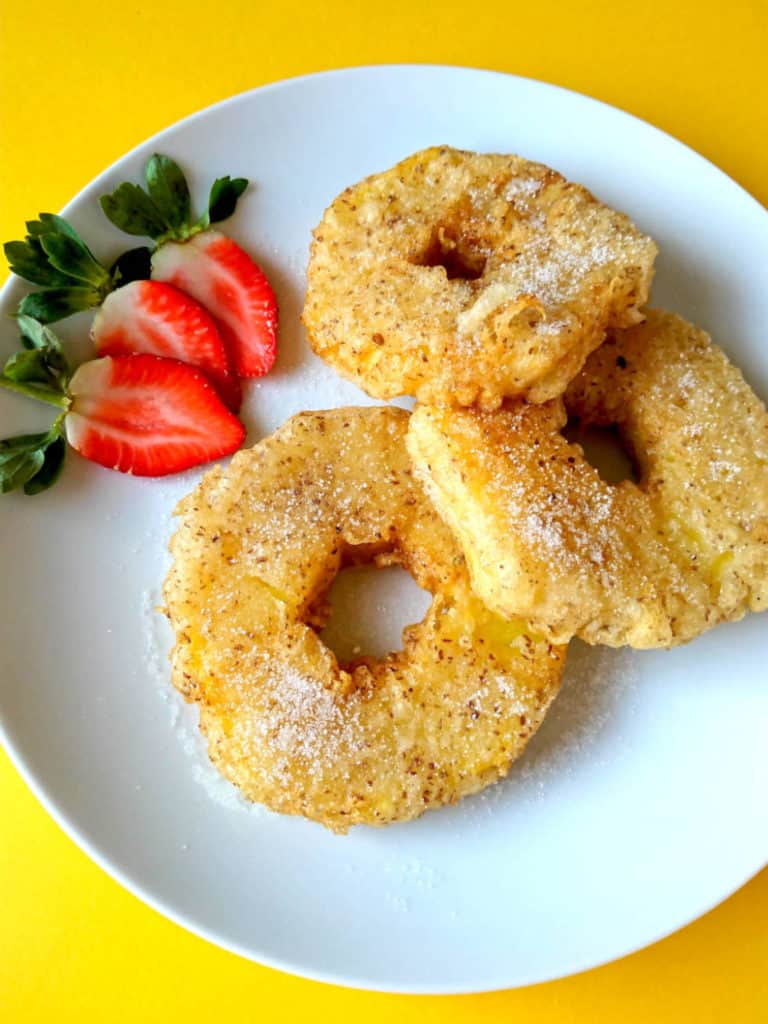 These vegan pineapple fritters have a centre of sweet, juicy pineapple wrapped in a crisp, light batter.
I tried to find out the origin of pineapple fritters. The history of food fascinates me. But no amount of searching for things like "history of pineapple fritters" or "origin of pineapple fritters" cleared that one up. It's a mystery, so if anyone has any ideas please post them in the comments! I've always associated them with 1970s food however, so that's what I'm going to tag them as. Vintage food is another subject I love. It's a bit about nostalgia, and partly because there's some genuinely delicious ideas hanging out between the endless stuff-in-aspic-recipes in those retro books. Without a doubt, fruit fritters are one of the genuinely delicious ones.
The task is simple, keep everything that makes them delicious, just make them vegan pineapple fritters.
The light batter is crucial to this recipe's success. A thick batter insulates the pineapple and stops it cooking well. Cooking the pineapple is important because it makes it juicier and sweeter. So, light is the way to go. Don't worry if it looks a bit thin after dipping, everything is totally ok. It will puff up in the hot oil.
How to chop your pineapple matters too. There's broadly two ways to make a fruit fritter – use individual pieces of fruit dipped in batter, or combine multiple smaller pieces together and fry as clumps. I've chosen to cut the pineapple in to rings and use them whole – not as pieces. Seems a subtle difference, but I found a significant difference when making the fritters. One piece of pineapple with a uniform layer of batter behaves consistently when cooked, and it eliminates the pockets of batter between pieces of fruit which often remain wet and undercooked.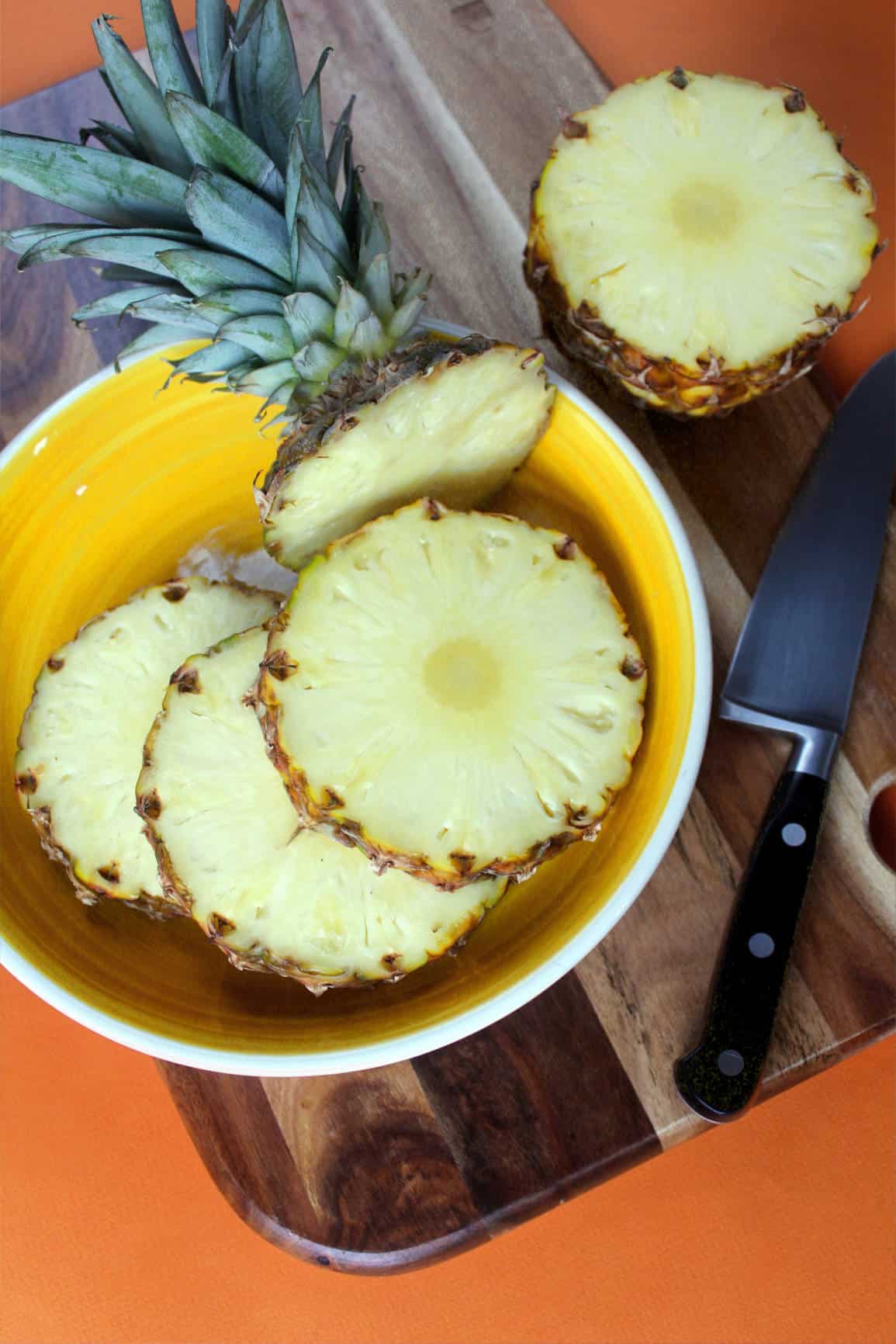 To make an egg-free coating batter I'm using a combination of ground flaxseed and cornflour – something I discovered when making onion rings (see recipe here). For making egg-free batters, these two ingredients together beat any egg batter I've used in the past.
Bringing this batter and method together has worked great, test after test found the recipe to make excellent pineapple fritters. Ok, I may have tested this one a little more than I really needed to…
Yield: 6
Vegan Pineapple Fritters
These vegan pineapple fritters have a centre of sweet, juicy pineapple wrapped in a crisp, light batter. Recipe from veganrecipebowl.com
Ingredients
for the batter
75 g plain white flour (aka all purpose flour)
10 g ground flaxseed
10 g cornflour
1 teaspoon baking power (rounded)
175 g water (I prefer to weigh liquids)
to cook
1 litre vegetable oil (use one suitable for deep frying, eg. sunflower or corn oil)
to finish
3 tablespoons granulated sugar (sprinkle on after cooking)
Instructions
Prepare the pineapple by cutting it into six slices, then cutting away each slice's hard peel and removing its core, leaving just a ring of yellow pineapple flesh.
Mix together the dry batter ingredients (flour, ground flaxseed, cornflour and baking powder) in a bowl. To this slowly add the water and stir until any lumps are gone and the batter is smooth. Set the batter aside to thicken for 15 minutes.
Once the batter has thickened, heat a pan of oil (need at least 6 cm depth) to 160 °C (320 °F).
Dip each pineapple slice in the batter with a fork, tap off the excess batter and then immediately – and carefully – transfer to the hot oil. To avoid them sticking together, add each ring so that it is not touching another ring.
Fry until golden brown and crisp (takes about four minutes), flipping over once halfway through to cook both sides. Drain on absorbent paper, allowing a few minutes to cool (they can be very hot inside!) before sprinkling with granulated sugar and serving.
Notes
Storage: Pineapple fritters do not keep well, they are best when cooked and served immediately.