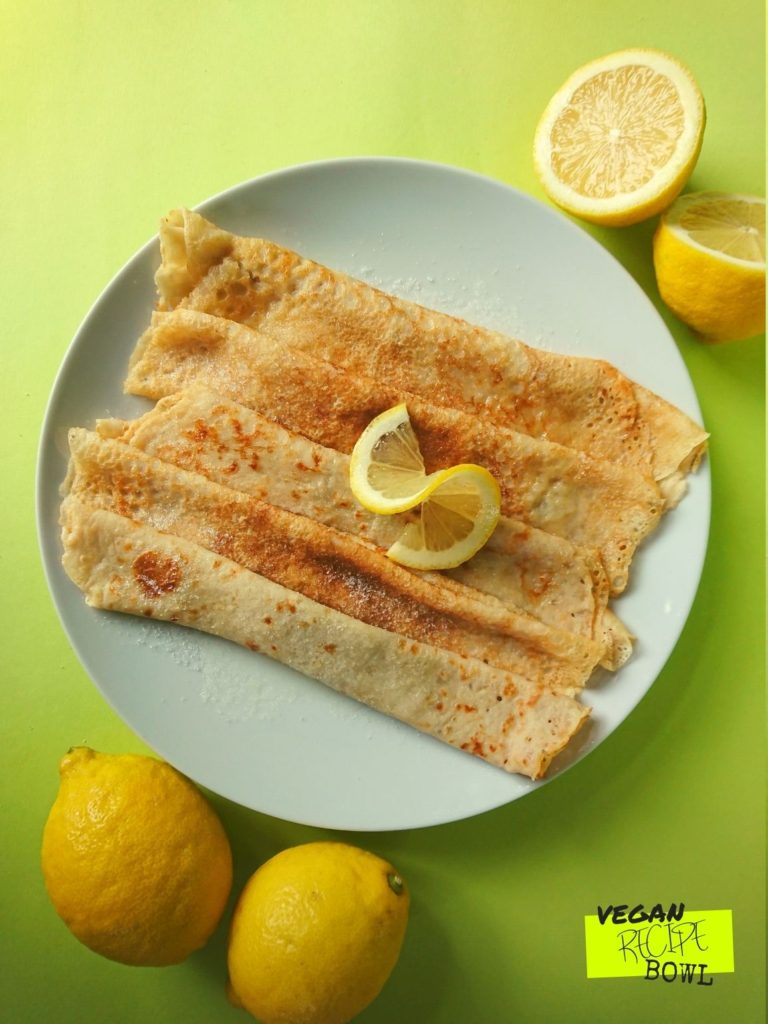 This post contains affiliate links, which means if you purchase something through my link, I will earn a small commission. This does not affect the price you pay for the item. I only advertise products that I have used myself and would genuinely recommend!
These vegan English pancakes are an exact recreation of the classic British pancake recipe. Hot from the pan they're soft and juicy inside, yet golden and crisp on their surface. Perfect with a squeeze of lemon and sprinkle of sugar – or some maple syrup. They're totally suitable for savoury pancake recipes too, because there's no sugar in the batter.
I have a long-term fascination with developing egg-free batters. Previously I've created American-style pancakes, pineapple fritters, and onion rings. Plus all kinds of cakes. I've also been delighted to guest blog an easy, one-bowl American pancake recipe for egg-truth.com.
English pancakes, however, use a distinctly different batter to all of these, and developing this recipe posed interesting new challenges.
Dairy-free pancakes are easy. Making egg-free pancakes required a new recipe
Replacing dairy milk is normally simple – just use a plant milk. I've chosen soy milk because it's widely available, and its high protein content encourages batters to set and brown well. It's my favourite dairy-free milk for most cooking and baking, but you can use an alternative plant milk like oat or almond milk – they will work fine too.
Making eggless pancakes is the interesting bit because it involves a whole lot of food science. It was also an excuse to eat loads of pancakes for 'testing' purposes… But jokes aside, the recipe needs to be spot on. English pancakes are a popular, much-loved British recipe.
Crucially, these pancakes need something subtle to bind them together. I have nothing against say, banana pancakes, it's just I want to exactly replicate my original recipe – and that recipe doesn't taste like bananas.
Enter aquafaba – the liquid from a can of chickpeas. You don't taste it or know it's there, but it's a great egg-replacer that works great at binding batters.
Despite aquafaba being the latest vegan craze (who would have guessed we'd be so excited by the liquid from canned chickpeas a few years ago?!), I've not actually had the chance to share a recipe using it yet. Vegan English pancakes seemed are an excellent place to showcase aquafaba's egg-replacing properties.
You don't know it's there when eating them – that's the beauty of it, but try making the same recipe with the aquafaba replaced with water and everything changes. The pancakes simply fall apart.
Can you freeze aquafaba?
Absolutely, these pancakes work great with previously frozen aquafaba! Just make sure you fully thaw it before use. I freeze 100g quantities just for pancake making, which are perfect to move from the freezer to the fridge the night before making them.
Replacing the egg requires several ingredients working together
Aquafaba is awesome, but there's a bit more going on here to replace the egg. To keep the pancakes tender and soft – like eggs do – I'm adding a little olive oil to the batter. Also, a good pinch of salt. Eggs are salty, so vegan pancakes taste most authentic with the salt in. However, I've realised that the salt is more than a taste issue, I have found the pancakes can be fragile and gummy if I skip the salt. I've seen this multiple times and even corrected it halfway through a batch by adding salt to the batter. I'm unsure why this is though. Anyone with any thoughts on this, please share in the comments!
Some cornflour gives tenderness and enhances crisping, while the pinch of baking powder replicates the mild leavening action of eggs.
Together these ingredients work to create the best vegan English pancakes.
Exactly like the traditional version, these English pancakes are neither sweet nor savoury. You can choose the toppings you want and can serve them either way.
Let the batter stand for best results
Letting a batter stand for a while so the flour plumps up before cooking is a classic batter technique – and one I wanted to use in this recipe. With traditional recipes, it makes excellent, tender pancakes. However, doing this made my new, vegan batter too thick to spread around the pan!
To solve this, I split the addition of soy milk. First, we use some to hydrate the flour, let it stand, then add the rest right before cooking. The result is perfect, a thin batter that's full of nicely plumped-up flour. All of the tenderness benefits, yet it flows out nicely around your pan when pouring.
Pancake making is equally about recipe, frying pan and technique
Like crêpe making, English pancakes rely on a specific cooking technique. Fortunately, it's easy to replicate when you know how.
When cooking these pancakes it's essential to use a hot frying pan. The pancake's surface needs to sear quickly so the pancake is browned and golden, but the inside stays soft.
Oil helps greatly with transferring the heat from the pan quickly, and to give a glossy, golden finish. Crucially, add a little oil right before frying each pancake. Place the oil right into the centre of the hot pan, then pour the batter in to the oil pool. Immediately tilt the pan around to evenly spread the batter. This technique makes the perfect crisp-yet tender pancakes with lacy edges every time.
Choosing a good frying pan
This recipe is developed for a roughly 30cm pan. Keep in mind you can't move the pancake around so you'll do best with a thick bottom pan that distributes the heat evenly.
Happy pancake day!
Yield: 8 large pancakes
Vegan English Pancakes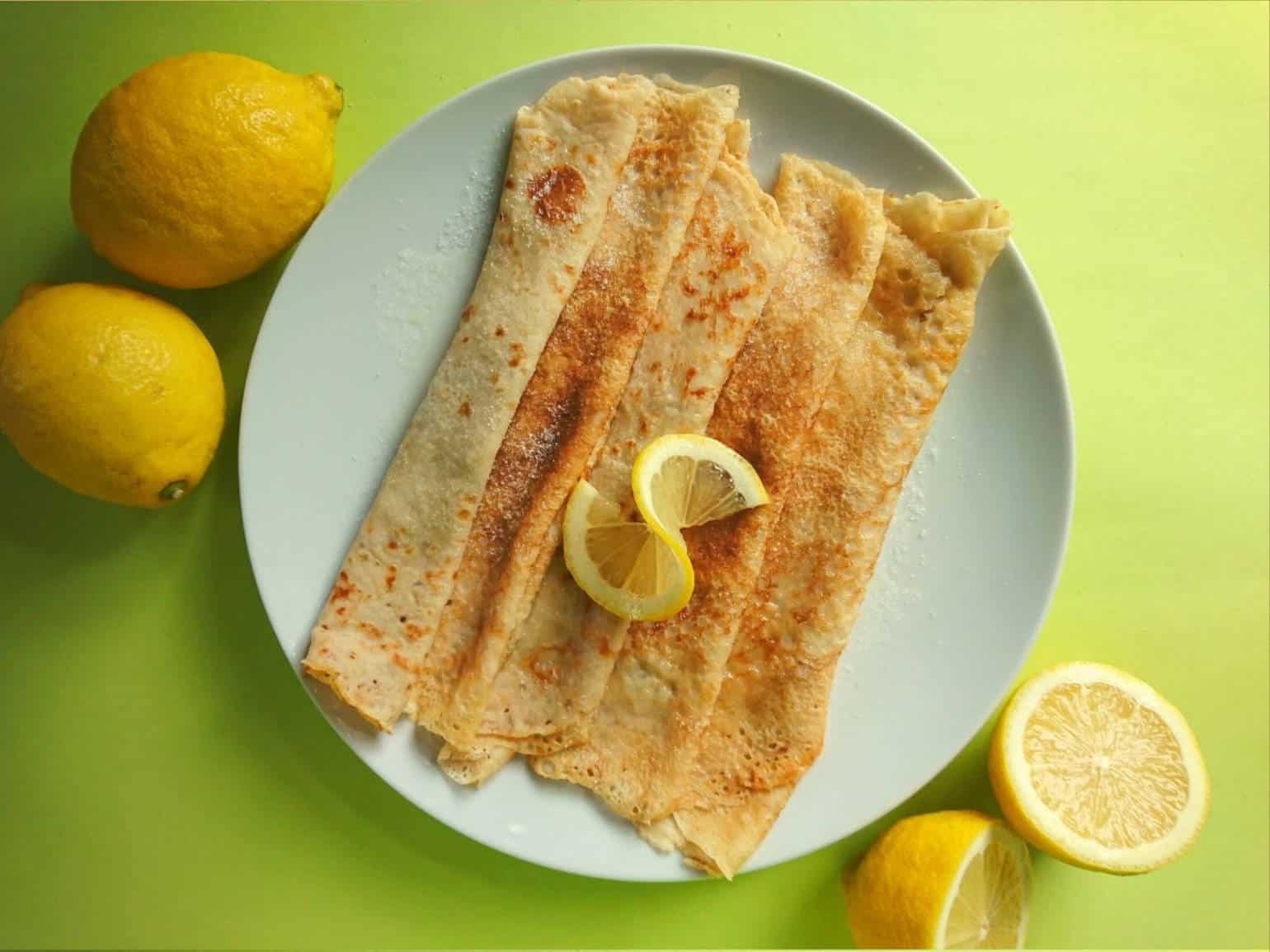 This super-easy vegan English pancake recipe makes perfect pancakes every time. Serve hot and fresh from the pan with lemon juice & sugar! Egg-free and dairy-free. Recipe from veganrecipebowl.com
Additional Time
30 minutes
Ingredients
To rest for 30 minutes
200 g plain white flour (aka all purpose)
2 teaspoons cornflour (aka cornstarch)
1/2 teaspoon baking powder
1/8 teaspoon salt (do not skip, it affects the pancakes' texture!)
300 g soy milk (unflavoured and unsweetened)
100 g aquafaba (liquid from a can of chickpeas – shake can well before draining)
2 tablespoons light olive oil
To add after resting
150 g soy milk (unflavoured and unsweetened)
To fry
4 tablespoons sunflower oil (divided in to 1/2 tablespoon for each pancake)
Instructions
Place all of the ingredients from the "to rest for 30 minutes" list into a large bowl and whisk until a smooth batter forms. Set aside for 30 minutes.
When you return the batter will have thickened. Add the remaining 150g of soy milk and whisk lightly until combined. The batter will now be quite thin and easy to pour.
Heat a ~30cm frying pan until it's good and hot. Place 1/2 tablespoon of sunflower oil in to the centre of the pan, then pour 1/3 a cup of the pancake batter in to the middle of the oil – it should sizzle immediately. Promptly tilt the pan about so the batter evenly coats the bottom of the pan. Fry until the underside is golden (1-2 minutes), then flip over with a spatula and fry the other side until it's golden (1-2 minutes).
Transfer to a plate and serve with any topping of your choosing. Hot or cold, sweet or savoury, they're delicious.
Notes
Flour varies in how much water it absorbs. If your batter is a bit too thick and hard to spread around the pan you can add a little more soy milk as needed. Add modestly though, a tablespoon or two is often enough.
1/3 a cup is about 80ml of batter. If you don't have a measuring cup to hand, 1/3 of a regular coffee mug should be close enough.
Nutrition Information:
Yield:
8
Serving Size:
1
Amount Per Serving:
Calories:

205
Total Fat:

11g
Saturated Fat:

1g
Trans Fat:

0g
Unsaturated Fat:

9g
Cholesterol:

0mg
Sodium:

90mg
Carbohydrates:

21g
Fiber:

1g
Sugar:

1g
Protein:

4g