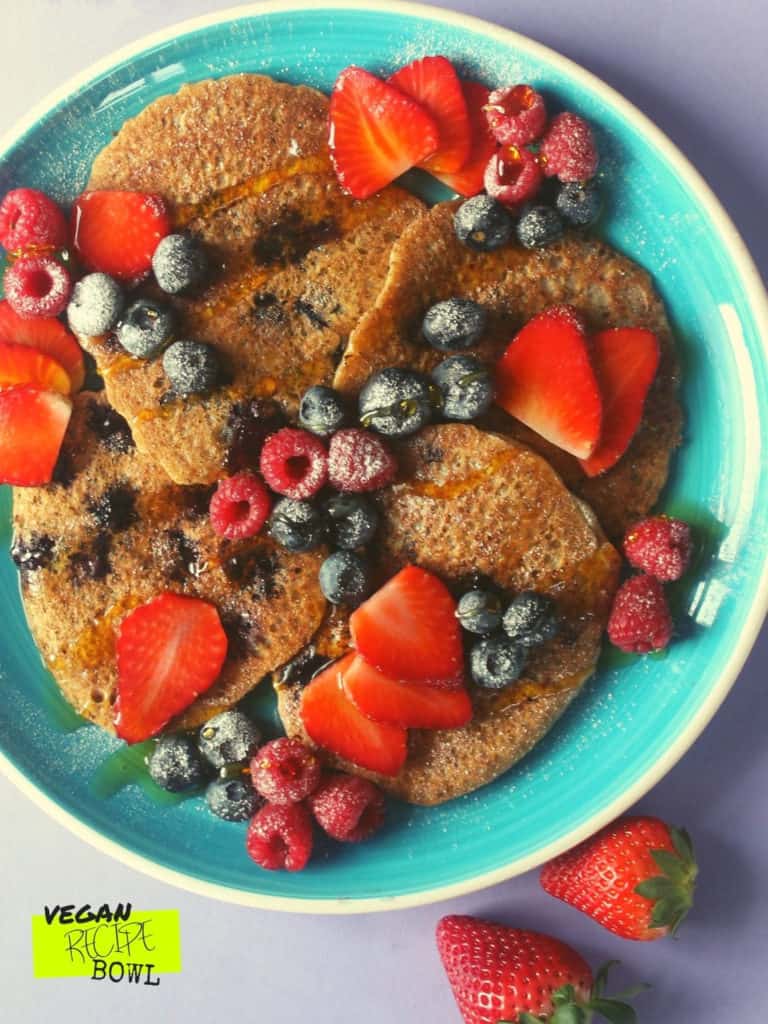 An indulgent American classic. These vegan blueberry pancakes are thick, fluffy and light – without a drop of dairy or a single egg. Scatter on some fresh raspberries, strawberries and extra blueberries, then pour on the maple syrup.
You can enjoy them any time you want, but for me this is a perfect weekend morning recipe. It's one of those stick everything in a bowl, stir it up and you're ready to go kind of recipes. Just chop some fruit to put on the top and make some coffee. Soon enough you've got something that looks and tastes great. Aside from being vegan, using wholegrain flour is the other deviation from the more traditional recipes I used to use. Wholegrain adds an awesome, slightly nutty flavour. But you can absolutely use white flour too if you prefer – I've tested that as well with great results. Just make sure you use bread flour.
I know it's weird using bread flour in pancakes, but there's a good reason. The higher gluten content in bread flour helps thicken the batter and adds structure to trap the steam during cooking. The result is that these pancakes rise beautifully. In fact, I prefer this recipe to my old egg-based one.
How to veganise a pancake recipe
Vegan cookery is getting more interesting as I dig in to it. The more I work on replacing eggs, the more accessible it seems to get. It's not really difficult or even needing complex recipes, it's simply a different way to cook. For this recipe I immediately went to my well tested combination of ground flaxseed and cornflour to replace the eggs. (I say more about this in my onion ring recipe, but to summarise it gives the batter thickness and helps it cling in the way egg batters do.) This worked great and took the recipe most of the way to egg-free. But something was still missing – my first attempts weren't puffing up quite the same as the egg versions. It was switching to bread flour that fixed this.
The only thing to note is don't excessively stir the batter once it has thickened. You don't want to start stretching out the gluten because that would lead to tough pancakes. Treat gently from this stage to make sure you get well-risen, soft, fluffy pancakes that readily soak up the maple syrup.
Any questions or suggestions?
If you have any thoughts about this recipe, join in the comments below! I also love when people tweet their recipe photos to me at veganrecipebowl
Yield: 3 servings (two pancakes each)
Vegan Blueberry Pancake Recipe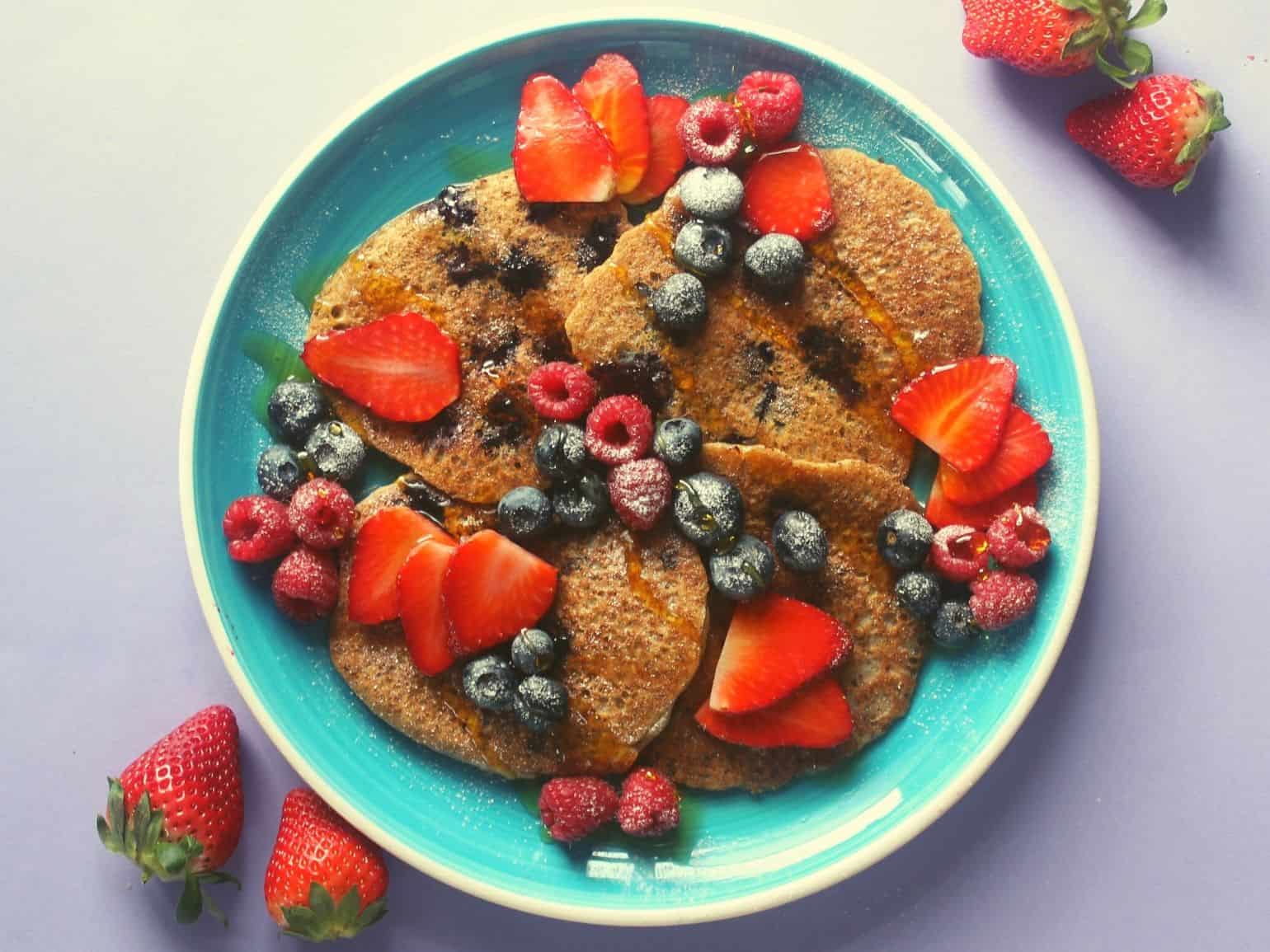 These vegan blueberry pancakes are thick, fluffy and light. Top with fresh fruit, then pour on the maple syrup! Recipe from veganrecipebowl.com
Additional Time
15 minutes
Ingredients
For the batter
100 g wholemeal bread flour (can also use white bread flour)
1 tablespoon ground flaxseed (heaped)
1 tablespoon cornflour (level)
2 teaspoon baking powder (level)
1 teaspoon dark brown sugar (heaped)
1 tablespoon light olive oil
250 g soy milk
100 g blueberries
250 g soy milk
100 g blueberries
For frying
2 tablespoons light olive oil
Toppings – optional
100g strawberries (sliced)
50g raspberries
50g blueberries
4 tablespoons maple syrup
Instructions
Combine all dry ingredients (flour, flaxseed, cornflour, baking powder and sugar) in a bowl and mix well to distribute evenly. Add the olive oil and soy milk to the dry ingredients and mix to combine. Finally, stir in the blueberries.
Set batter aside to thicken for 15 minutes. When you return it will be thick and almost gelled. You can give a light stir to redistribute the blueberries if needed. However, do not mix too much once the batter has thickened because this will make the pancakes tough. Stir briefly and lightly from this stage onward, and only if needed
Heat a large frying pan over medium heat with a little oil. When it is hot add the batter – three rounded tablespoons per pancake (you'll make six pancakes total, and may need to cook them in batches, depending on pan size). Leave some room between them so they can spread out without touching.
Cook each pancake for about 2-3 minutes until well risen and the underside is golden brown, then flip them and cook for another 2-3 minutes on the other side until golden brown.
Notes
Pancakes do not keep well, so cook and serve promptly.
Nutrition Information:
Yield:
3
Serving Size:
1
Amount Per Serving:
Calories:

577
Total Fat:

19g
Saturated Fat:

3g
Trans Fat:

0g
Unsaturated Fat:

13g
Cholesterol:

0mg
Sodium:

565mg
Carbohydrates:

89g
Fiber:

8g
Sugar:

34g
Protein:

15g