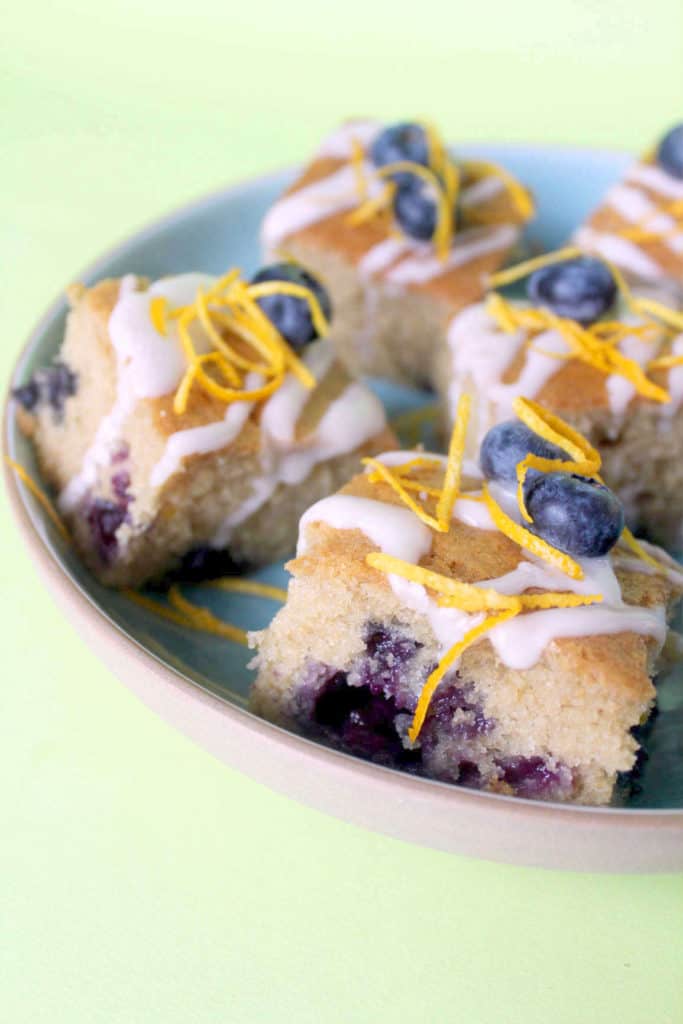 This post contains affiliate links, which means if you purchase something through my link, I will earn a small commission. This does not affect the price you pay for the item. I only advertise products that I have used myself and would genuinely recommend!
Soft, light and packed with warm, tangy orange and fresh blueberries. This easy to make twist on vegan blueberry cake is perfect for sharing.
I've been experimenting with corn oil cakes for a while. Trying out all kinds of ratios and flavour combinations. Well, the moment I tried this cake I knew I'd be posting it!
Normally I make cakes with olive oil, in fact I keep going on about how good they are! So, why suddenly make cakes with corn oil? Well, they can have properties olive oil cakes can't.
Why make corn oil cakes?
This cake base is sweeter, and it has a tighter crumb than my previous vegan cakes. It's not the corn oil making it sweeter, it sweeter because I found I can add more sugar when using corn oil.
Sugar makes cakes rise higher because it inhibits protein bonding during baking. The thing with olive oil is that it's also excellent at helping cakes rise (check out my ultra-light lemon cupcakes), so my olive oil recipes have always had limits on their sugar content to avoid the cakes over-rising.
I still love olive oil cakes, but corn oil cakes can work better in some situations.
Being sweeter, this cake base is perfect for recipes with sharp ingredients – like citrus zest. The tighter crumb is also good for multi-layered or cut and assembled cakes (eg. battenburg) which need more structure – so I hope to explore some new cake recipes soon!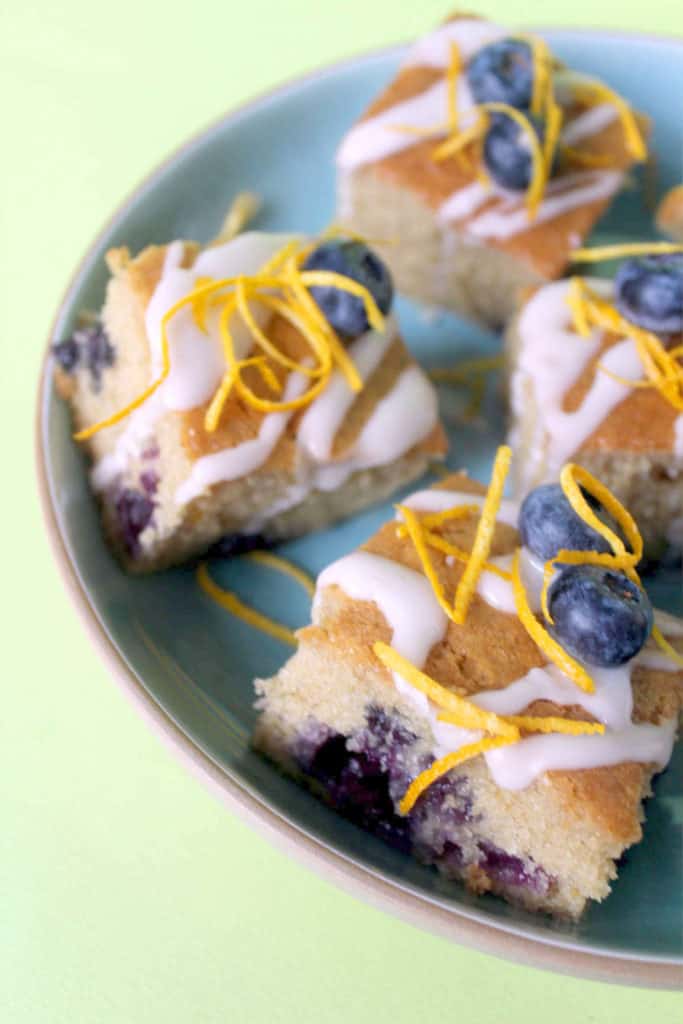 Making the perfect vegan blueberry cake is easy when you know how
I'm impressed with how consistently – and well – this cake rises and sets. For best results mix the batter lightly until just smooth, then immediately put it into a tin and bake in a well-heated oven.
Personally, I love the orange and blueberry combination, but if you want a lemon blueberry cake switch the orange for lemon. Just reduce the zest in the sponge to 1/2 a lemon since it's a stronger flavour.
Yield: 9
Vegan Orange & Blueberry Cakes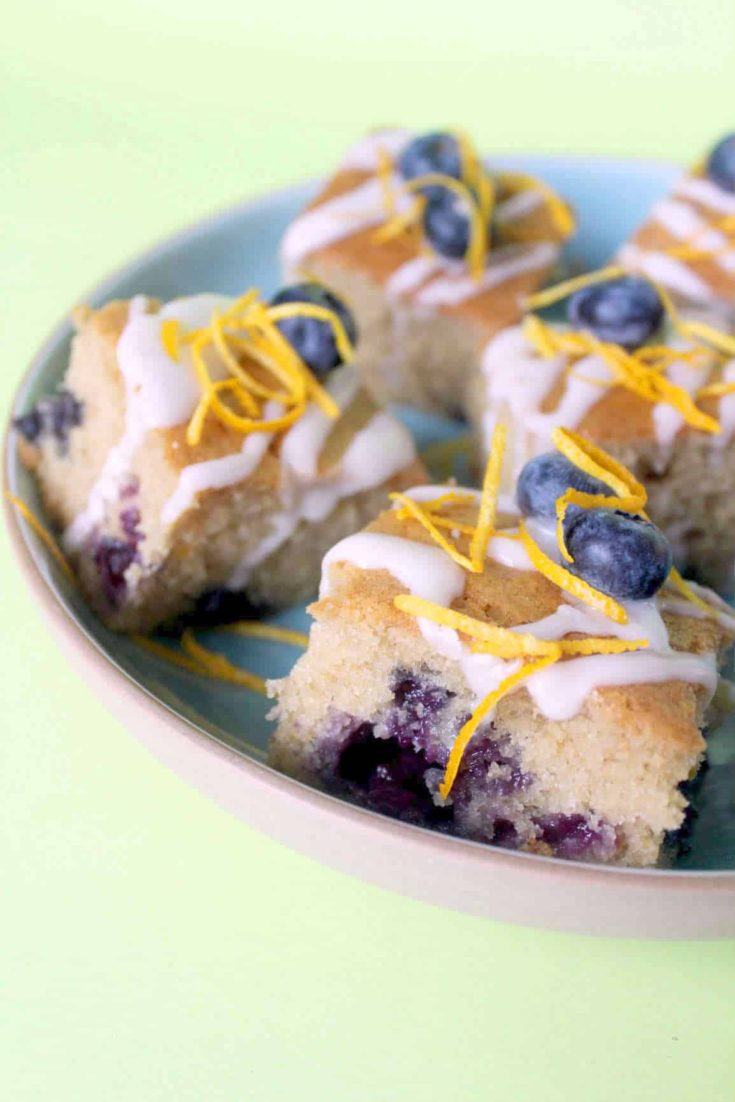 Ingredients
Sponge
200 g soy milk
½ tablespoon orange juice
200 g plain flour (aka all-purpose flour)
150 g soft light brown sugar
2 teaspoons baking powder
¼ teaspoon baking soda
¼ teaspoon salt
100 g corn oil
1 orange (grated zest only)
50 g fresh blueberries
Icing
75 g icing sugar (aka confectioners' sugar)
2-3 teaspoons orange juice
Toppings
25 g fresh blueberries
1 orange (shredded zest only)
Instructions
Preheat oven (180 °C, Fan 160 °C, 350 °F, Gas 4).
Combine and stir together the orange juice and soy milk in a small bowl and set aside.
Grease and line a 20x20cm (8×8") square cake tin with baking paper.
In a large bowl, combine all dry cake ingredients: flour, sugar, baking powder, orange zest, baking soda and salt - then rub them together between your hands until well mixed and free of any lumps. Pour in the soy milk and orange juice mixture and the corn oil, then whisk until a smooth batter forms. Fold in the blueberries.
Pour the batter into the lined pan, then place it into the preheated oven. Bake for 30-40 minutes, or until the cake looks well risen and golden brown. A toothpick inserted into the centre should come out clean.
Set the cake aside to fully cool on a rack.
Trim off the edges and cut the cake into 9 squares.
Make the icing by adding the orange juice one teaspoon at a time to the icing sugar and stirring thoroughly after each addition until a smooth, thick icing forms. Pipe (or pour) lines of it across each cake. To finish, top each cake with one or two fresh blueberries and a pinch of shredded orange zest.
Notes
Storage: These cakes are best served within 24 hours of baking, but they will keep well for up to three days in an airtight container in a cool place.
Nutrition Information:
Yield:
9
Amount Per Serving:
Calories:

288
Total Fat:

11g
Saturated Fat:

1.5g
Unsaturated Fat:

9.5g
Sodium:

73mg
Carbohydrates:

43.8g
Net Carbohydrates:

44g
Fiber:

1.2g
Sugar:

26g
Protein:

3.0g
Have you tried this cake or got a question? I'd love to hear from you in the comments below!