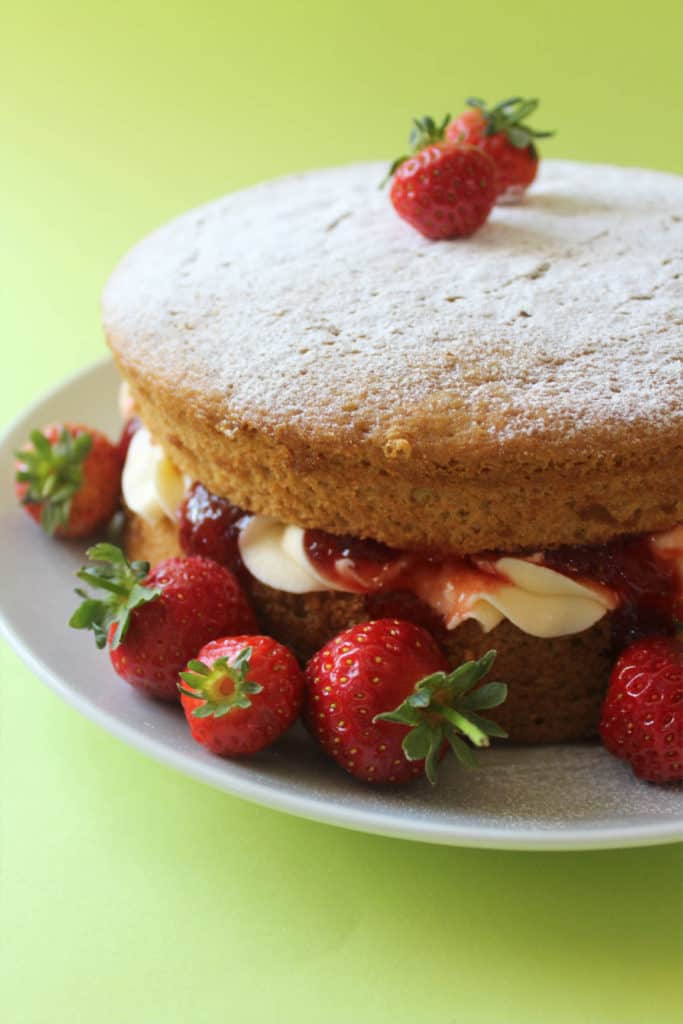 This post contains affiliate links, which means if you purchase something through my link, I will earn a small commission. This does not affect the price you pay for the item. I only advertise products that I have used myself and would genuinely recommend!
Totally egg-free and dairy-free, this easy-to-make vegan sponge cake beats any I've tried before! It's super-soft, light, and delicious. This veganised British classic makes the perfect base for a vegan birthday cake, or enjoy it simply with some jam and buttercream.
It won't take you long to create – it's as simple as mix, pour and bake. However, the development of this cake took many tries.
So what made a vegan Victoria sponge cake initially so challenging? In one word – bubbles. It's the number one reason why some cakes rise tall and others deflate.
To turn the batter into a sponge cake it needs to foam up, then set with the bubbles trapped inside. The more bubbles, the lighter the sponge. However, as anyone who has left a fizzy drink sitting around too long knows – bubbles in liquids will eventually rise to the surface and escape. So, we need the cake to reach its setting temperature before the bubbles escape. And to go a step further and bake the best cake, we should set it at the perfect moment when the maximum amount of bubbles are in the batter.
Unfortunately, it can be a tricky balance with big cakes. The bigger the cake the longer it takes for heat to reach the centre, and if it takes too long the bubbles in the centre escape before it set. This is why the frustrating, sunken cake situation happens.
Fortunately, we can work around this. A key property is batter thickness.
Thicker batters are much more stable when they foam up, buying valuable time for heat to reach the centre before the bubbles escape. The result turned out to be this cake – a cake recipe that's soft, light, and reliable.
The only tricky bit was how to make a thicker batter without changing the texture of the cake? Reducing either oil or water content changes a whole lot of other properties. Mostly, these changes lead to a dense texture and not the light, airy sponge cake we want.
The answer turned out to be vinegar and soy milk. Vinegar coagulates the proteins in soy milk and thickens it, and this thick milk makes a thick batter. However, it doesn't change that all-important ratio of liquids, so we get to keep all the moisture softness.
Surprisingly simple when you know how. But after so many failures I'm excited every time I make this cake and it just … works perfectly!
Creating authentic – yet vegan – traditional recipes
Veganising recipes means changes to ingredients and methods, and as far as I'm concerned all options are open here. However, if you're working on a traditional recipe – like this cake, or my English pancakes – people do expect the traditional end result.
So, what does the original Victoria sponge recipe look and taste like? Professor Rebecca Earle, Food Historian at the University of Warwick explores the history of Victoria sponge cakes in detail, including an early recipe from Mrs Beeton's 1861 Book of Household Management. It turns out it's not just a name, Queen Victoria was very fond of these cakes!
The classic recipe is sweet and fairly neutral, and so is mine. I'm using light brown sugar and a little maple syrup, which I find adds just the right amount of base flavours to compensate for any richness eggs or butter would have provided.
Traditionally this type of cake would be made with salted butter or margarine, and eggs – which are also quite salty. So, a reasonable addition of salt is need to create the flavours we expect.
As for filling and decorating it, you have loads of options! From a vegan birthday cake with all kinds of decorative icing, to simply enjoying a slice at tea time.
I like to fill it with buttercream (made with dairy-free margarine) and some of my homemade strawberry jam, but there are many ways to fill and decorate a cake to suit any occasion.
Baking the perfect vegan Victoria sponge cake
Cake tins vary in thickness and baking properties, so use a matching pair. Lightly grease them (too much oil will make the edges crispy!) and line the bottom of each with a circle of baking paper.
There are many tins on the market, and any two identical tins of the correct size will be sufficient. However, if there's a choice, I would always choose deep-walled tins for making Victoria sponge cakes.
I've consistently found tall tins help cakes rise taller – a tip I first heard from Delia Smith. Side by side, I've baked the same quantity of cake batter in the same oven and found the taller tins made taller cakes.
I'd love to know exactly why taller tins lead to taller cakes, but my current suspicion is that their high sides trap a layer of water vapour above the batter. This would keep the batter moister for longer and allow it to foam up more. Giving baked goods a boost with a moist atmosphere is a common bread baking trick in commercial bakeries.
If you love to bake, good quality cake tins are an investment. They'll last and create better cakes every time you use them.
The goal is to get the batter promptly in the oven after mixing it and to cook with smooth, even heat. So, always preheat the oven before mixing the batter so it's ready right away. Also, place the tins in the centre of the oven so hot air can flow easily around them.
Yield: 12
Vegan Victoria Sponge Cake
Soft, light, and delicious, this easy vegan victoria sponge cake recipe is as simple as mix, pour and bake! Finish with some buttercream and jam. Perfect for teatime. Recipe from veganrecipebowl.com
Ingredients
Cake Batter
300 g unsweetened soy milk (room temperature)
1 tablespoon white wine vinegar
300 g plain flour (aka all-purpose)
175 g soft light brown sugar
3 teaspoons baking powder
½ teaspoon baking soda (aka bicarbonate of soda)
½ teaspoon salt
150 g light olive oil
4 tablespoons maple syrup
Filling and decorating the cake
175 g icing sugar (plus a little to dust the top) (aka confectioners' sugar)
75 g dairy-free margarine
125 g strawberry jam
Instructions
Making the cake
Pre-heat oven (180 °C, Fan 160 °C, 350 °F, Gas 4). Grease and line two 20cm (8") round cake tins with baking paper.
Mix the soy milk and vinegar – it will thicken up quickly. Set it aside for later.
In a large bowl, combine the dry batter ingredients (flour, sugar, baking powder, baking soda and salt) and rub between your hands until well mixed and free of any lumps. Then stir in the liquids (soy milk, olive oil and maple syrup) until a smooth batter forms. Do not beat heavily or for any longer than needed to form a smooth batter.
Divide the batter evenly between the cake tins and bake in the centre of the oven for ~30-35 minutes. Towards the end of this time test by inserting a cocktail stick into the middle of a cake. It should come out clean. If there is wet batter on the stick, return it to the oven and cook for a couple of minutes more, then test again. Repeat as needed until the stick comes out clean.
When the cakes are cooked, remove them from the oven and gently run a sharp knife around the edge of each cake to separate it from the tin. Turn onto a cooling rack and leave until completely cooled.
Filling and decorating the cake
To make the buttercream, beat the margarine until soft, then beat in the icing sugar until smooth.
Spread or pipe the buttercream over the bottom of one of the sponges. Top it with the strawberry jam and sandwich the second sponge on top. Finish by dusting the top with a little icing sugar.
Notes
Soy milk is crucial to this recipe because other non-dairy milks will not thicken when you add vinegar.
Storage: Best served within 24 hours of baking, but it will keep well for up to three days in an airtight container in a cool place.
Nutrition Information:
Yield:
12
Serving Size:
1
Amount Per Serving:
Calories:

409
Total Fat:

18g
Saturated Fat:

3g
Unsaturated Fat:

15g
Sodium:

273mg
Carbohydrates:

60g
Sugar:

38g
Protein:

3g
Have you tried this vegan Victoria sponge? Or have some questions? I'd love to hear from you in the discussion below!