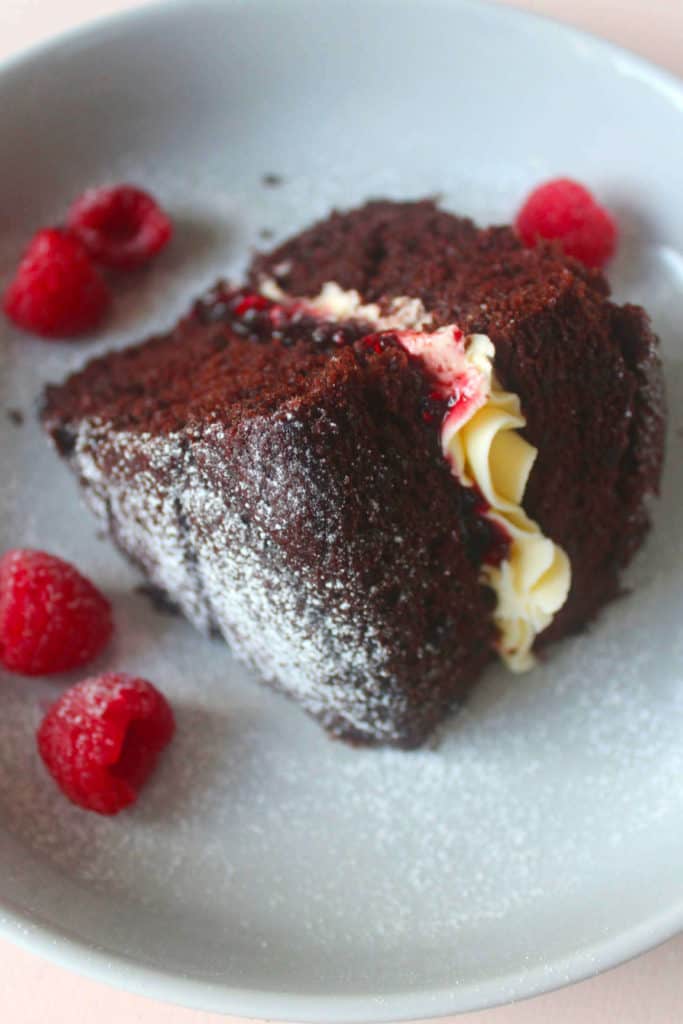 This post contains affiliate links, which means if you purchase something through my link, I will earn a small commission. This does not affect the price you pay for the item. I only advertise products that I have used myself and would genuinely recommend!
Rich, moist and decadent, this vegan chocolate cake is an essential addition to any recipe collection. Best of all, it's easy to make. There's no difficult to find ingredients, minimal washing up, and the steps are simple.
I love oil cake recipes because they're simply a matter of mix, pour and bake. The recipe design does more work this way and readers get more reliable results.
Cake recipes using solid fats are much more temperature dependant and often involve more steps.
Also, oil cakes have great physical characteristics. They're moister and stay fresh for longer. The difference between the same day and the next day is almost nothing with this cake recipe, making it perfect for planning and baking ahead.
I talk more about why I prefer baking cakes with oil in my vegan Victoria sponge recipe if you want to explore their benefits further.
I've been making this cake for a while now, and somewhere along the way, it has become our go-to vegan birthday cake recipe. I always offer to make anything, but people keep saying they want the chocolate cake.
It's not just for special occasions though, this recipe is simple enough to whip up just because you enjoy it.
Handle the cake batter carefully!
Making a perfect light, airy sponge cake requires careful mixing. The first step is to mix all the dry ingredients. You can mix as much as you want at this stage and the cake will be totally ok, so take advantage of this and do most your mixing while it's dry.
However, soon as you add liquids the situation changes. It's because of the gluten in wheat flour which tangles as it's mixed.
This gluten tangling is vital when making a vegan cake as it helps the cake set, but too much tangling reduces rise and makes for tougher cakes. So once the liquids go in, mix light and just until a smooth batter forms.
Choosing cake tins
If you love to bake, good quality cake tins are an investment. They'll last and create better cakes every time you use them. I would always choose deeper than usual tins for making Victoria sponge cakes because I find they boost the cake's rise.
How to choose a good cocoa powder for chocolate cake
Good cocoa powder is a huge part of baking a great chocolate cake. I've tried a lot of different types and discovered many differences in flavour profiles. However, one significant feature stood out – high-fat cocoa powder (~20-24% fat) tastes better than low-fat (~10%). The fat in cocoa powder is cocoa butter, and it contains the cocoa's fat-soluble flavour compounds. Cutting down on the fat seems to cut down on the flavour too.
The fat also gives richness and softness, which is never a bad thing with chocolate cake!
Sweet vs. semi-sweet
One of the big questions I have when baking with cocoa is how much to sweeten it? Go too sweet and I find it loses its taste, but go too savoury and it becomes bitter. There's a perfect spot where the flavour is just right, when it tastes predominantly sweet but finishes with a slightly savoury edge. That's what I looked for while developing this cake.
I'd describe it as semi-sweet, and it allows for a generous jam and buttercream filling without becoming too sweet.
As for which flavour jam to use, I'll leave that up to you. I enjoy raspberry, cherry, or if I've made some, homemade strawberry jam.
Vegan Chocolate Victoria Sponge Cake
Recipe from veganrecipebowl.com
Ingredients
Cake batter
300

g

unsweetened soy milk

room temperature

1

tablespoon

apple cider vinegar

250

g

plain flour

aka all purpose

175

g

soft light brown sugar

50

g

cocoa powder

3

teaspoons

baking powder

½

teaspoon

baking soda

aka bicarbonate of soda

½

teaspoon

salt

150

g

light olive oil

4

tablespoons

maple syrup
Buttercream and jam
175

g

icing sugar

plus a little to dust the top (aka confectioners' sugar)

75

g

dairy-free margarine

125

g

jam

raspberry, strawberry or cherry
Instructions
Making the cake
Pre-heat oven (180 °C, Fan 160 °C, 350 °F, Gas 4). Grease and line the bottom of two 20cm (8") round cake tins with baking paper.

Mix the soy milk and apple cider vinegar – it will thicken up. Set it aside for later.

In a large bowl, sift together the dry batter ingredients (flour, cocoa powder, sugar, baking powder, baking soda and salt), then whisk in the liquids (soy milk, olive oil and maple syrup) until a smooth batter forms. Do not beat heavily or for any longer than needed to form a smooth batter.

Divide the batter evenly between the cake tins and bake in the centre of the oven for ~30-35 minutes. Towards the end of this time test by inserting a cocktail stick into the middle of a cake. It should come out clean. If there is wet batter on the stick, return it to the oven and cook for a few minutes more, then test again. Repeat as needed until the stick comes out clean.

When the cakes are cooked, remove them from the oven and gently run a sharp knife around the edge of each cake to separate it from the tin. Place the cakes on a cooling rack and leave until completely cooled before turning the cakes out and discarding the baking paper.
Buttercream and jam filling
To make the buttercream, beat the margarine until soft, then beat in the icing sugar until smooth.

Spread or pipe the buttercream over the bottom of one of the sponges. Top it with the raspberry jam and sandwich the second sponge on top. Dust the top with a little icing sugar right before serving.
Notes
Soy milk is vital to this recipe's success because other non-dairy milks do not thicken when you add vinegar.
Storage: Best served within 24 hours of baking, but it will keep well for up to three days in an airtight container in a cool place.
Have you tried this vegan chocolate cake? Or have a question? I'd love to hear from you in the discussion below!