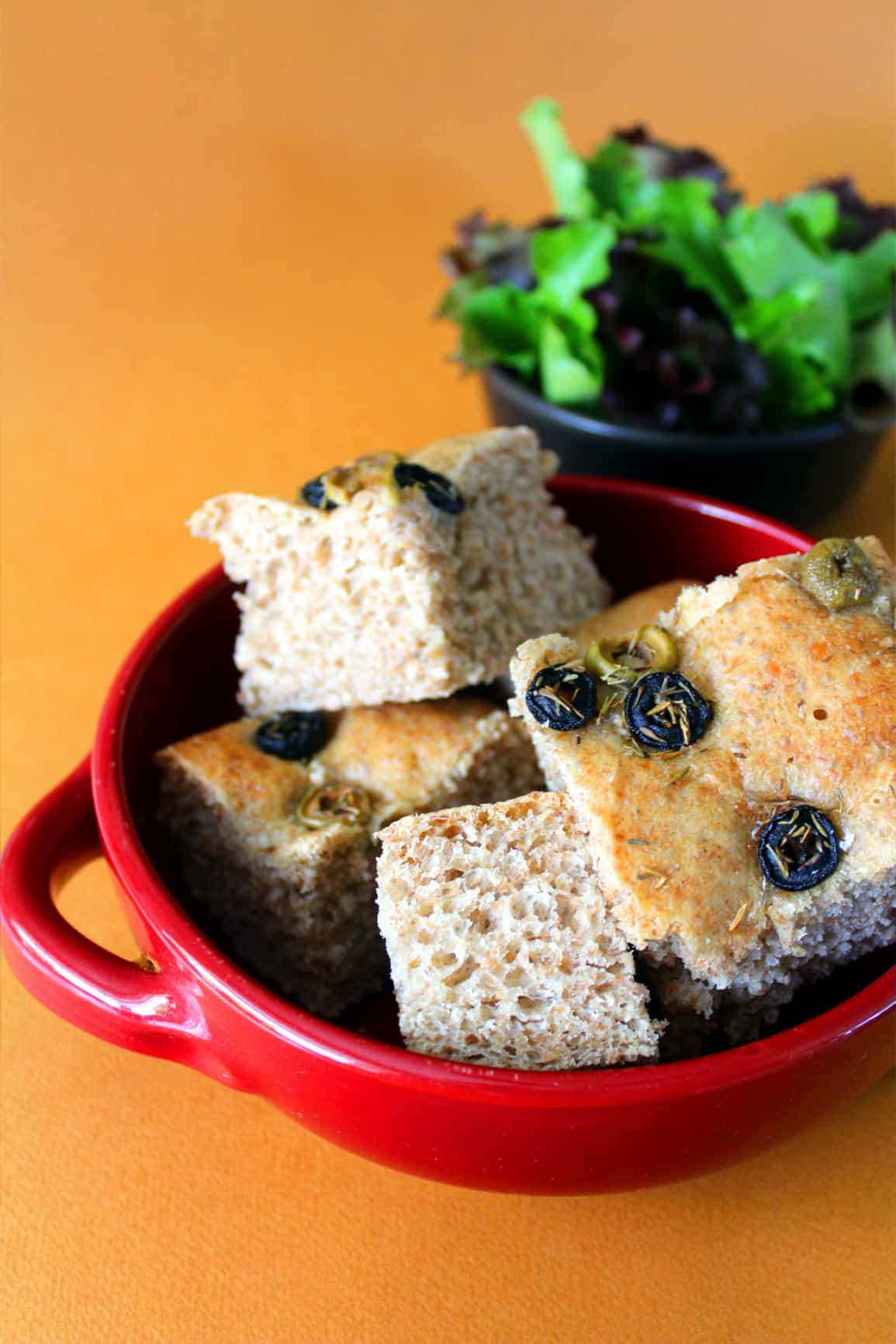 Focaccia is an Italian classic for good reason. Easy to make and easy to adapt, this soft, rich sharing bread makes a wonderfully versatile addition to your cookery book. Everything from caramelised onions to lemons can be found on focaccia, and that's before exploring herb options. You've got to have herbs!
This focaccia however is all about one of my favourite ingredients, olives. Making an olive focaccia seems a natural choice for a bread that's already so rich with olive oil.
The warm, subtle flavour of thyme complements the mixed green and black olives perfectly. There's plenty of olive oil in the dough, but it changes taste during cooking, so a generous drizzle of fresh, brightly flavoured olive oil is poured on top at the end to make the olives pop out. Perfect for serving with home made soups, or simply by itself in the traditional way with even more olive oil for dipping, which makes for a delicious, satisfying snack.
The texture of a bread is influenced by the dough's water content. Lower water content creates breads with close, fine textured crumb. Higher water content leads to an airy, open crumb bread – a well known example is ciabatta which has huge holes within it. Focaccia is made with a moderate water content dough, and has a light open crumb, but not large holes. It's a fairly wet dough, and to avoid adding further flour it is kneaded on an oiled surface rather than floured surface.
Use a bold flavour olive oil for this bread. It's worth it.
This isn't a totally authentic Italian focaccia however, I've made some changes. One change from tradition is particularly obvious – the addition of whole grain flour. Wholegrain flour isn't commonly used in focaccia, but with the right method, it's an excellent match. The high water content of the dough leads to a softer loaf. Softness is a desirable property in bread and often harder to achieve with wholegrain flour. The baking step is another change from the traditional way. This recipe calls for baking in a glass or ceramic dish in a hot oven. Heavy dishes slow the heat transfer to their contents – except of course through their uncovered top. The result is the top browns well while the inside cooks slower and remains softer. The hot, heavy dish is also great when serving because it keeps the bread warm throughout the meal.
Thyme and Olive Focaccia
A soft, rich thyme and olive focaccia. Recipe from veganrecipebowl.com
Ingredients
For the dough
300

g

wholegrain bread flour

200

g

white bread flour

2

teaspoons

instant yeast

1

teaspoon

salt

(rounded)

50

g

olive oil

325

g

cold water
For kneading and greasing the bowl and baking dish
For the topping
100

g

green & black olives

(sliced)

1

tablespoon

olive oil

3

teaspoons

dried thyme
Instructions
Place the dry dough ingredients (wholegrain flour, white flour, yeast and salt) in a bowl and mix together. Add the wet dough ingredients (olive oil and water) and mix with a spoon to form a rough, wet dough.


Rub a little olive oil on your hands to stop the dough sticking – it will be pretty wet at this stage – and stretch the dough by hand, folding it over itself and rotating the bowl 90 degrees before repeating. Do this for about 3 minutes.


Let the dough rest for ten minutes to relax.


Place the dough on a well oiled surface (about one tablespoon oil) and knead for 3 minutes, adding a little more oil if the dough starts to stick, then place in an oiled bowl and cover. Set aside to rise until 3-4 times its original size (roughly one hour).


Transfer the dough to an oiled glass or ceramic dish (30 x 22cm / 12 x 9"), pressing down and pushing it out flat across the bottom of the dish. Spread the toppings (mixed sliced olives, olive oil and thyme) across the surface. Cover and leave to rise until it has risen to 3 times its height (roughly one hour). Towards the end of this time, about 20 minutes before it's finished, start pre-heating the oven (220 °C, Fan 200 °C, 425 °F, Gas 7) .


Once the dough has risen and the oven is heated, bake the bread on the centre shelf for 40-50 minutes until the top is golden brown. Allow to cool for 10 minutes before drizzling with the tablespoon of oil and serving.

Notes
Delicious served warm from the oven, but also excellent cold.
This olive focaccia keeps well when wrapped for up to two days.