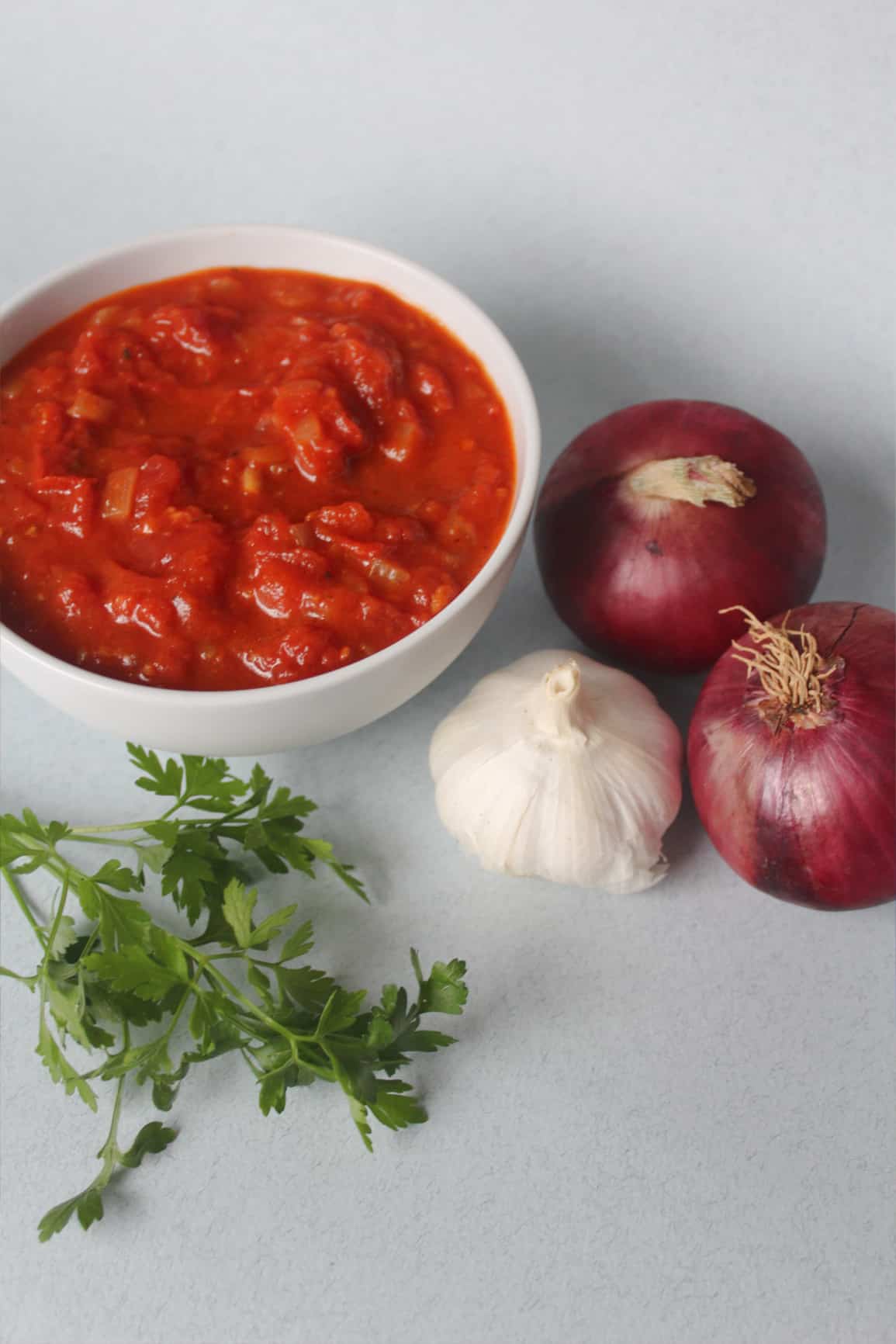 There are many ways to enjoy a good tomato sauce. From simply stirring into pasta to topping a pizza or forming the base of a lasagna. However, an excellent sauce – one that is bold and rich – can hugely enhance these dishes and take your cooking up another level.
The only catch – it takes a really long time. Seasoning and choice of tomatoes matter, but regardless of ingredient choices a vital difference between a rich sauce and bland cooked down tomatoes is how long you cook your sauce.
Time and gentle heat is the key. Cook even the best ingredients down too fast and you just get flavourless red stuff.
It's the slow cooking that turns it dark and flavourful. Recently, I got thinking more about this problem. Tomato sauce is just too good and too useful. I want to make it more often. I also want a recipe to share – one that tastes great and is practical to make.
The answer turned out to be one of my rarely used kitchen gadgets – the slow cooker. I had to de-cobweb it and evict a few spiders when I pulled it out the cupboard. Slow isn't really my usual cooking style. But tomato sauce seems impossible to hurry, so the slow cooker with its controlled temperature and no need to stir was starting to look like a good idea.
It works great! This tomato sauce beats anything I've made before. It still takes time, but I don't have to be around watching the pot. Sow cookers vary in behaviour, so pay attention the first time you make it with yours. However, once you know the right setting to cook for four hours without drying out, it's a highly reliable, consistent way of cooking. Just spend a few minutes cooking the onions and garlic, add the tomatoes and seasoning, then forget about it.
Four hours later it will be transformed in to a pot filled with intense, deep-red tomato sauce.
Well, I don't totally forget about it, the house increasingly smells amazing when it's cooking. But other than that, being able to just turn it on and go do something else is awesome. This recipe makes a generous 1.5 kg of sauce, allowing for multiple uses during the week – or freeze some for later. It freezes perfectly for up to a month.
Enjoy it simply stirred in to pasta – add a teaspoon of bold flavoured olive oil per serving to add a deeper layer of flavour. Or use in further recipes, like Pizza crust dough.
The slow cooker also proved to be excellent for cooking the onions and garlic. Crucially, we don't want to brown them. They must lose their sharp, raw edge and mellow, but keep a bright taste. Takes about five minutes. You'll know they're done by two signs. The onions have turned translucent, and when smelling the pot the raw smell – the one that makes your eyes water – is gone. When the raw onion and garlic smell is gone, so is the raw flavour.
I particularly like adding the ground black pepper to the hot oil while frying the onions and garlic. This method, called blooming, takes the oil-soluble flavours out of the pepper and into the oil – and from there into the sauce. Blooming the spices is a simple way to greatly enhance a dish. It can be done with almost anything you're making by changing the order of ingredient addition around a little.
Most spices respond well to blooming, and black pepper is definitely one of them.
I'm keeping the herbs simple and using oregano (a teaspoon of dried, or a few sprigs of fresh finely chopped). I wanted to pick just the one herb, and without a doubt oregano is my number one choice for tomato sauce. It's rich yet mellow and adds a pop of complementing flavour without taking over the sauce.
Sometimes, simple is perfect. Here it allows for the addition of herbs in other ways that are more valuable than in the sauce. When serving with pasta, I found scattering some finely chopped parsley and basil over the top was an excellent addition and answered the question of how to dress the dish, making it attractive and giving a burst of bright, fresh herb flavours.
Slow Cooker Tomato Sauce
Ingredients
2

tablespoons

olive oil

2

medium

onions, red or white

(peeled and finely diced)

4-6

cloves

garlic

(peeled and minced)

1/4

teaspoon

ground black pepper

4 x 400

g

cans of chopped tomatoes

1

teaspoon

dark brown sugar

(level)

1

tablespoon

finely chopped oregano

(alternatively, 1 teaspoon dried)
Instructions
Set the slow cooker to 110 °C / 230 °F (if it has low / medium / high settings consult your manual to determine the closest setting).


When the slow cooker is heated, add the olive oil, onions, garlic and black pepper. The aim is to gently cook with stirring for around 5 minutes, just to take away the raw aroma and taste but not to brown them.


Soon as the onions are cooked add the chopped tomatoes, oregano and brown sugar. Stir through to mix everything evenly. Place the lid on (make sure it's on properly to avoid drying out) and leave to cook – no further stirring is needed – for 4 hours.

Notes
Slow cookers provide a consistent cooking method which allow for recipes to be made again and again without needing to watch the pot. However, there are differences between each model, so you need to learn how a recipe behaves in your particular slow cooker before you can leave it unattended for the entire cooking time.
The first time you make this sauce, check periodically to ensure it isn't cooking too fast or drying out. Steady, gentle bubbling with the steam condensing and returning to the pot is the aim. Once you find the correct setting to cook this sauce – without drying out – for four hours, the recipe is easy to replicate without needing to check the pot until the time is up.
This sauce keeps well when covered in the fridge for up to four days. It can be frozen for up to four weeks.