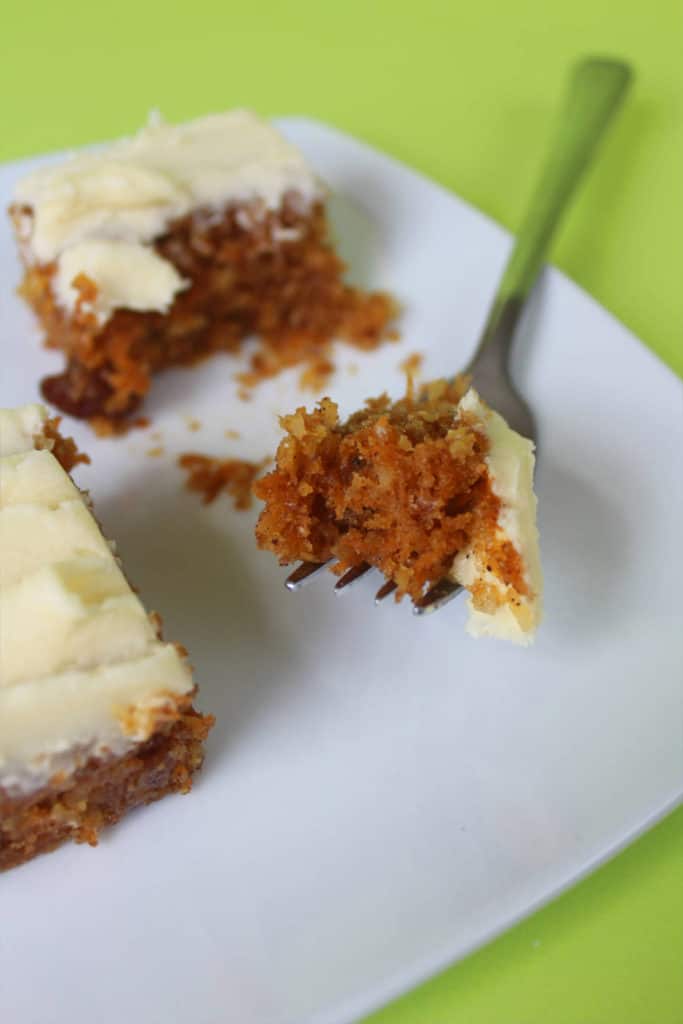 This post contains affiliate links, which means if you purchase something through my link, I will earn a small commission. This does not affect the price you pay for the item. I only advertise products that I have used myself and would genuinely recommend!
Sweet, juicy and fruity, this easy to make vegan carrot cake layers many flavours to create one that is distinctively its own.
Typically I've leaned towards simpler cakes with one or two primary flavours. But not this time. Carrot cake has many versions, but one thing ties them all together – multiple bold flavours. My recipe is no exception. Carrots, cinnamon and nutmeg, coconut and sultanas, brown sugar and walnuts. However, the cake itself is a simple matter of mix, pour and bake.
The rich flavours also do something unexpected, they make the buttercream icing unexpectedly pop out. Creamy and light, it contrasts perfectly.
Brown sugars are an excellent way to build deeper flavours in vegan baking. I'm using soft brown sugar in the cake, but what I really want to talk about is the icing. Golden icing sugar (aka unrefined icing sugar) is worth looking for in your local shops. It's a simple switch that greatly enhances buttercream. However, it's not essential, regular white icing sugar will still work great for the buttercream.
Checking out the history of carrot cake was a surprise. Every once in a while a recipe turns up all kinds of unexpected information and ideas. Despite the recent interest, baking with carrots is not a new trend. Naturally sweet, they've been finding their way in to puddings and cakes for centuries. I found mentions of carrot puddings from medieval Europe, and the examples kept showing up ever since.
In her New York Cookbook (1992), Molly O'Neill gives a recipe for a carrot cake served to George Washington in 1783. Its ingredients and methods are surprisingly ordinary, even to a modern cook.
Carrot cakes also experienced a revival during WWII, when their natural sweetness once again was desirable due to a lack of sugar.
Well, I'm not skipping the sugar here, but this carrot cake does use wholemeal flour.
Generally, wholemeal flour isn't good for cakes. But there are exceptions to every rule in cooking. Every time I say something doesn't work, I think of some specific place where it does actually work. In this recipe wholemeal flour adds something delicious to the flavour – and without any compromises in texture. The finished cake has a light, soft crumb.
If you're interested in making cakes with vegetables in, I also have a parsnip cake recipe.
Enjoyed making this vegan carrot cake or have a question? Join the discussion in the comments!
Vegan Carrot Cake
Ingredients
Dry
100

g

wholemeal flour

100

g

soft brown sugar

50

g

desiccated coconut

50

g

sultanas

2

teaspoons

baking powder

(level)

1

teaspoon

ground cinnamon

1/2

teaspoon

ground nutmeg

1/4

teaspoon

salt
Wet
175

g

carrot

(finely grated)

75

g

unsweetened soy milk

(warmed)

50

g

light olive oil

2

tablespoons

maple syrup
Icing
125

g

icing sugar

50

g

vegan margarine

50

g

walnut pieces
Instructions
Pre-heat oven (190 °C, Fan 170 °C, 375 °F, Gas 5), and line a 20x20cm (8×8 inch) square baking tin with baking paper.

In a large bowl, stir together all dry ingredients until thoroughly mixed up, then mix in all wet ingredients until a thick batter forms. Scoop in to the lined cake tin and spread out level.

Bake in the centre of the oven for 25-30 minutes. Towards the end of this time test by inserting a cocktail stick into the middle of the cake. It should come out clean. If there is wet batter on the stick, return cake to the oven and cook for a few minutes more and test again. Repeat as needed until the stick comes out clean. When the cake is done, allow it to cool completely on a wire rack before applying icing.

To make the icing, cream together the margarine and icing sugar. A flexible spatula works great for this, but you can use a spoon. Spread on to the cake, then decorate with walnut pieces.
Notes
Golden icing sugar is a delicious option for this cake, but regular white sugar works great too if golden can't be found.
Storage: Cover with an air tight wrapper or container. Keeps well for up to three days in a cool place.