Baking doesn't get easier than traditional British rock cakes – and best of all they're delicious. These vegan rock cakes are crisp on the outside – but inside they're soft, light, spicy and fruity.
When I think about rock cakes I imagine a classic British tea time, but this recipe is so easy and fast I've found many ways to use them. They make a great addition to lunch boxes and picnics, or a quick recipe for unexpected visitors.
Although dairy and egg-free, the goal is a classic rock cake. I want to create a recipe that's familiar while also vegan. I'm replacing butter with margarine, milk with soy milk, and the egg with flax.
The method to make rock cakes is similar to scone making, but it's more forgiving. Unlike scones, you don't need to get that fine balance with the dough's water content just right, because rock cake dough is supposed to be sticky. You can't really shape it, and that's ok. Just scoop it with a spoon into equal portions on to a tray before baking. This rough approach helps give the cakes their distinctive rock-like shapes.
Using golden sugar in these cakes works great. Not a particularly dark grade of sugar – too much would overwhelm the other flavours. However, a light golden sugar is an excellent way to build in more complex flavours. However, you can absolutely use a white sugar if that's what you have to hand, they'll still be delicious.
Have you enjoyed making these vegan rock cakes, or have a question or suggestion? Join the conversation in the comments below! I'd love to hear more about the foods you enjoy – in particular, are there any other classic British recipes you'd love to make vegan?
Yield: 10
Vegan Rock Cakes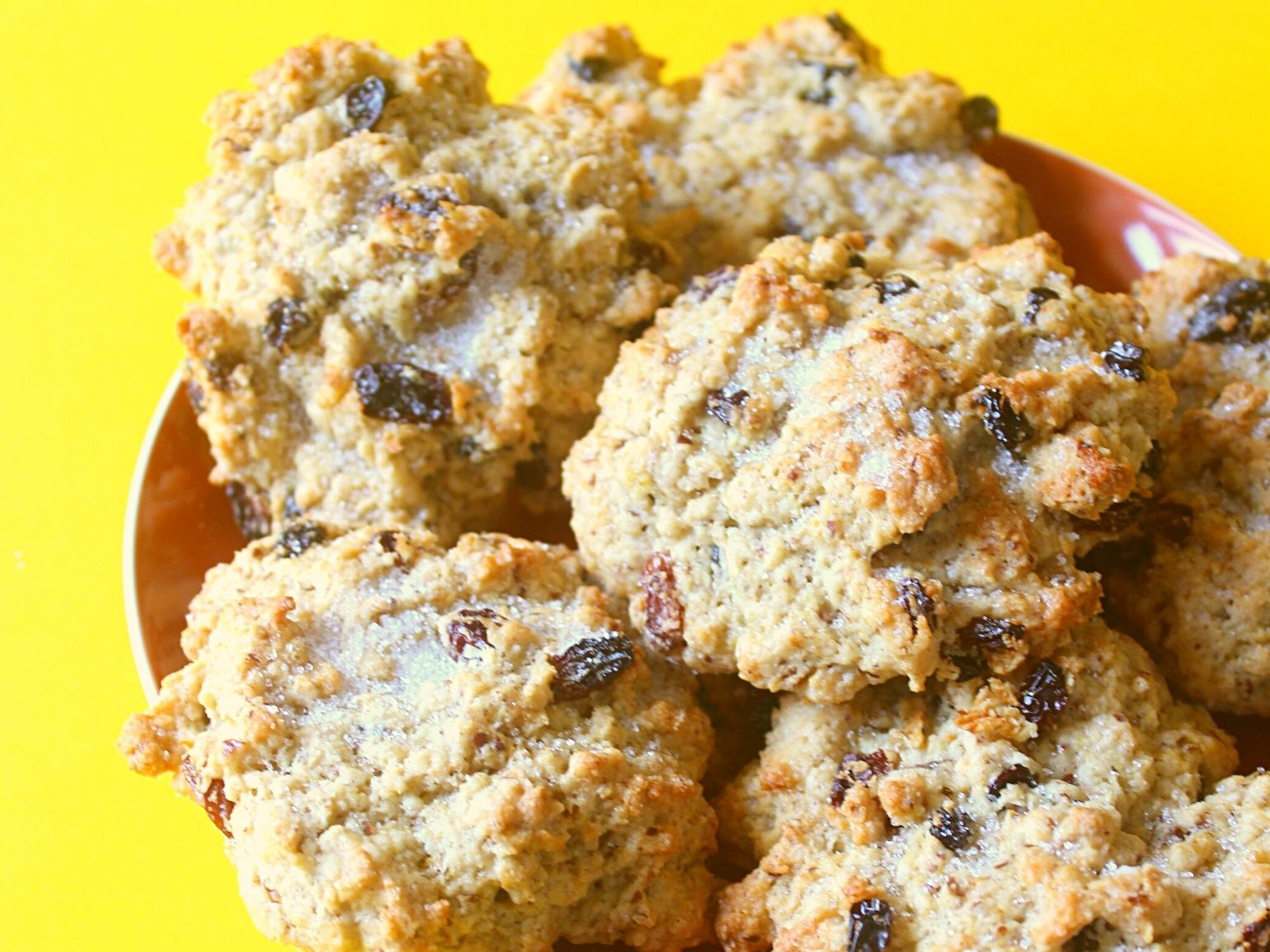 These vegan rock cakes are crisp on the outside – but inside they're soft, light, spicy and fruity. Recipe from veganrecipebowl.com
Ingredients
1 tablespoon ground flax seed
2 tablespoons water
225 g plain white flour (aka all purpose flour)
100 g granulated sugar (golden if possible)
2 teaspoons baking powder
1/2 teaspoon mixed spice
1/4 teaspoon salt
1 small lemon (zest only)
100 g dairy-free margarine (cut in to cubes)
125 g mixed dried fruit
60 g soy milk
Instructions
Preheat oven (200 °C, Fan 180 °C, 400 °F, Gas 6), and grease two baking trays.
To make the flax egg replacement, mix the ground flax seed with the 2 tablespoons water and set it aside to thicken for at least 10 minutes.
In a large bowl, mix together the flour, sugar, baking powder, spices, salt and lemon zest. Add the margarine and rub in until the mixture resembles fine breadcrumbs. Tip in the dried fruit and mix until evenly distributed. Finally, mix in the flax egg replacement and soy milk, bringing it all together into a slightly wet, but firm dough.
Divide dough in to 10 scoops, and place on the baking trays leaving room for them to at least double in size. Bake in the centre of the preheated oven until well risen and golden – approximately 15-20 minutes. Transfer to a wire rack to cool.
Notes
Storage: Once cooled they keep well for up to two days in an airtight container in a cool place.
Nutrition Information:
Yield:
10
Serving Size:
1
Amount Per Serving:
Calories:

232
Total Fat:

9g
Saturated Fat:

2g
Trans Fat:

1g
Unsaturated Fat:

7g
Cholesterol:

0mg
Sodium:

157mg
Carbohydrates:

37g
Fiber:

2g
Sugar:

17g
Protein:

3g