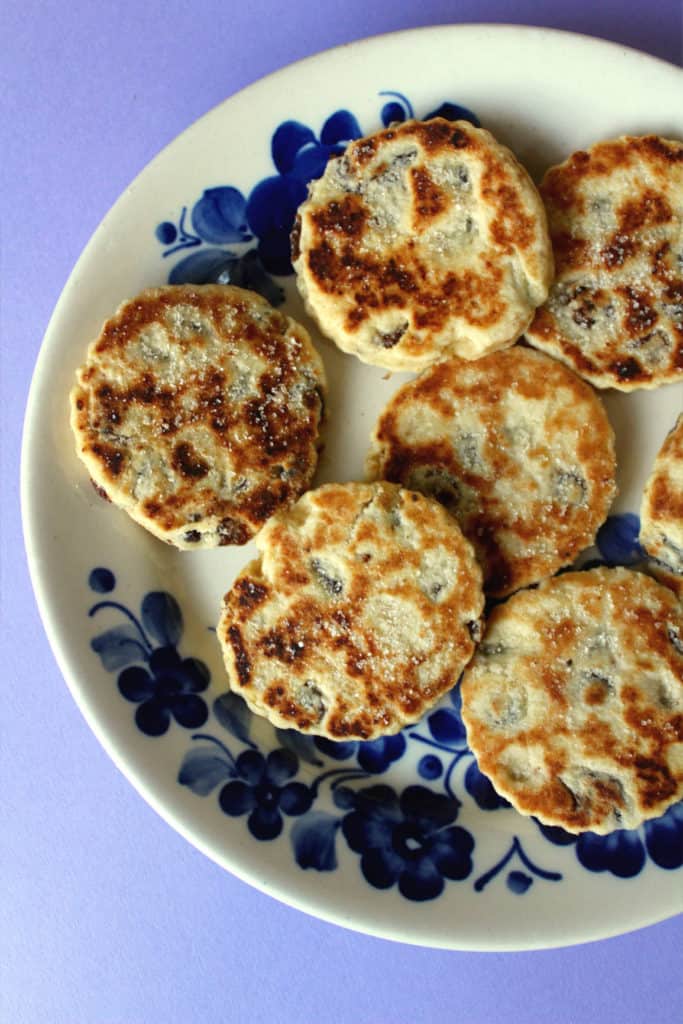 This post contains affiliate links, which means if you purchase something through my link, I will earn a small commission. This does not affect the price you pay for the item. I only advertise products that I have used myself and would genuinely recommend!
I love veganising classic recipes like welsh cakes. There's something incredibly satisfying about enjoying a favourite recipe again. Plus these projects always involve unique challenges. This time it's getting that buttery flavour right.
Traditional welsh cakes are buttery on the outside with a soft, flaky inside. The challenge is maintaining this authentic flavour and texture with a new, completely egg-free and dairy-free recipe.
Of all the flavours, 'buttery' has been one of the most difficult in my vegan baking. However, this recipe is a breakthrough.
Surprisingly, the trick to making dairy-free welsh cakes taste buttery turned out to be generously greasing the skillet with vegan margarine. I've tested various brands now, and it actually seems any margarine works! This discovery was awesome but intriguing. Why is oil bland and every type of margarine I tried surprisingly buttery?
More curiously still, margarine brands that aren't even claiming to be butter flavoured make buttery tasting welsh cakes!
The answer appears to be salt. Margarine contains a little salt that will deposit on the welsh cakes during cooking. It's subtle, but important. That little bit of surface seasoning greatly influences their taste, giving them a remarkably buttery flavour.
Butter has it's own flavour, but it's also a source of salt. I'm often surprised just how much flavour returns to dairy-free recipes when I simply add the right amount of salt in the right location. Seasoning is such a crucial step in cooking, and when veganising recipes we have to take in to account all sources.
How to cook perfect welsh cakes
As soon as the liquids are added to the dry, the amount of further handling influences how soft vs. tough your welsh cakes will be. So, mix your dry ingredients thoroughly before adding any liquids. Then you can bring the dough together with the least additional handling possible.
Crucially, delicate handling when bringing the dough together makes for the lightest, flakiest texture.
As for cooking them, choose a thick base pan which has lots of thermal mass and preheat well over a moderate heat. However, if you're lucky enough to have a traditional bakestoke, use it! Being very thick cast iron they excel at cooking welsh cakes to a perfect crisp, golden outside with soft inside.
Have you enjoyed making these vegan welsh cakes, or have a question or suggestion? I'd love to hear from you in the comments.
For more traditional British vegan recipes, check out my rock cakes or Chelsea buns.
Vegan Welsh Cakes
Thanks to a simple trick, these vegan welsh cakes are crisp and buttery on the outside with a soft, flaky inside. A delicious vegan snack to enjoy with a hot cup of tea. Recipe from veganrecipebowl.com
Ingredients
100

g

plain soy milk

1

tablespoon

ground flaxseed

(roughly 10g)

225

g

plain white flour

(aka all-purpose flour)

100

g

vegan margarine

(plus extra to grease pan)

50

g

golden castor sugar

(plus extra to sprinkle)

1

teaspoon

baking powder

1/8

teaspoon

fine salt

75

g

sultanas
Instructions
Mix together the soy milk and ground flaxseed – making sure to thoroughly wet the flaxseeds. Set aside to thicken for at least 15 minutes.

In a large bowl, rub in the flour, margarine, sugar, baking powder and salt until the mixture resembles fine breadcrumbs. Add the dried fruit and mix to distribute evenly. Finally, gently mix in the flaxseed and soy milk mixture – the goal is to bring everything together as a cohesive dough with the least handling possible. First, stir with a spoon until everything is just wetted, then with lightly floured hands grasp the dough and gently press it together, rotating it and pressing a few times until it forms a ball that doesn't fall apart when handled.

Roll out the dough on a lightly floured work surface to roughly 0.75 cm thick. Cut out rounds using a 7 cm cutter, re-rolling and cutting any trimmings until the dough is used up. Generously grease a flat griddle pan or heavy frying pan with margarine, and place over a medium heat. Cook the Welsh cakes in batches, for 2-3 mins each side, until golden brown, crisp and cooked through.

Remove from the pan and sprinkle with caster sugar while still warm.
Notes
Welsh cakes are best when served freshly made and warm. However, once cooled they keep well for up to two days in an airtight container stored in a cool place.