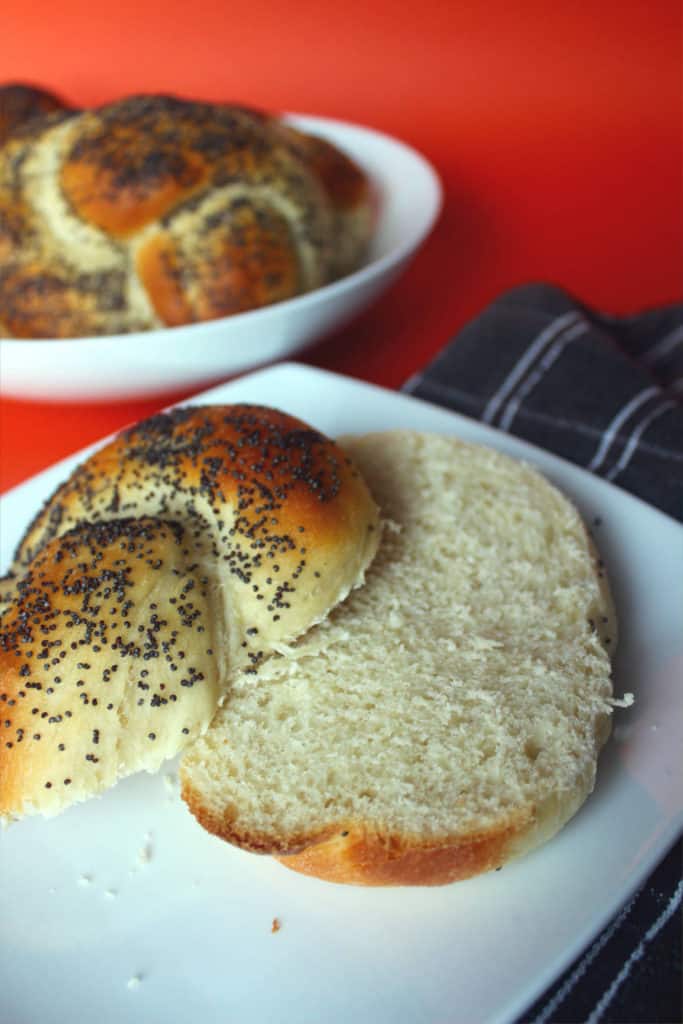 Soft and light, with a thin, golden crust and crunchy poppy seeds. These Vienna rolls make a delicious addition to a hot bowl of soup. However, I've not been raving on about how good these are on twitter just because they're delicious…
Poppy seed dinner rolls were one of my favourite bread recipes before going vegan. Their texture is light and pillow-soft inside, with a thin, golden crust. Egg was used in the dough, and brushed on their surface to create these qualities. Veganising them required multiple experiments.
Creating a good vegan version of these rolls is a big step forward in my ability to make high quality, egg-free bread recipes.
The secret to recreating their ultra-light, pillow-soft texture is a Japanese bread making technique called tang zhong (or tangzhong, as I've sometimes seen it written). Tang zhong is by far the best method I've used to replace eggs in dough yet.
I have also discovered the best vegan egg-wash alternative I've tried yet. But more about that later, let's start with the dough first.
In practice, tang zhong is easy – just place a portion of the recipe's flour and water (or soy milk, in the case of this recipe) in a saucepan and gently cook it before returning it to the dough and kneading. It's an extra step, but not a difficult one. However, the chemistry behind it is fascinating. And the potential it has to take your vegan bread making to the next level is exciting.
Crucially, tang zhong doesn't require extra ingredients – you just treat the ones you're already baking with differently.
The challenges with egg-free bread making
Not all breads contain eggs, but veganising those that do is an ongoing interest of mine. Egg enriched dough has special properties – a lot of which comes from the egg's long chain proteins. During kneading, these long strands distribute throughout the dough and effectively reinforce it. The result is a stretchier dough, one that can rise higher without deflating. It's also a dough that can be made wetter without loosing its shape. The resulting bread is lighter and has more moisture, resulting in a softer crumb.
Combining tang zhong with a little extra salt and fat (eggs are both salty and contain fats) made these dinner rolls exactly like my old, non-vegan recipe.
Actually, they're a bit better in some ways. The rolls stay fresher for longer, and the poppy seeds adhere better with my new vegan egg-wash.
This isn't my first attempt at egg-free bread. Previously I made chelsea buns (recipe here), and used ground flax seed as my egg replacement. Flax seed creates a water-retaining gel within the dough. And it worked great, but I think tang zhong has the edge over flax seed.
So what does tang zhong do?
Cooking the flour in water causes the starch granules to gelatinise – or in other terms they expand and trap water inside them. This thickened gel is incorporated at the kneading step. Adding gelatinised flour is a way to sneak more water in to the dough without making it behave like a wetter dough. Overly wet dough doesn't rise nicely, it tends to collapse as the gasses from the yeast just bubble out.
Tang zhong also inhibits some of the gluten formation, as the gelatinised flour physically gets between the flour proteins and stops them from bonding.
The resulting dough doesn't have less structure though, it has a different structure. It's a matrix of protein from the uncooked flour with the gelatinised tang zhong trapped inside it.
When you let it rise and bake it, the result is soft, moist, light and remarkably like egg-enriched bread.
Vegan egg wash took some figuring out too!
Getting the right texture inside is just one of the two challenges I had developing this recipe. Vegan egg wash is also tricky. I'm still exploring egg-free alternatives, but this recipe has brought me very close. Closer than ever before. And that's a big step, because I've been brushing all kinds of things on bread to see what happens. And mostly, the alternatives don't work anything like egg did.
Egg-wash gives a distinctive crust to baked goods. It a soft, light, thin crust that turns a beautiful, glossy, flavour-rich golden colour. It also helps stick things – like poppy seeds – to bread.
Recreating these properties in vegan baking have been a high priority for me. My discovery is amaranth flour gel.
It's a cooked gel made from 5 tablespoons of water, 1 teaspoon of amaranth flour and a pinch of salt. It gives a thin, soft, flavour-rich golden crust. Just like egg-wash. It doesn't give any gloss however, but it otherwise tastes and feels remarkably similar. This amaranth egg-wash alternative is also great at adhering seeds. Much better than the old egg version.
Poppy Seed Dinner Rolls (vegan bread)
Soft and light, with a thin, golden crust and crunchy poppy seeds. These Vienna rolls make a delicious addition to a hot bowl of soup. Recipe from veganrecipebowl.com
Ingredients
Tanzhong (starter):
50

g

white bread flour

250

g

soy milk

(unsweetened)

75

g

margarine
Dough:
450

g

white bread flour

50

g

soy milk

(unsweetened)

2

teaspoons

instant yeast

1

teaspoon

salt

1

teaspoons

white sugar
Glaze:
1

teaspoon

amaranth flour

5

tablespoons

water

pinch

salt

1

tablespoon

poppy seeds
Instructions
To make the tangzhong: Combine the flour and soy milk in a saucepan, and whisk until no lumps remain. Add the margarine. Place the saucepan over low heat, and cook the mixture while whisking constantly. At first the margarine melts and the mixture will get thinner, but keep going until a thick, smooth paste forms. Promptly remove from the heat and set to one side.

To make the dough: Sift together the remaining dough ingredients, add the tangzhong, then knead — by hand or mixer — until a smooth, elastic dough forms. Mixers and hand kneading methods vary – but I found 5 minutes on a low setting in my table mixer worked well. By hand, about 10 minutes was good.

Shaping the rolls: Divide the dough in to six equal pieces, and gently roll out to form tubes roughly 30cm long, Tie each one in a loose knot. Place them – well spaced apart – on a lightly greased baking tray. Cover with plastic wrap.

Set aside in a warm place to double in size. (~60-90 minutes is likely, but the time will vary). Towards the end of this time, start to preheat the oven (220 °C, Fan 200 °C, 425 °F, Gas 7).

To make the glaze: Combine the amaranth flour, salt and water in a saucepan, and stir until no lumps remain. Place the saucepan over a low heat and cook the mixture, stirring constantly until a gel forms.

With a pastry brush, generously brush this gel on the rolls and sprinkle them with poppy seeds.

Baking: Bake for 25 to 30 minutes until golden brown on top. Remove from the oven and transfer to a cooling rack.
Notes
Can be served hot or cool. Once cooled they can be stored by wrapping in a cloth. Best eaten the same day they're made. However, the tangzhong method makes much longer lasting bread than any other home baking method I've tried, and they have been almost as delicious the next day.
I'm excited to see what else I can develop with these techniques, and to explore their potential and their limitations. Poppy seed dinner rolls are just one of many egg-enriched breads. If you have some thoughts and ideas for future recipes, join the discussion in the comments section below!