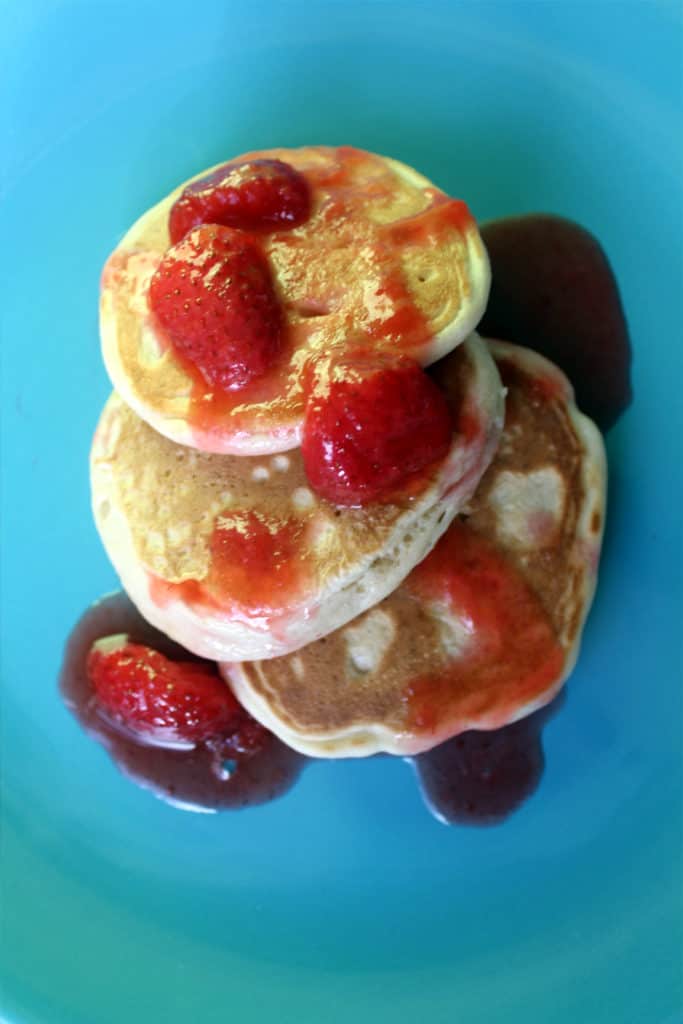 Vegan drop scones are surprisingly easy to make. A fresh plate of them is just a few store cupboard essentials and a few minutes away.
You might call them scotch pancakes, but whatever the name they're a small, well risen pancakes that soak up sauces wonderfully. They develop a lot of savoury flavor from browning in the pan, so I've chosen to pair these with a simple, fresh strawberry compote. It felt fitting, and its sweetness contrasts the savoury flavour from the browning perfectly.
I've been enjoying more classic British recipes lately, and recreating them with plants is always a fun challenge. I've already made vegan rock cakes, and English pancakes. Making some vegan drop scones seemed like a perfect addition – I mean they're the one recipe I can say for sure the Queen makes! Here's the Queen's drop scone recipe from the national archives. I've taken a very different route with my recipe though, making dairy and egg-free drop scones.
Veganising this British classic took a few tests, but the finished recipe is very simple and almost exactly like the ones my mother made when I was a child.
Crucially, my vegan version doesn't need any binder. Drop scones are small, and don't have any problem holding together. As usual, I added a little more salt to compensate for taking out the egg (eggs are quite salty!). I also added slightly more sugar as it's helps them rise and stay soft. I didn't add any fat however – despite eggs containing fat. Additional fat causes them to spread out a lot more, rather than puff up. And we want them to puff up.
The great thing about plant based cooking is many ingredients can be separated out and combined with more freedom than whole eggs allow.
The strawberry compote is fast and simple to make. A relative of jam, compote combines fruit and sugar. In contrast to jam however, it isn't intended to last for a long time, and it uses far less sugar. This means much quicker cooking and no testing for setting. Reduced heating helps preserve fruit flavours better too. It's also easier to pour over the drop scones.
For jam making I generally use 87.5g of sugar per 100g fruit – but for this compote I'm using just 20g per 100g of fruit. Some people actually make compote with even less sugar, but I found the sweetness just perfect at this level.
Vegan Drop Scones & Strawberry Compote
Vegan drop scones are surprisingly easy to make. A fresh plate of them is just a few store cupboard essentials and a few minutes away. Recipe from veganrecipebowl.com
Ingredients
Drop scone batter
125

g

plain flour

(aka all purpose)

25

g

soft brown sugar

2

teaspoons

baking powder

1/4

teaspoon

salt

150

g

unsweetened, plain soy milk
To fry drop scones
1-2

tablespoons

neutral flavour cooking oil

(eg. sunflower, corn, etc.)
Strawberry compote
250

g

strawberries

(hulled and roughly chopped in to chunks)

50

g

white sugar

2

tablespoons

water
Instructions
Strawberry Compote
Place strawberries, sugar and water in a pan. Bring to the boil, then immediately turn down to a low simmer. Cook until the strawberries are soft (~5 minutes), then remove from the heat and set aside.
Drop Scones
In a bowl, mix together all of the dry batter ingredients until evenly distributed. Pour in the milk and gently whisk until smooth. Do not beat heavily or mix longer than needed to form a smooth batter.

Lightly grease a flat griddle pan or frying pan, and place over a medium heat. Once hot, drop the batter (1 dessertspoonful at a time) in to the pan, allowing a little room for them to expand. Cook until the underside is golden (1-2 minutes), then flip and cook the other side until golden. You should make roughly 12 drop scones.

Serve immediately with the compote spooned over.
Notes
Drop scones are best when served freshly made and warm. However, the compote can be refrigerated for a few days and any left overs can be spooned over yogurt or pancakes.
Enjoy your vegan drop scones!