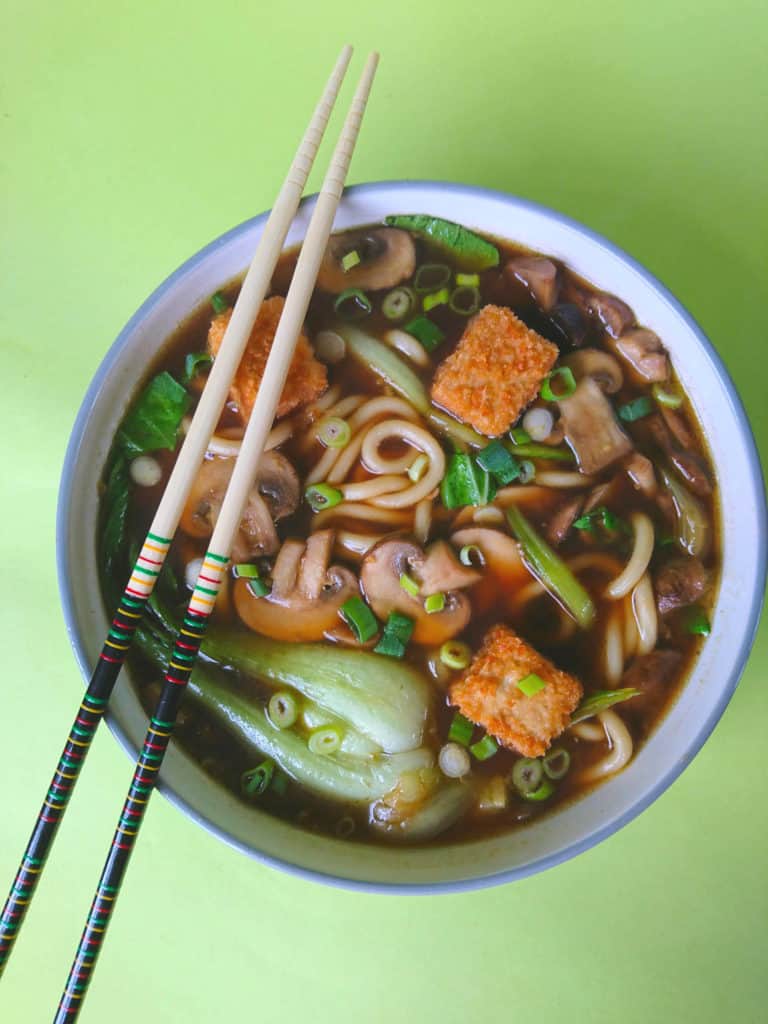 This post contains affiliate links, which means if you purchase something through my link, I will earn a small commission. This does not affect the price you pay for the item. I only advertise products that I have used myself and would genuinely recommend!
I love udon noodles. They're soft, yet firm, and they soak up delicious broth perfectly. This udon soup recipe has a warming, flavour-packed mushroom broth with white miso, dark soy sauce, fresh ginger and garlic. Some crisp pak choi and crunchy, fried tofu chunks complete the soup. And definitely don't forget the sprinkle of fresh spring onions, they release their smooth, rich flavour in to the broth while you eat!
I've chosen to limit the amount of salt in this soup so I can eat the broth. It always frustrates me when the delicious broth is too salty to enjoy!
How to make the best udon noodle soup
The quality and freshness of your ingredients are everything in this recipe. The most critical ingredients are the mushrooms, the stock, the white miso paste and the soy sauce.
Creating the most delicious stock
Traditionally, udon noodle soups use dashi. It's a classic Japanese ingredient that isn't very common in the UK. However, umami-rich dashi is used extensively throughout Japanese cuisine. Typically it contains mushrooms, kelp and fish. Since ready made dashi is hard to find in the UK – let alone vegan dashi – I've chosen to use a good quality mushroom stock as my base. My favourite is Kallo's mushroom stock.
Choose a good stock for the best flavour – ideally mushroom stock, but a vegetable stock will do.
If you can't find mushroom stock, then a vegan vegetable stock will still work nicely. It will be different, but also delicious.
Make sure to add the stock straight to the pan the mushrooms cooked in, so that all of the flavoured oil from cooking the mushrooms is retained in the finished dish.
Using good, fresh ginger and garlic, and mincing them finely is important too.
Choosing and cooking the perfect mushrooms
This recipe uses chestnut mushrooms, but you can use regular white mushrooms too. Chestnut mushrooms are one of the best for flavour and texture, and they're still affordable and available enough for everyday cooking. Most shops and markets sell them year round.
Make sure to choose mushrooms that are firm. Any softness means they're getting older and the flavour and texture will be fading.
Thicker stalk mushrooms are more mature and this usually means a richer flavour, so check the stalks when picking your mushrooms and opt for the thickest ones available. This is in many ways a mushroom soup, so getting them right is it big part of making the best flavour.
I'm using groundnut (aka peanut) oil to cook the mushrooms as it always give mushrooms the best texture. Add them to a hot pan over medium heat and stir briskly every minute or two until they're soft, but still have a bit of bite – test a few to get them just right. Interestingly, the texture seems to lock-in when you add the stock as they don't become softer from this point onwards. This is perfect for getting them exactly how we want them.
Picking the best soy sauce
Soy sauce could be mentioned in the stock making above, but it's really deserves its own discussion. Every time I visit an east Asian supermarket, something stands out to me – there are loads of soy sauce varieties! There's clearly a big element of personal preference here, but a less ambiguous measure of quality – the depth and range of flavour – also varies from product to product.
If you're at a UK supermarket, Kikkoman appears to be the most widely available Japanese soy sauce, and it is totally worth choosing it over an own-brand. I particularly like Kikkoman first press in this recipe. I've never had much luck with supermarket own brand soy sauces. If you're lucky enough to have an east Asian shop then it's worth checking out what they have to offer too.
The main thing with soy sauce is experiment and enjoy trying them out and learning what you like best.
When you find one you like, it's such a good experience. Suddenly, the food is so much better!
How to choose and cook udon noodles
I'd been eating udon noodle soup for years in Japanese restaurants before I attempted making my own, but I didn't need to worry, udon noodles are easy to cook. They're sold semi-cooked and only need adding to the hot broth and simmering for 3-4 minutes to complete their cooking. They're very resistant to overcooking, and in this recipe they are simply added alongside the pak choi and simmered until the pak choi is cooked.
I've bought regular own-brand udon noodles from all the big UK supermarkets and been completely happy with them. My only warning is to avoid the 'straight to wok' variety of udon noodles. These are great for adding to a stir fry, but they get too soft in a soup. They'll say on the packet if they're the straight to wok type, so just avoid those.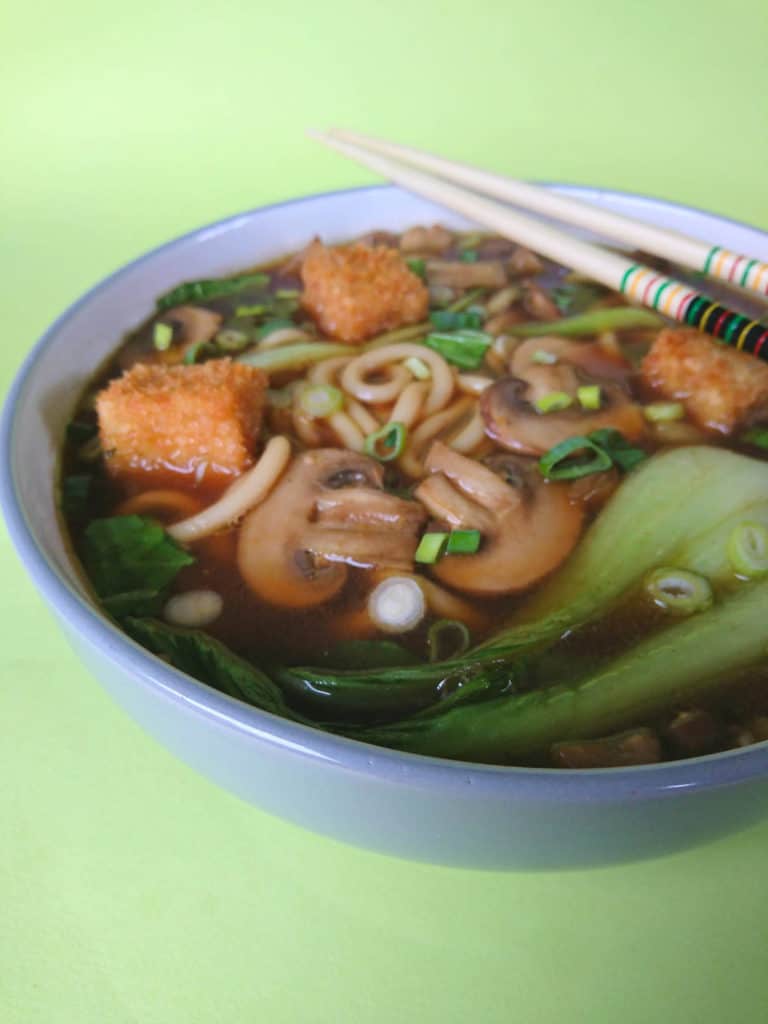 Questions about udon noodles
Are udon noodles vegan?
Traditionally, yes. However, check the packet or ask when eating out to be absolutely sure. Typically, the main ingredients are just wheat flour and tapioca.
Where can I buy udon noodles?
Not with the dry pasta! Well, alright, I don't know exactly where they've got everything hidden away in your local shops, but so far I've never seen udon noodles with the dried pasta and noodles in any shop. Udon noodles are normally sold semi-cooked in plastic pouches, and they're more likely to be found with the soy sauce and coconut milk in a typical UK supermarket.
Can you make gluten-free udon noodle soup?
With some substitutes, yes, you can make something very close! Gluten is found in the udon noodles themselves, the soy sauce and the breadcrumbed tofu, so we'll have to switch these out.
Udon noodle substitutes
I've not yet found actual gluten-free udon noodles, but there are thick, dried rice noodles available that make an excellent alternative. Often they're from Korean or Thai brands. Being dry noodles they'll need longer cooking. Just check their cooking time on the packet and put them in the pan before the pak choi, aiming for the noodles to be 3-4 minutes from completing when you add the pack choi.
If anyone has found actual gluten-free udon noodles, please share where in the comments section!
Dark soy sauce substitutes
There are some gluten-free dark soy sauces, but they're not available in many shops. The most available alternative is gluten-free tamari. Tamari has an amazing flavour, but it is more like a light soy sauce than a dark. You may need to add more tamari because of this – just make sure to taste between additions to avoid the broth becoming too salty.
Gluten-free tofu options
Although the crispy breadcrumbed tofu is one of my favourite parts of this recipe, it's not essential. I enjoy switching it for a firm silken tofu. Just chop in to chunks and add it to the hot soup a few minutes before serving to heat though.
Any questions or suggestions?
If you have any thoughts about this recipe, join in the comments below! I also love when people tweet their recipe photos to me at veganrecipebowl
Vegan Udon Noodle Soup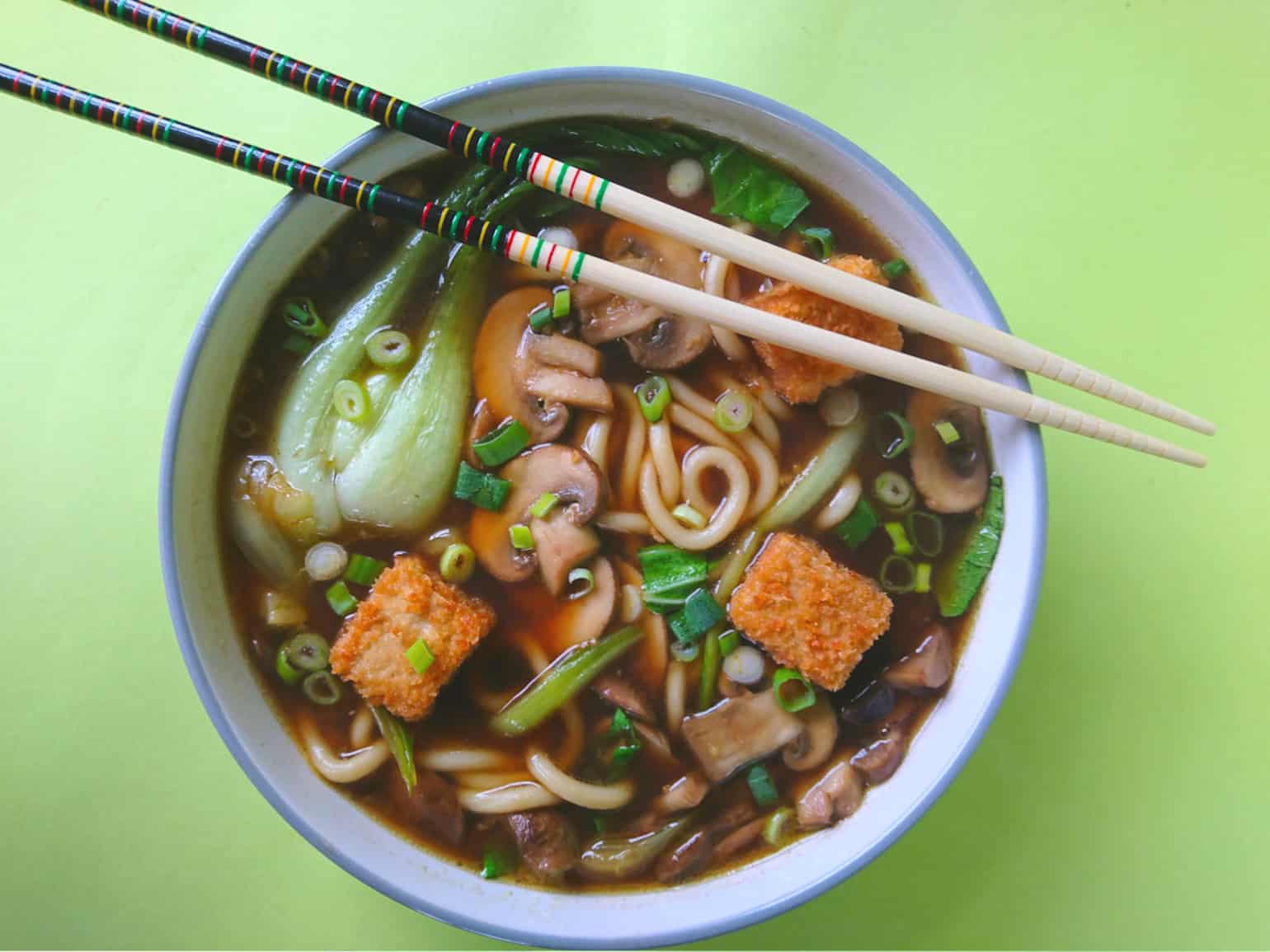 This flavour-packed mushroom, ginger and miso broth is filled with soft udon noodles, pak choi and crispy fried tofu
Ingredients
Tofu
400g firm tofu
1 tablespoon plain white flour
1.5 tablespoons water
4 tablespoons panko breadcrumbs
Oil to fry (fill a pan to about 4cm deep with a neutral oil, like sunflower)
Broth
1 litre mushroom stock (or vegetable stock)
2-3 tablespoons white miso paste
2 tablespoons dark soy sauce
2 teaspoons toasted sesame oil
2 teaspoons fresh ginger (peeled and grated)
3-4 cloves garlic (peeled and minced)
Vegetables
1 tablespoon groundnut oil
300g chestnut mushrooms
300g udon noodles
2 pak choi
Garnish
1 spring onion (thinly sliced)
Instructions
Start by draining and pressing the tofu (takes about 15 minutes with a decent tofu press)
While the tofu is pressing, combine the stock ingredients in a large jug, then set aside.
Cut the pressed tofu in to 12 pieces.
Start heating the pan of oil.
Mix the flour and water from the 'tofu' section together until smooth, then dip each piece of tofu in this batter before gently pressing in to the breadcrumbs until all sides are coated. Set these aside.
When the oil is 180 °C / 350 °F, gently place the breadcrumbed tofu in the oil and cook until golden brown and crispy (2-3 minutes), then set aside to drain on kitchen paper.
Put the tablespoon of groundnut oil in a large saucepan and heat to medium high before adding the sliced mushrooms. Stir regularly until they're softened, but still have some bite. When they're ready, immediately add the stock.
Cut the base off the pak choi and separate the stems. Cut the soft leaf away from each stem and set these aside for later. Cut the stems in to strips and add these to the broth. Add the udon noodles. Bring to a boil, then turn down to simmer and cook for about 5 minutes, or until the pak choi is soft enough. I like it a little firm. Then remove from the heat.
Cut the soft leaves of the pak choi in to strips and stir in to the soup. Give them a couple of minutes to soften, then put the soup in bowls to serve.
To garnish, place the tofu chunks so that they're half submerged in the soup. Scatter the spring onions on top.
Notes
Storage: Udon noodle soup is best made and eaten fresh. However, if needed it can be stored in the fridge for a few days and reheated gently in a pan or the microwave. If saving it for later, it's best to keep the tofu separate until you serve it.
Nutrition Information:
Yield:
2
Serving Size:
1
Amount Per Serving:
Calories:

954
Total Fat:

44g
Saturated Fat:

6g
Trans Fat:

0g
Unsaturated Fat:

34g
Cholesterol:

0mg
Sodium:

2316mg
Carbohydrates:

103g
Fiber:

18g
Sugar:

19g
Protein:

50g