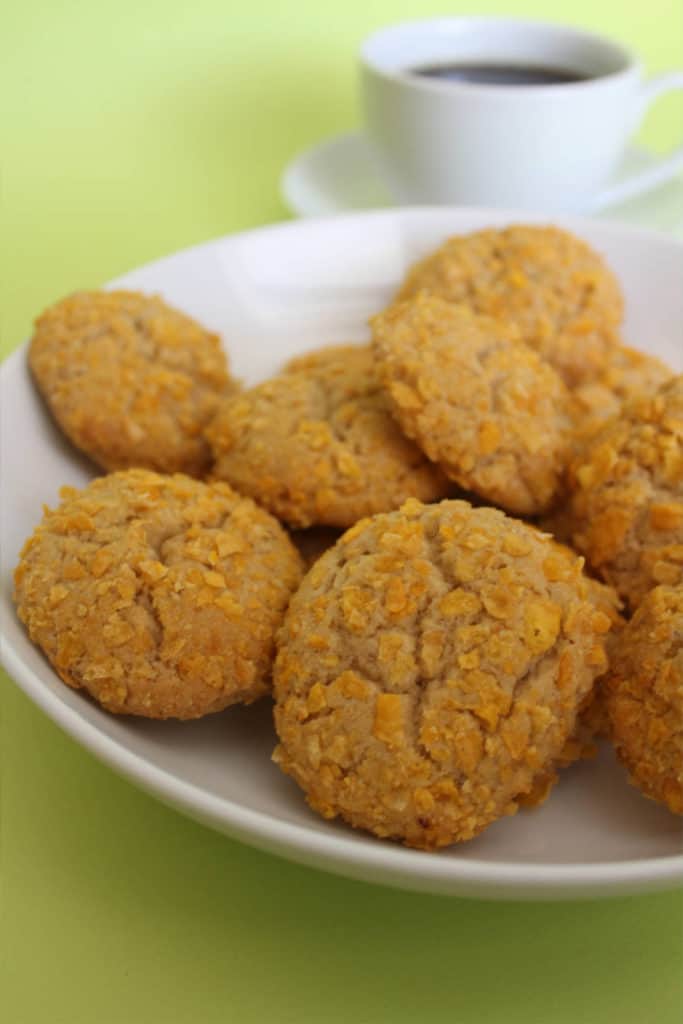 Melting moments recipes vary a bit from source to source – but the main thing is that they're soft inside and crisp on the outside.
My recipe started out as a simple, short one that my mum used to make when I was little. I think she may have picked the recipe up when she was a home economics teacher? It would make a good school recipe.
These are seriously fast to make! Provided you've got all the ingredients to hand, you'll have these in your oven within minutes.
However, many people remember melting moments from the BeRo books. Regardless of the decade, they're one of the mainstay BeRo recipes. And for good reason – simple, robust recipes like this are perfect for everyday cooking.
I've veganised my mum's recipe and updated it with metric measurements. Flax gel is the perfect substitute to make them egg-free. Flax gel is a good binder for tight-textured baked goods like melting moments, or these vegan rock cakes I made a while back. I've also switched to soft brown sugar to enhance their flavour. Oh, and a little bit more dairy-free margarine to make them a little softer and richer.
The finished cookies are much like I remember. You can roll them in desiccated coconut or oats before baking (both delicious), but I'm going with cornflakes this time. They crisp perfectly and develop flavour from the extra toasting.
Vegan Melting Moment Cookies
These vegan melting moments are crisp on the outside – but inside they're soft and light. Recipe from veganrecipebowl.com
Ingredients
1

tablespoon

ground flaxseeds + 2 tablespoons water

125

g

dairy free margarine

75

g

soft brown sugar

150

g

self-raising flour

50

g

cornflakes

(lightly crushed)
Instructions
Pre-heat your oven to (190 °C / Fan 170 °C / 375 °F / Gas 5) and lightly grease a couple of baking trays with margarine.

Making the flax gel: Mix together flaxseed and water in a small bowl, then set aside to thicken (takes roughly 5 minutes).

Cream together the margarine and sugar, then stir in the flax gel.

Stir in the flour and lightly mix until combined into a dough – but be careful to not over-mix during this step. Too much mixing makes the dough stickier and difficult to handle.

Divide the dough into 18 pieces and roll each piece into a ball before rolling in the crushed cornflakes.

Bake for 15-20 minutes until golden. After removing from the oven, give them a few minutes to firm up before transferring to a cooling rack.
Notes
Storage: Once cooled they keep well for up to two days in an airtight container in a cool place.
I'm wondering how you remember melting moments? Did you make them at school? And if you have any questions or thoughts, join in in the comments below!