Sharing this vegan garlic bread recipe has been on my to-do list for way too long. You can buy a similar looking garlic bread loaf from many stores, but that's where the similarity ends. This bread has fresh, tangy garlic and crisp parsley – and it only takes a few minutes to make! It's wonderfully soft inside with a crunchy, golden crust. I'll share the trick for the perfect, crispy crust later in the post.
Why use fresh garlic and herbs?
Freshly crushed garlic has the widest flavour profile because it still has the bright, tangy flavours. The key thing is that garlic cloves release their flavour when broken by cutting or crushing. From this point onwards the sharper, brighter flavours steadily fade away.
I still love dried or garlic paste from a tube for recipes when I want their richer, deeper flavour profiles. However, garlic bread is about bright and fresh tastes. So, I'm sticking with 2-3 cloves of the fresh stuff. The strength of garlic varies quite a bit, so adjust it to suit your needs.
Making that perfect, crispy crusted, soft inside garlic bread
The secret is re-forming the crust in the oven. After filling with the garlic butter lightly brush the bread all over with water, then immediately bake. It's important to bake it right away so that the water doesn't soak in too deeply, or cause the crust to crack.
Green Tip – This recipe is perfect for saving day old, dry baguettes from going to waste. Brushing them with water and baking again revives them remarkably well.
Why add the tiny pinch of extra salt?
It's not much, I really do mean a tiny pinch! It just brings out the garlic and parsley flavours so much better.
Any questions or suggestions?
If you have any thoughts about this vegan garlic bread recipe, join in the comments below! I also love when people tweet their recipe photos to me at veganrecipebowl
Yield: 7 pieces
Vegan Garlic Bread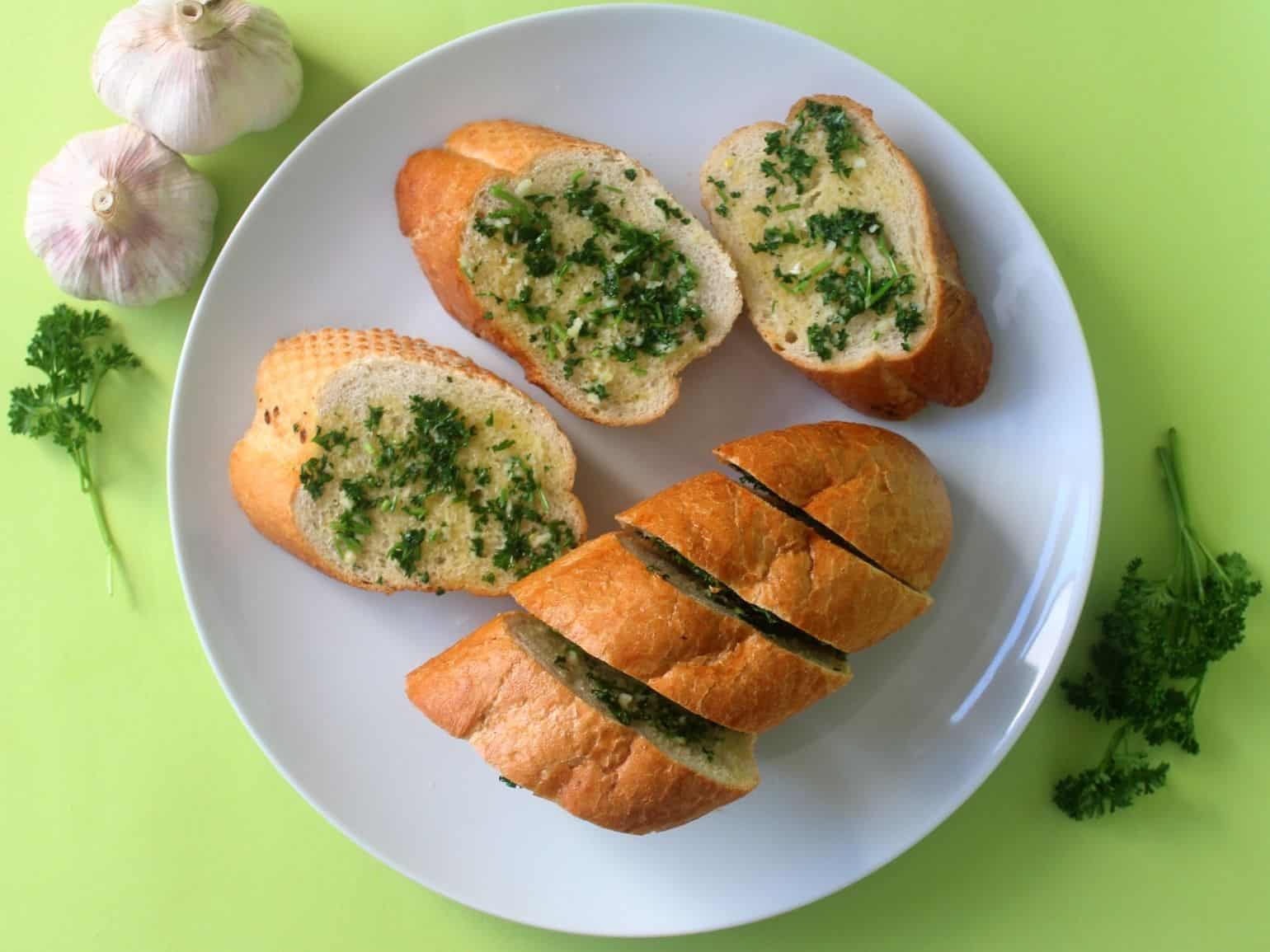 Ingredients
Small French baguette (or 1/2 of full size baguette)
35g dairy-free margarine
2-3 garlic cloves, peeled and minced
small bunch of curly parsley, finely chopped (about 7g)
small pinch of salt
Instructions
Preheat the oven to 200 °C/Fan 180 °C/400 °F/gas 6.
Mix together margarine, garlic, salt and parsley to form a garlic butter.
Cut six angled slices into the bread - go about 90% of the way through, just leaving them connected at the bottom.
Gently part each cut and spread the garlic butter in the inside, making sure to evenly coat the bread. A silicone spatula is ideal for this, but a regular table knife will work too.
Lightly brush the bread's crust all over with water, then immediately place on a baking tray and in the pre-heated oven. Cook for 10 minutes, or until golden and crisp. Enjoy while hot and freshly baked.
Notes
Storage: This garlic bread does not store well, it is best eaten when hot and freshly baked.