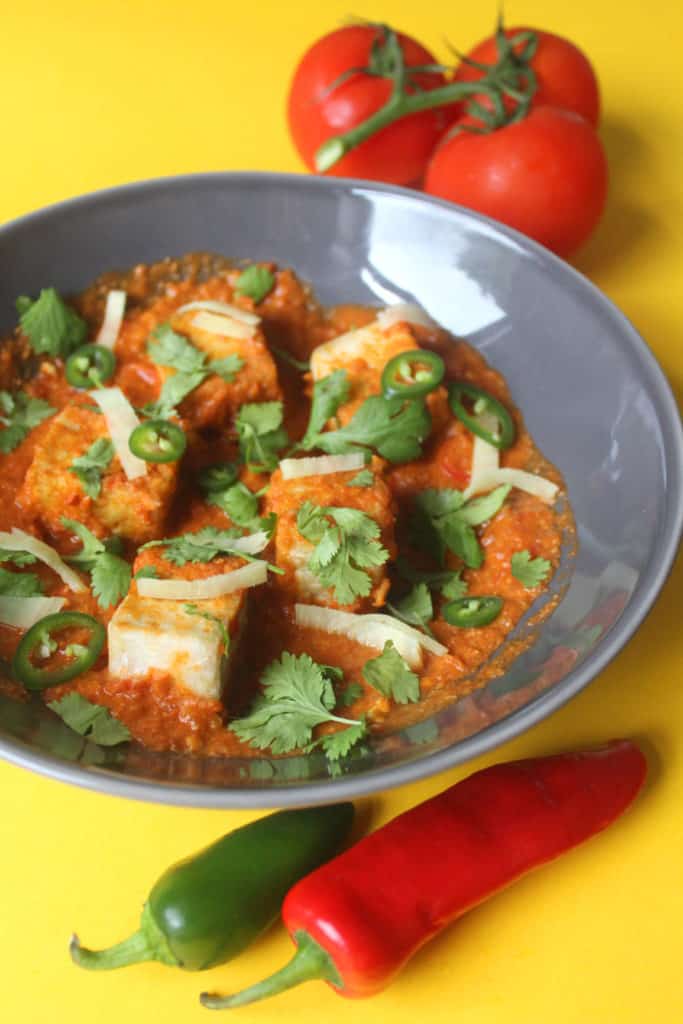 I love a good restaurant style paneer butter masala. There's something unique and delicious about biting in to the chunky paneer cubes. First the rich, tangy curry sauce, then the soft, buttery and creamy inside reveals itself. It's a perfect balance. The only challenge of course is making a good vegan paneer butter masala.
How to make vegan paneer butter masala
Anyone who has cooked a traditional paneer butter masala knows it's a dairy heavy curry. To make the sauce right we will need to replace the cream and butter while maintaining the characteristic richness, flavour and texture. Then there's the paneer, which is a whole challenge itself.
I've been trying for years to replicate paneer in my vegan Indian recipes, and I've finally found a way to cook tofu that works perfectly. It's simple too!
I'm using coconut milk to replace the cream and butter. I don't notice the coconut flavour much in the finished curry, it's subtle. What it does bring is the rich, creamy texture. Make sure to blend the sauce well so it's smooth – but if you want a perfectly silky smooth result you'll need to push it through a fine sieve.
My vegan paneer starts with firm tofu. Tofu and paneer are closely related. In fact, they're made in exactly the same way – just curdle the milk (dairy for paneer, soy for tofu), then strain off the solids and form them into a block. Both are mild flavour too.
From here however, differences between tofu and paneer start to show up. A crucial difference is texture and how they respond to cooking. This is what I've been working on to make tofu taste like paneer.
Typically paneer is added raw to the gravy right at the end of cooking. Tofu isn't so nice raw. It doesn't develop that soft paneer-like texture until it's lightly cooked. However, frying or baking tofu brings out a strong cooked tofu taste and gives the surface a very different texture to paneer. It's like the inside gets more paneer-like, while the surface gets less like paneer. Food can be difficult. I wanted to create something better with the correct flavours and textures.
The solution I found is fortunately very simple and only needs one additional ingredient – cornflour. After dusting the tofu with a little cornflour it can be lightly fried without developing that strong tofu-taste, it just goes golden and crisp. It will seem too hard at first, but the crispness doesn't last. It becomes soft once stirred in to the sauce.
Onions, or no onions?
Like everything in cooking, it's up to you. My recipe doesn't use any. I usually love onions in everything, but for this curry I prefer the flavour balance being more tangy and bright. There's something about making it without onions that really makes the taste of the green chilli pop.
If you want to add some onions though, cut them very finely and add them just after the bay leaf and allow them to cook until the raw aroma is gone before adding the ginger and garlic.
Serving suggestions
Although more than good enough to just serve on its own as a light meal, I tend to make an additional side dish and have this as a main meal. Garlic coriander vegan naan bread is a great match, I love how the fresh garlic compliments the sauce. Or for a simpler bread, some chapatis work great. Whatever you choose to serve with it, this is definitely the perfect curry for dipping indian breads in.
Yield: 2
Vegan Paneer Butter Masala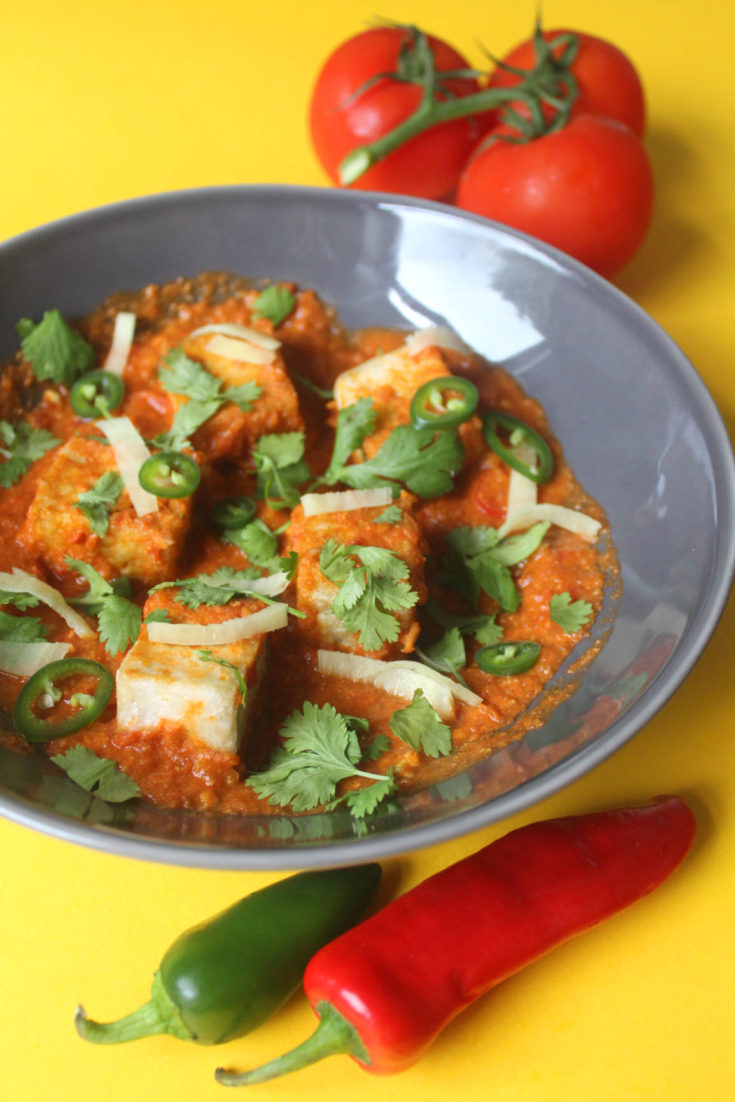 Ingredients
Tomato sauce
25 g cashews
400 g fresh tomatoes
50 g coconut milk
2 teaspoons paprika
1/2 teaspoon salt
1/2 teaspoon dark brown sugar
Tofu 'paneer'
400 g firm tofu (pressed)
1-2 tablespoons cornflour (as needed)
1 tablespoon neutral flavour oil (eg. vegetable oil, sunflower, etc.)
Curry
2 tablespoons neutral flavour oil (eg. vegetable oil, sunflower, etc.)
1 Indian bay leaf (aka Tej Patta)
25 g fresh ginger (minced)
4 cloves garlic (minced)
1-2 green chilli peppers (thinly sliced)
2 teaspoons garam masala
Garnish
1 small bunch fresh coriander (chopped)
10 g fresh ginger (peeled and julienned)
1-2 green chillis (thinly sliced)
Instructions
Soak the cashews in boiling water for 20 minutes.
Drain the cashews and put them in a blender or food processor with the tomatoes, coconut milk, paprika, sugar and salt. Blend until smooth.
Chop the pressed tofu in to large cubes (roughly 3 cm square), and dust them lightly with cornflour on all sides.
Heat one tablespoon of oil in a large pan over medium heat and fry the tofu cubes, flipping them as needed, until they're just turning slightly golden on all sides. Takes about 1-2 minutes to cook each side. Remove from the pan and set them aside for later.
Add two tablespoons of oil to the hot pan and fry the bay leaf for about 30 seconds, then add the minced ginger and garlic. Cook briefly until the raw smell is gone. Immediately add the tomato sauce and cook for 10-15 minutes with regular stirring until it's thick and well cooked. Stir in hot water to thin the sauce to the the consistency you want. I prefer it light, but not too thin, so I can dip naan bread in it. To get this consistency I typically add 100-200g hot water.
Bring to a simmer, then immediately turn off the heat. Stir in the garam masala and tofu cubes. Garnish with freshly chopped coriander, green chilli slices and julienned ginger. Serve with Indian bread (I like naan), or for a lighter meal just enjoy the curry on its own.
Notes
Storage: This curry is best served fresh because the tofu becomes tough when re-heated. However, if needed, you can store it for up to 3 days covered in the fridge and reheat it gently in a pan or microwave.
Nutrition Information:
Yield:
2
Serving Size:
1
Amount Per Serving:
Calories:

571
Total Fat:

44g
Saturated Fat:

9g
Trans Fat:

0g
Unsaturated Fat:

32g
Cholesterol:

0mg
Sodium:

644mg
Carbohydrates:

28g
Fiber:

8g
Sugar:

12g
Protein:

26g
Have you enjoyed this vegan paneer butter masala, or have any questions? Join in the comments below!