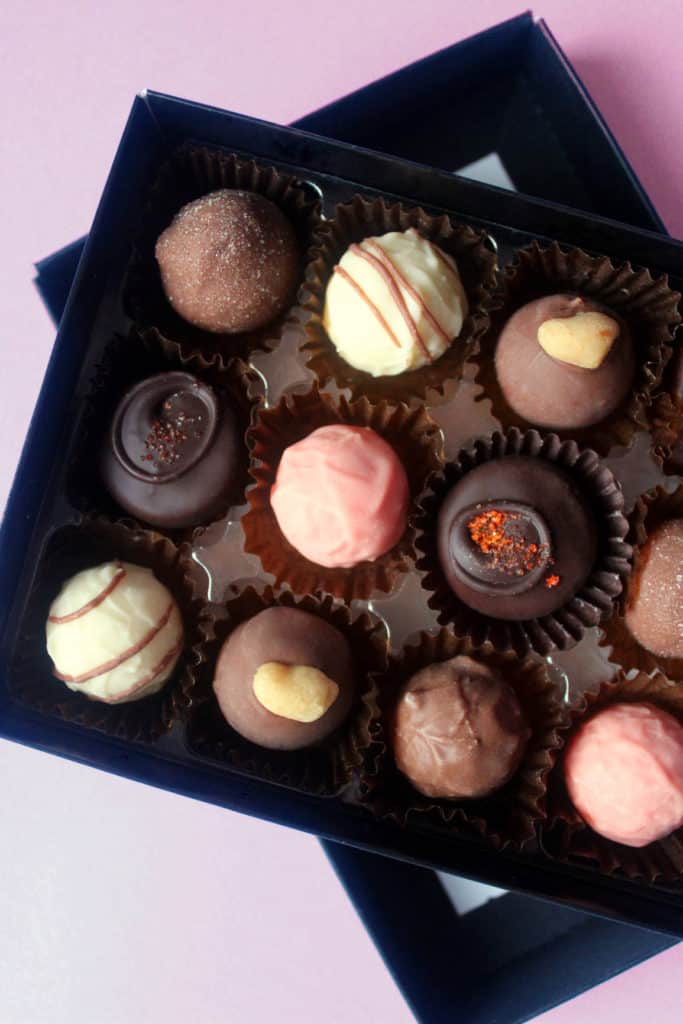 This post contains affiliate links, which means if you purchase something through my link, I will earn a small commission. This does not affect the price you pay for the item. I only advertise products that I have used myself and would genuinely recommend!
Whatever your special someone loves, from white chocolate hearts to rich, dark hand made truffles, these vegan Valentine's chocolates are sure to impress.
If you're wondering where to buy vegan chocolate – don't worry, there's plenty to choose from.
Thankfully for vegan chocoholics, most dark chocolate is already free from animal products, so you'll find plenty of that makes our list. However, thanks to inventive chocolatiers embracing plant-based alternatives, vegan milk chocolate and even white chocolate options are growing each year. We've picked some of the most delicious and beautifully-presented from each category.
We're also keeping a close eye on environmental issues, like plastic-free packaging and ethical ingredient sourcing. It is the day of love, after all.
Booja Booja: The Artist's Collection Fine de Champagne Chocolate Truffles
Booja Booja is top of our list for vegan truffles. Ultra-smooth and rich, their multiple award-winning truffles just melt in the mouth. For a Valentine's gift, these beautifully packaged truffles are one of their most indulgent and memorable choices.
The hand-painted wooden gift box is sure to be saved and enjoyed for years to come.
Knoops 65% Colombian Single-Origin Dark Vegan Hot Chocolate Flakes
For a delicious twist on the classic chocolate gift, warm up your loved ones February with these indulgent vegan hot chocolate flakes. Made with single-origin cocoa grown in the Columbian Andes, they melt into your favourite plant milk to make creamy, gourmet hot chocolate.
Buttermilk Dairy-Free Choccy Truffles
If your partner has been wishing for vegan Lindor balls, these truffles from the Buttermilk brand are remarkably similar. Their thick milk chocolate shells are filled with a smooth melting middle.
They score well on environmental points too. The truffles are wrapped in compostable film, making them a plastic-free, zero-waste valentines gift.
Moo Free White Raspberry Chocolate Truffles
There's no missing out for vegan white chocolate lovers with these sweet heart-shaped raspberry truffles.
The moo-free brand is one of the best choices for guaranteed allergen-free chocolates, with clear information on each of their products indicating if they're free of gluten, dairy and soy.
Vegan Chocolatier Cappuccino White Chocolate Truffles
If you're after something classic, cappuccino truffles make the perfect choice for a coffee lover.
We loved the bold flavour – and the crisp, well-tempered chocolate shells. The 100% biodegradable packaging is an upside to choosing these too.
The verdict: Vegan Valentine's chocolates
Whether you pick some Moo Free raspberry white chocolates or go with the rich, dark Booja Booja truffles, there are some excellent vegan chocolates to make this Valentine's day special.