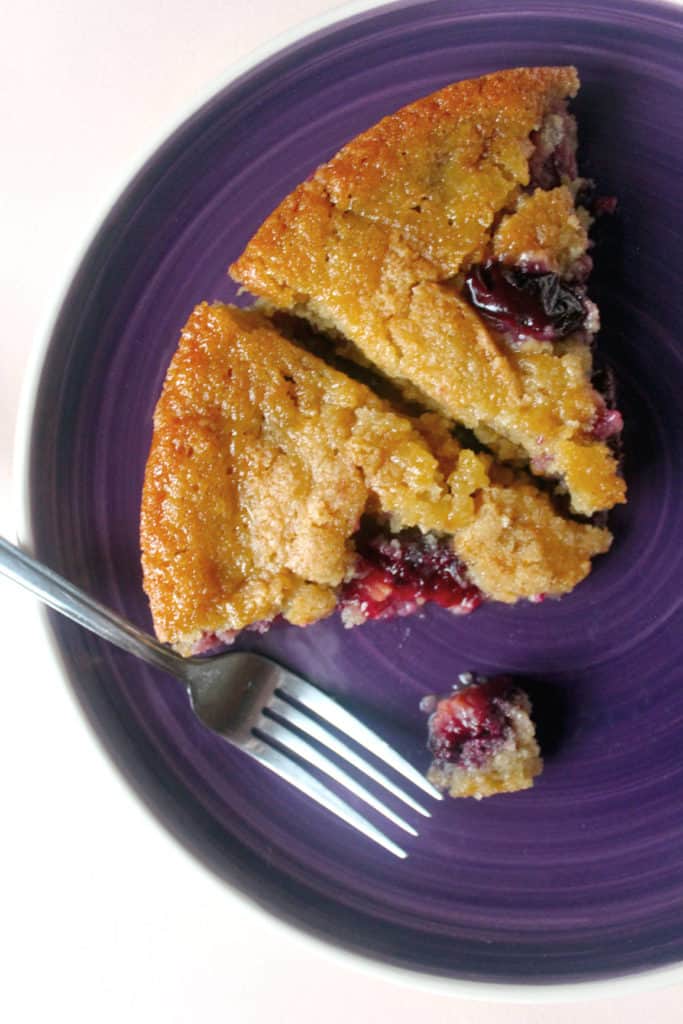 Vegan plum cake is the perfect autumn recipe. It easily answers the question of what to do with plums. Simple to make, soft, rich, fragrant and filled with sweet, juicy fruit. It's a classic.
The idea of a plum cake was first planted in my mind when I learnt about the famous New York Times plum torte. Created by Marian Burros, it was first published in Autumn 1983. It went on to be published each autumn for many years, and even now they say it's their most requested recipe. It's clearly a great cake, and I wanted to eat it! Seriously, I started daydreaming about this thing.
I haven't done much baking with plums before though, and I've been missing out.
The only thing between me and a big slice of this cake is the original recipe isn't vegan. To solve this I've created a vegan plum cake recipe inspired by it. It was a challenge to get everything working the right way, but even the failures were delicious so I had to keep at it. Seriously, if a bad recipe is still delicious, you know you're on the road to something good.
Sunken cake after sunken cake came out my oven until I figured out a recipe that rises up perfectly and stays moist. Cakes with lots of fruit can be challenging, as I found with my Russian apple cake recipe. However, they're absolutely worth it in the end.
Everything that made the original delicious is here in my vegan version. It's rich, sweet, moist and full of juicy plums – just like the original.
A key feature of Marian Burros' plum torte is richness. It's made with a lot of butter. Creating richness in vegan baking is an interesting challenge.
I don't know of an exact vegan butter substitute. And even if I did, I prefer to avoid specific brands because they're not available everywhere, can change formulation or even stop being made. So, I'm using ground almonds. Rich, fragrant and full of flavour, almonds make the perfect plant-based alternative to butter.
I love the smell of this cake while it's baking, it just fills the house. It's a perfect autumn recipe,
The best time to eat this torte is fresh and warm from the oven. Just give it 10-15 minutes to cool. The top is crisp and golden, the sponge is soft and warm and the plums are juicy.
Yield: 8
Vegan Plum Torte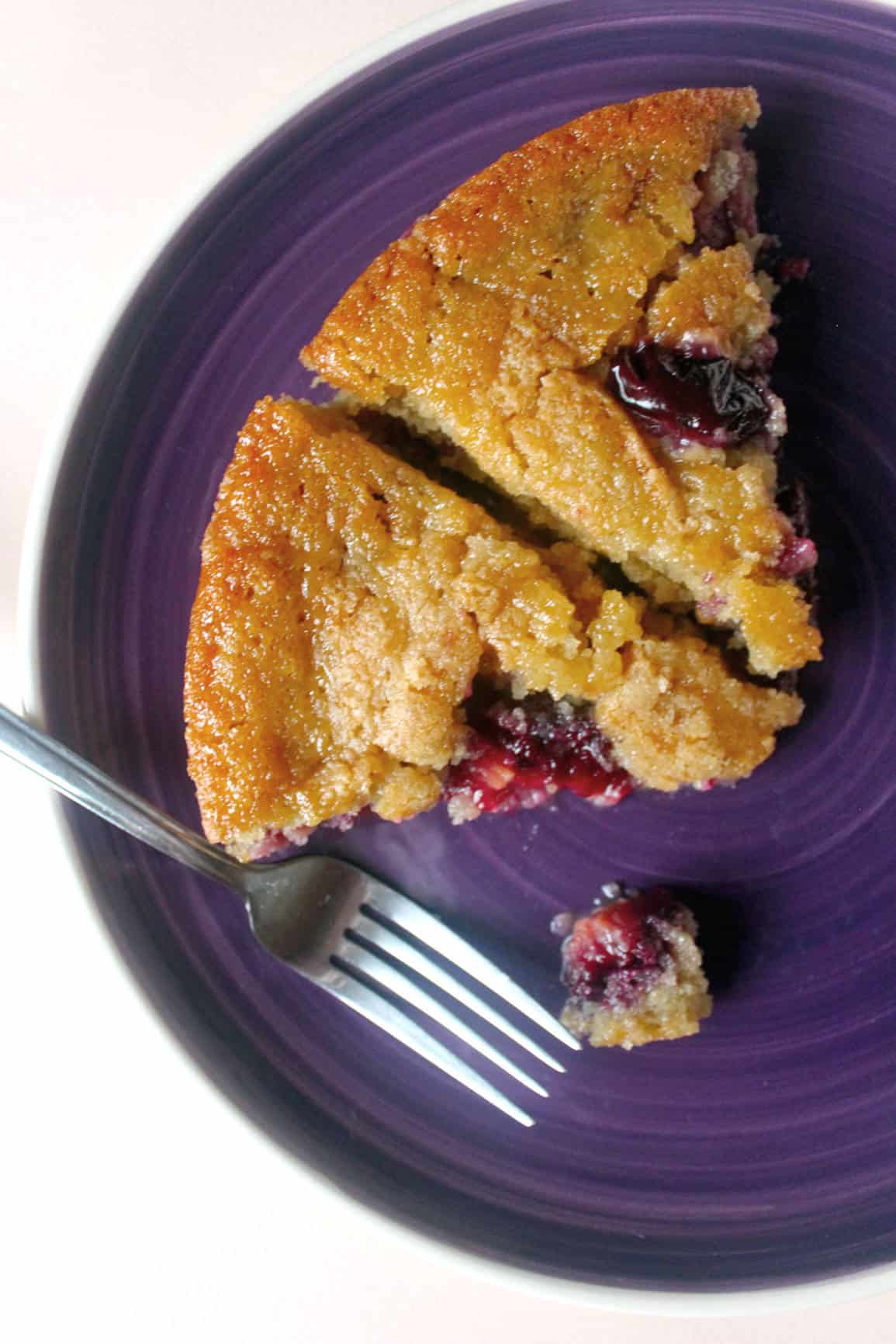 Wondering what to do with plums? This easy to make vegan cake is perfect. It's soft, rich, fragrant and filled with sweet, juicy fruit. Recipe from veganrecipebowl.com
Total Time
1 hour
20 minutes
Ingredients
Dry
150 g plain white flour (aka all-purpose flour)
150 g white granulated sugar
50 g ground almonds (aka almond flour)
3 teaspoons baking powder
1/4 teaspoon salt
Wet
125 g plain, unsweetened soy milk
75 g light olive oil
3 tablespoons maple syrup
Topping
400 g ripe plums
1 tablespoon white granulated sugar
1 tablespoon lemon juice
Instructions
Pre-heat the oven (180 °C, Fan 160 °C, 350 °F, Gas 4), and grease a 23cm (9") round cake tin.
Cut the plums in half and remove the stones. I find a teaspoon is good for popping the stones out if they're being awkward.
In a large bowl, combine the dry batter ingredients and mix until well combined and free of any lumps. Then stir in the liquids until a smooth batter forms. Do not beat heavily or for any longer than needed to form a smooth batter.
Pour the batter into the cake tin and level. Place the plums on top – cut sides facing down. Sprinkle over the sugar, then the lemon juice.
Bake in the centre of the oven for about 60 minutes. Towards the end of this time test by inserting a cocktail stick into the middle of the cake. It should come out clean. If there is wet batter on the stick, return it to the oven and cook for a couple of minutes more, then test again. Repeat as needed until the stick comes out clean.
Place the cake to cool on a rack, and gently run a knife around the edge to separate it from the tin. You can enjoy it warm or cooled down – it's delicious either way.
Notes
Storage: This plum cake is best enjoyed fresh and warm, but it will keep well for up to three days in an airtight container in a cool place.
Nutrition Information:
Yield:
8
Serving Size:
1
Amount Per Serving:
Calories:

313
Total Fat:

13g
Saturated Fat:

2g
Trans Fat:

0g
Unsaturated Fat:

11g
Cholesterol:

0mg
Sodium:

283mg
Carbohydrates:

47g
Fiber:

2g
Sugar:

30g
Protein:

4g
Have you made this vegan plum cake or have a question? Join in the comments below!