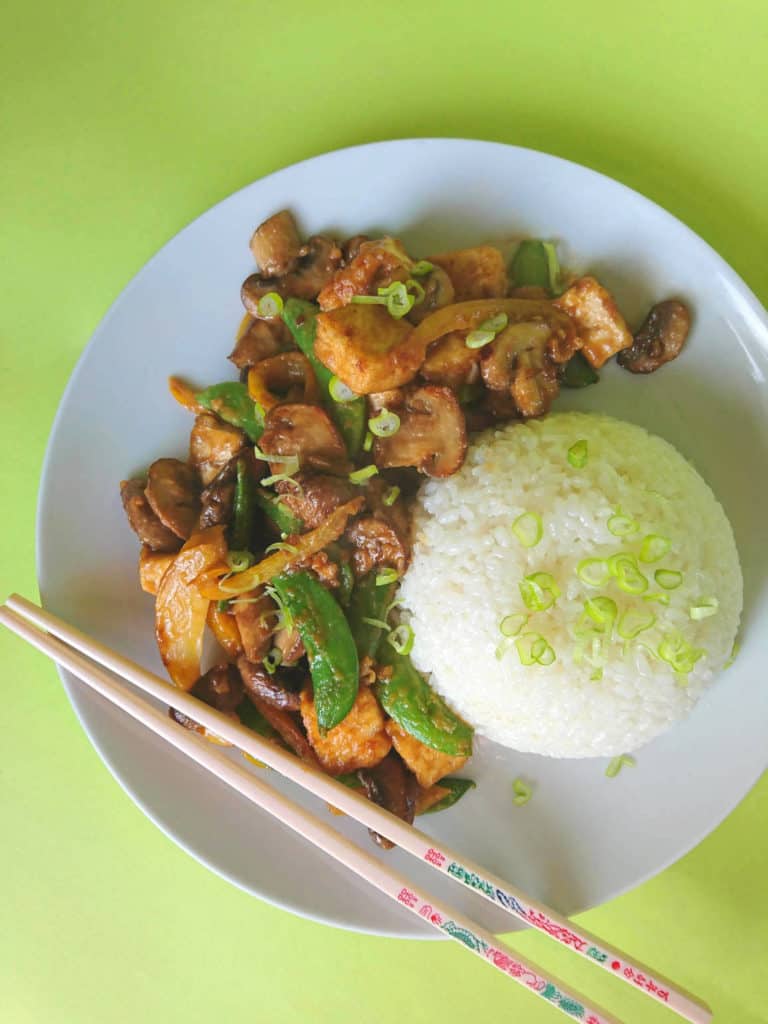 This easy to make, flavour-packed vegan stir fry has a rich, silky-smooth peanut sauce that coats the vegetables and crispy tofu perfectly.
Why I love peanut sauces
There's something rich and delicious about peanut sauces. The first time I tasted one at a Vietnamese restaurant I knew this was a flavour I'd be using in my own cooking.
They're somehow sweet-yet-savoury all at once. And they're strong, but the other ingredients aren't overpowered.
Then there's the texture. It is so smooth and rich. Creamy is the best word.
How to cook tofu
Tofu stir fry can be made in many ways. Often it starts with a long marinating process for the tofu, but I've chosen to keep it simple here and let the sauce do the flavouring work.
Anything coated in this sauce is guaranteed to be delicious!
So, there's no time consuming marinating of the tofu, just press the moisture out and you're ready to get started. I'm coating it in a mixture of cornflour and dried onion powder before frying it over medium heat.
I've tried many ways to cook tofu, and this method is my favourite so far. It gives the tofu a wonderful, crisp, golden surface and it stays soft inside. Plus it's an extremely easy way to cook tofu.
Make sure to cut the tofu into squares so it's easy to turn them around and brown all sides.
Then set the tofu aside while you cook the vegetables. It's returned to the pan right at the end to coat in the sauce.
Choosing and preparing mushrooms
This recipe uses chestnut mushrooms because they hold up well to stir-frying and have an excellent flavour and texture. Ideally, pick brown mushrooms with thick stalks for the strongest flavour. However, white mushrooms will be good too if that's all you have.
The mud on mushrooms tastes metallic, so wash them right before slicing to remove it.
Freshness is vital with mushrooms. Fresh mushrooms will be very firm and pressing with a finger won't easily dent them.
How to serve peanut stir fry
You can enjoy this stir fry by itself, or with some freshly cooked rice. I like to sprinkle with finely sliced spring onions to garnish.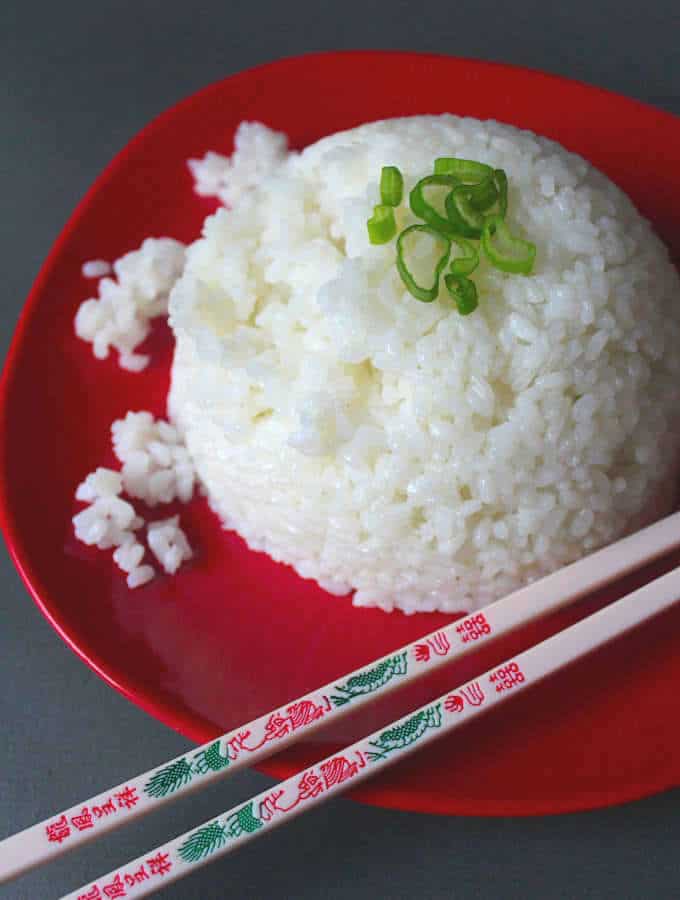 Yield: 2
Creamy Vegan Peanut Stir Fry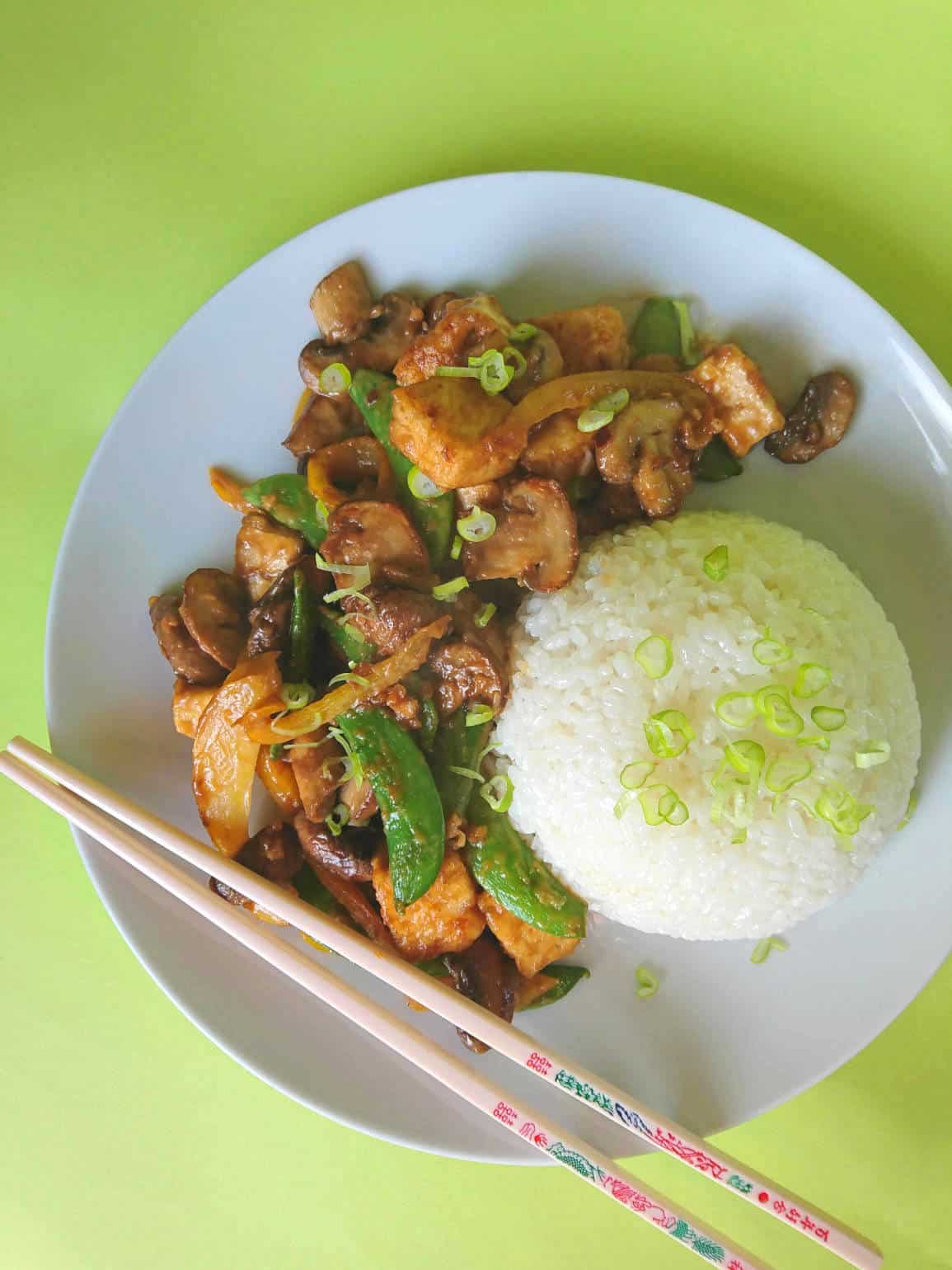 This easy to make, flavour-packed vegan stir fry has a rich, silky-smooth peanut sauce that coats the vegetables and crispy tofu perfectly.
Ingredients
Sauce
4 tablespoons smooth peanut butter
2 tablespoons light soy sauce (sub with tamari if making it gluten-free)
3 tablespoons water
1 tablespoon lime juice
1 tablespoon toasted sesame oil
1 tablespoon maple syrup
2 cloves garlic (minced)
1 teaspoon fresh ginger (minced)
1 small red chilli (thinly sliced)
Crispy tofu
400 g firm tofu (pressed and cut in to cubes)
3 tablespoons cornflour
2 teaspoons onion granules
1 tablespoon neutral oil (eg. groundnut, sunflower)
Vegetables
300 g chestnut mushrooms (washed and sliced)
100 g sugar snap peas
1 small yellow or orange bell pepper (stalk and seeds discarded, then thinly sliced)
1 tablespoon neutral oil (eg. groundnut, sunflower)
Garnish
1 spring onion (thinly sliced)
Instructions
Combine all of the sauce ingredients in a bowl and whisk until smooth. Set aside for later.
Mix the cornflour and dried onion powder in a bowl, then add the tofu cubes and coat them with it.
Add 1 tablespoon of oil to a large non-stick pan or wok and bring to medium heat. Add the tofu cubes and cook, flipping as needed to cook all sides. Once they're golden, remove them from the pan and set aside for later.
Add 1 tablespoon of oil to the pan and bring it up to medium-high heat. Add the vegetables and stir fry until the mushrooms and peppers are soft, but the sugar snap peas are still crisp.
Pour the sauce over the vegetables and immediately mix to coat everything. You don't want to hang around long at this stage as the sauce can stick to the pan. Quickly fold in the tofu to coat it, then serve. Garnish with thinly sliced spring onions.

Notes
Storage: Stir fry does not keep, so cook and serve immediately.
Nutrition Information:
Yield:
2
Serving Size:
1
Amount Per Serving:
Calories:

525
Have you tried this vegan stir fry? Or have a question? Join in the comments below.