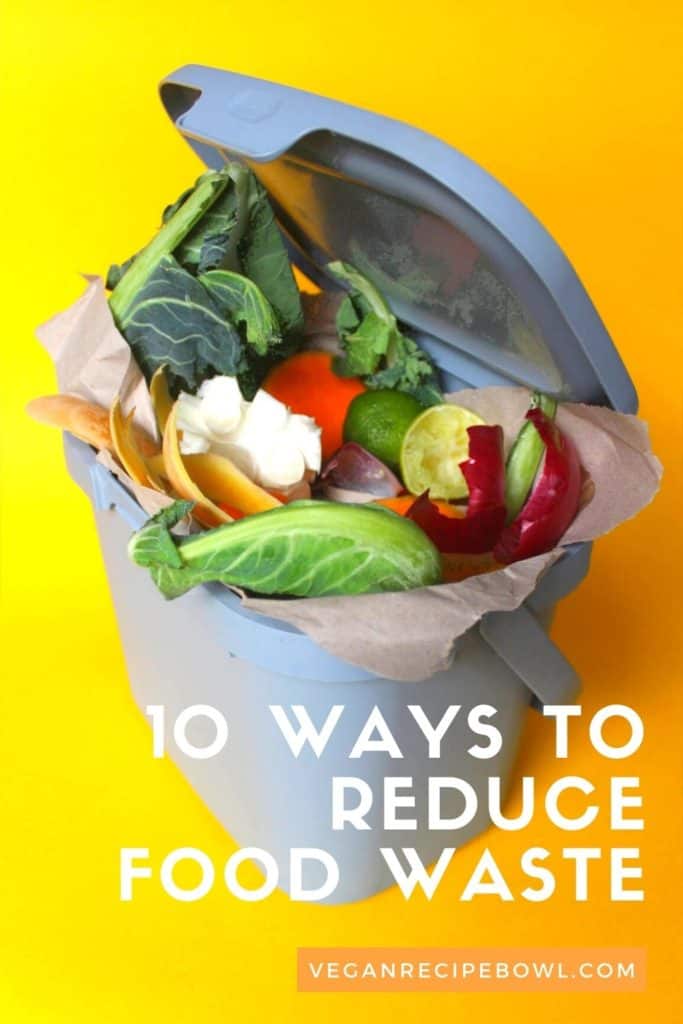 This post contains affiliate links, which means if you purchase something through my link, I will earn a small commission. This does not affect the price you pay for the item. I only advertise products that I have used myself and would genuinely recommend!
Reducing food waste is a powerful way to cut your environmental impact across a wide range of factors, from CO2 emissions to land, water and packaging use.
Why reduce food waste?
If you're a vegan the good news is that your diet's environmental impact is already much lower than the average meat eater – or even vegetarian. This study published in Science found the carbon footprint of plant-based foods are 10 to 50 times smaller than those from animal products. There are also impressive reductions in land and water use.
However, even the effects of plant-based food waste add up. And it's not just those exotic plants from far-flung places people keep talking about. Everyday foods are significant too. The International Journal of Life Cycle Assessment investigated the carbon footprint of bread, and found an 800g loaf of bread produces 977 to 1,244 g CO2e.
Simply eating our food rather than throwing it out is an extremely accessible, zero-cost way to look after the environment. Here's 10 of my favourite ways to make a difference.
1. Check the fridge before you go shopping
The fridge is supposed to be a safe place to store food – but a lot of food waste happens here. Avoid it filling up with forgotten food by having a look before you go shopping and planning meals around using what you already have.
Sometimes I discover I don't actually need to go shopping right away, or only need a handful of shopping.
And since you're hunting around in the fridge, you might as well move the shortest date items to the front so you'll remember to use them soon.
2. Buy smaller amounts
The main problem with buying a whole week's worth of fresh food is that unexpected things happen and plans change. Often it's unplanned eating out, or feeling tired and not wanting to cook one day. Buying a bit less allows for these unexpected events to happen without your oldest food becoming too old.
Breaking shopping down into smaller amounts allows for more flexible eating plans.
Of course, it goes both ways, and sometimes we do unexpectedly need extra food. Well, this is where long-life products in cans and jars are perfect. Unlike salad and yoghurt, they'll stick around in good shape for when you do need them.
3. Do buy short-dated, reduced items
It doesn't matter who wastes the food or why, the impact is the same. So, helping stop food waste from any source is a great way to expand your sustainable habits.
I always look carefully, but in general, many short-dated items are in good shape and a bargain too!
Just don't go buying loads, because you'll need to use it soon. Anything beyond what you can use in time is best left on the shelf for (hopefully!) another customer to eat.
4. Use your freezer to avoid food waste
As a child, the freezer was all about ice cream. Putting bread in there was clearly nonsense because it means less room for ice cream, and who wants cold bread anyway? Well, I'm sorry to say this to my former self, but the freezer is actually great for things like bread.
Whether you've been caught out with some soft fruit or half a loaf of bread that's near its date, freezing it for use later can stop it from becoming food waste.
The freezer also opens up options for buying more of those short-dated discount items. I often buy multiple loaves of discounted bread and freeze them soon as I get home. Then I thaw them a handful of slices at a time over the next few weeks.
Some fruit and veg will lose their texture when frozen, but for many recipes that's ok. Any recipe that ends up cooking them until soft or blending them will come out the same. Soft fruits like strawberries and blueberries for example freeze perfectly for use later in sauces, smoothies and jam making. I've made some huge pans of jam for very little money this way. Check out my favourite strawberry jam recipe.
5. Composting is much greener than you think
Often composting is seen as something for serious gardeners only, but it's a solid eco choice, even if you do little or nothing with the compost.
Throwing offcuts and peelings in household waste is the worst disposal option.
Broadly, household waste is either landfilled or burnt (this is usually in waste to energy power stations).
Landfills are very different environments to compost bins and different microbes live in them. The landfill microbes break down food into methane – a greenhouse gas that's more than 20 times as damaging as carbon dioxide.
Waste to energy plants have the advantage of burning up the food so it doesn't turn into methane. However, food is mostly water, so throwing it on a fire is about as effective as throwing water on a fire. The result is food going in to waste to energy plants reduces their efficiency and they make less electricity. The outcome is some other power plant – likely one burning fossil fuels – has to generate more power.
Regardless if it's burnt or landfilled, throwing food in general waste leads to higher greenhouse gas emissions. Composting, however, does not.
If you're not the keen gardener type, don't worry about ending up with huge amounts of compost. It takes a lot of organic matter to make even a little compost.
If you're planning to start composting, this durable, easy to clean compost caddy is made from 100% recycled plastic.
6. Check your fridge temperature
It should be between 0-5C. Warning signs it's going above are food regularly spoiling before it's best before date, and if it drops below it may freeze food causing frost-sensitive fruits to go mushy and salads to wilt.
Regardless if it's going high or low, a poorly performing fridge can be a major source of wasted food.
The solution may be as simple as adjusting the temperature setting, but if that doesn't resolve things you may need an engineer visit or a replacement fridge.
7. Revive dry bread in the oven
Dry bread is a common source of food waste. Some loaves just keep better than others. The quickest to dry out are those that contain little or no fat – like french baguettes. Fortunately, bread can be refreshed in a hot oven with surprisingly good results.
Mouldy bread can't be saved, but if your bread is just a day or two old and dry this is going to help a lot.
Preheat your oven to 160 °C (140 °C fan). Put the bread under a running tap for a few seconds, making sure to wet the entire surface, then place it straight on the oven shelf for 5-8 minutes, or until the surface is crisp again. How long it takes will depend on the size of the bread and how much water it absorbed. The finished result should be soft inside, crisp on the surface and warm.
8. Portions matter
Preparing the right amount of food will avoid leftovers at the end of the meal. So make it a habit to measure out rice and pasta before cooking.
Pots of food can also be served at the table, alloying people to choose the amount they want and leave any excess in the pot – which can be saved for later.
9. Store lemons and limes in plastic bags in the fridge
Lemons and limes have thin skins that allow moisture to escape. Often they're coated in wax to reduce water loss, but they still stay juicy and fresh for much longer when stored in a plastic bag in the fridge.
Ideally, reuse a spare plastic bag so you're not increasing your plastic waste.
10. Buy loose fruits and vegetables
Bulk packets of fruit and vegetables can be handy to grab at the supermarket, but if you don't have a plan to use them up completely they can lead to wasted food.
Many shops and markets offer loose produce too, so you can buy just the amount you need for the next few days. If you just need one carrot for making tomato soup, that's no problem when you're buying loose.
You'll enjoy fresher food and make less waste when you buy smaller amounts as and when needed.
11. Look for green boxes on this site
I know the title says 10 ways, but this is a bonus tip!
Green Tip – boxes like this can be found throughout this site and they always contain an eco tip of some type. Many relate to avoiding food waste, reducing packaging or using less energy.
Conclusion on ways to reduce food waste
Reducing food waste is one of the best ways to reduce our environmental impact – and it's highly accessible. Unlike some eco choices, it's actually money-saving. There are many solutions to food wastage, so some are sure to suit your needs.
Have you tried these ways to reduce food waste, or have some suggestions? Join the discussion in the comments section!