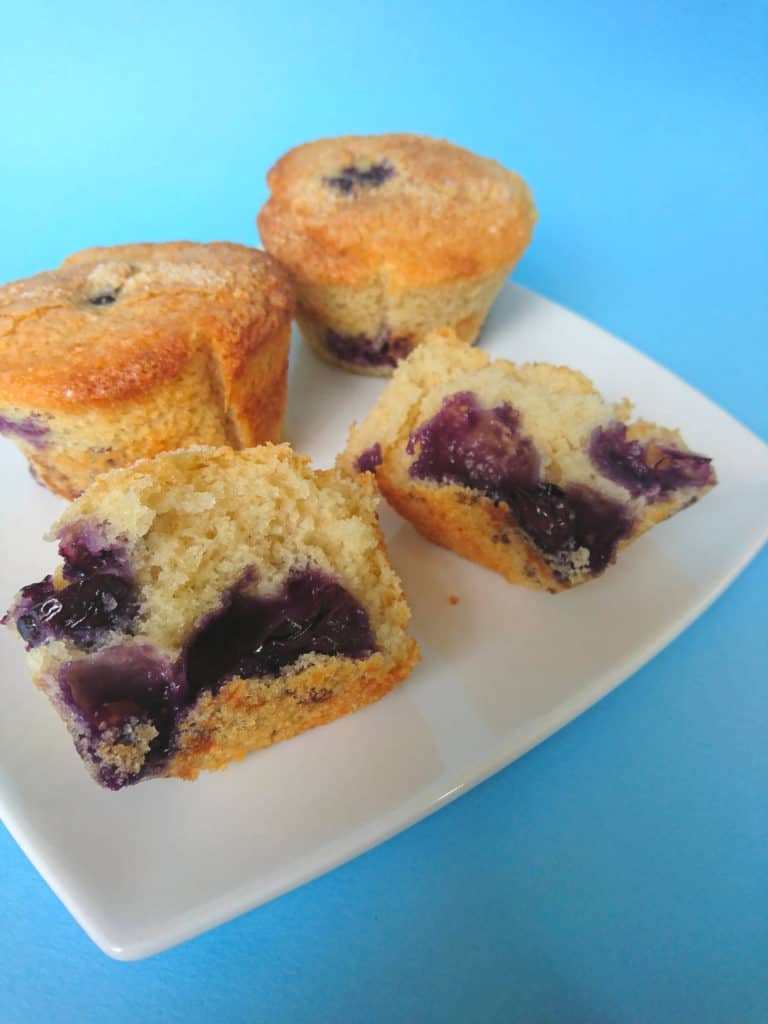 This easy vegan blueberry muffin recipe is soft, lemony, and packed with fresh blueberries. It also has a clever shortcut for making the easiest crumb topping ever, so you'll have a plate of fresh muffins in no time.
Building flavour with plants
I'm using one of my favourite tricks for building flavour and richness in vegan baking – ground almonds. They give these vegan muffins a much richer flavour than any other vegan muffin I've tried.
I also found a little bit of fresh lemon zest makes the perfect accompaniment to the sweet, juicy blueberries.
What's the difference between a cupcake and a muffin?
Muffins are a little denser and not as sweet as cupcakes. They're also bigger than cup cakes, so although I'm using the same tray to bake them, I've switched to the larger tulip-style paper cases to accommodate the extra batter.
With traditional muffin and cupcake recipes, there's also a difference in method – cupcakes start with creaming fat and sugar before adding liquids, while muffins are often one-bowl recipes made with oil. However, this isn't a hard and fast rule. A lot depends on the recipe developer because all types of cake textures can come from all kinds of recipes. I tend to use oil and make one-bowl recipes for all cakes – traditional or not. I just love the simplicity, reliability, and softness of oil cakes. I even use oil in my one-bowl vegan Victoria sponge cake. I care most about the finished cake, not the route taken.
How to make perfect vegan blueberry muffins
Mixing matters. Crucially, mix lightly. Don't beat the batter, just gently move the whisk around until the dry and wet ingredients are combined well. Then gently fold in the blueberries with a spoon.
You need to bake the muffins promptly in a well-preheated oven, so get the oven hot before making the batter – it doesn't take long to make. Put the muffins in as soon as you've finished filling the paper cases with batter.
Picking the best blueberries for the best blueberry muffins
First of all, you've got to use fresh blueberries. The frozen ones are too soft and release a lot of liquid during baking. This affects the muffin's texture, and it turns them completely blue! I could live with the blue colour, but the texture change isn't good.
The ideal blueberries are well ripened and sweet. I prefer large blueberries for this recipe, but any that are ripe will work well.
Colour is the best indicator of ripeness I know of. Darker, bluer blueberries are sweeter, while lighter and redder blueberries are more sour. If possible, use the ripest fruit you can for maximum flavour and sweetness.
Making the easiest crumb topping ever
Normally making a crumb topping involves mixing together flour, sugar and rubbing in fat. I'm skipping all that and just using a 50/50 mixture of sugar and ground almonds. It turns golden while baking and develops a deliciously crisp and sweet top. No compromise, just a handy time-saver that means you'll have a plate of fresh vegan blueberry muffins even sooner.
Yield: 12
Vegan Blueberry Muffins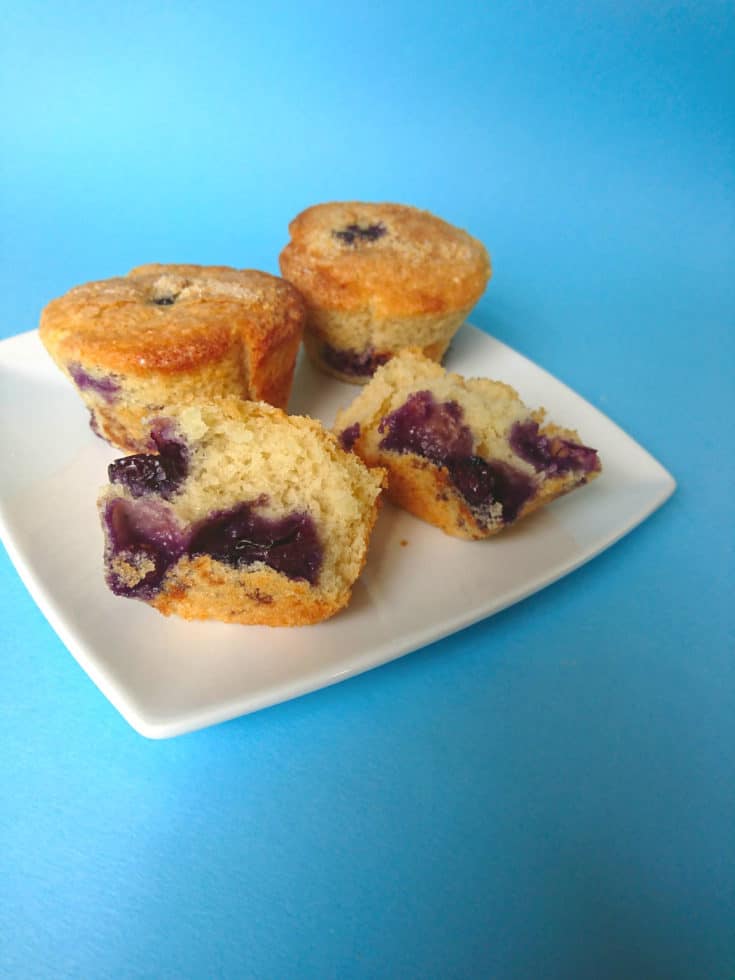 Ingredients
Batter
400 g unsweetened soy milk
1 tablespoon apple cider vinegar
325 g self-raising flour
325 g caster sugar
75 g ground almonds
1 lemon (zest only)
3/4 teaspoon baking powder
1/2 teaspoon salt
100 g light olive oil
150 g fresh blueberries
Crumb topping
1 tablespoon caster sugar
1 tablespoon ground almonds
Instructions
Preheat the oven to 200 °C/Fan 180 °C/400 °F/gas 6.
Line a 12-hole muffin tin with large paper cases so there's room for the batter to rise (I use the tulip style cases).
Weigh out the soy milk in a small bowl and stir in the vinegar. Set aside for later.
In a large bowl, combine all dry cake ingredients (flour, sugar, ground almonds, lemon zest, baking powder, salt) and stir until everything is well mixed. Pour in the soy milk-vinegar mixture and olive oil. Lightly whisk until a smooth batter forms, then fold in the blueberries. Evenly distribute the batter between the paper cases.
Mix together the sugar and ground almonds for the crumb topping before sprinkling on the top of the batter.
Bake them in the centre of the preheated oven for 15-20 minutes, or until well risen and golden brown. Test by inserting a cocktail stick into the middle of a muffin – it should come out clean. However, if there's any batter on the stick return the muffins to bake for a couple of minutes more and test again.
Set the cooked muffins aside on a rack until cooled before serving.
Notes
Storage: These muffins are best served within 24 hours of baking, but they will keep well for up to two days in an airtight container in a cool place.
Have you enjoyed this vegan blueberry muffin recipe or have some questions? Join in the conversation below!