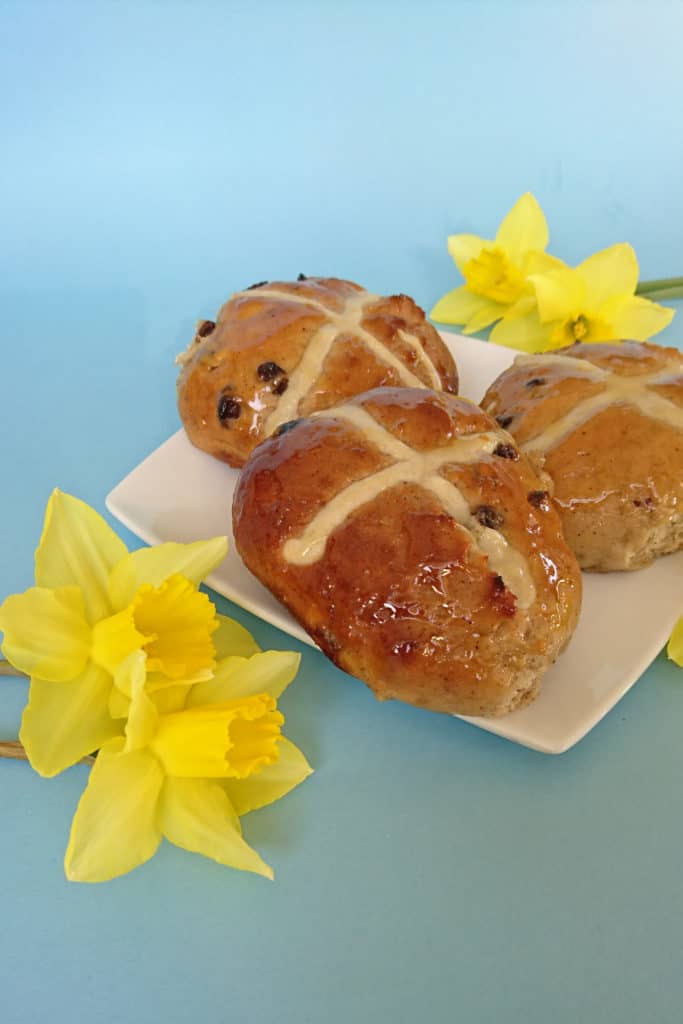 Springy, soft vegan hot cross buns are easy with this straightforward recipe. There are no hard to find ingredients here, and the finished buns taste just like my traditional recipe. Perfect at Easter, but you can enjoy them any time you like!
Although some store-bought hot cross buns are already vegan, it's the soft, fresh, homemade ones that I enjoy most. It's hard to beat home baking. From vegan English pancakes to Chelsea buns, I want to recreate all my favourite British recipes with plant-based ingredients.
How to make Hot Cross Buns Without Egg
Traditional hot cross buns contain egg. However, thanks to a simple egg-substitute, this easy hot cross bun recipe creates an authentic texture without any additional ingredients. The secret is tangzhong – a Japanese bread-making technique that makes softer, moister dough.
Tangzhong is not normally presented as an egg-alternative, but it delivers all the properties eggs do in soft, rich bread doughs and it's quickly becoming a major part of my vegan baking skills as I find new ways to use it.
I'll be explaining it in the recipe below, but the tangzhong method is genuinely very simple in practice – just cook some of the soy milk and flour in a pan to make a paste before adding it to the dough ingredients and kneading. The result however is remarkable. The buns have the perfect, soft, moist texture I was looking for.
A major upside to this method is that it's a technique, so it doesn't add any additional ingredients to the recipe and there are no flavour changes.
Tips for the BEST Hot Cross Buns
The dough needs to double in size twice
Unfortunately, Easter time isn't the warmest weather here in the UK, so yeast doughs rise slower and it can be tempting to bake the buns too soon. However, the two rising steps – first in the bowl, then on the baking tray – are essential. You just won't have the best texture if you bake too soon. There are ways to speed up the rising though, like placing them in a warm airing cupboard or sunny window However, whatever you do, the key point is the dough needs to double in size both times it rises.
Bake them fast and hot!
Keeping them moist inside while getting the outside deliciously golden requires a hot oven, so make sure it's well heated before the buns go in. And once they're in, watch closely as they won't take long to cook.
Knead the fruit in by hand – even if you're using a mixer
I love my mixer's dough hook, but it isn't great at incorporating fruit into this dough. Often the fruit ends up getting pushed to the surface, and if you keep going it ends up a bit mashed up and still on the surface.
Fortunately, incorporating the fruit is only a brief kneading step, so I normally use the mixer for the majority of the kneading then do the fruit by hand afterwards.
How to Glaze Hot Cross Buns
There are broadly two camps here – jam or golden syrup. Both have famous fans. Paul Hollywood uses apricot jam, but Mary Berry uses golden syrup. I've tried both and decided I prefer the more neutral flavour golden syrup. Plus golden syrup is a more common kitchen cupboard staple. However, they do taste different so I would recommend trying both and deciding for yourself.
Some Bonus Hot Cross Bun History!
You're probably making these for Easter. However, if not, you might be interested to know that Queen Elizabeth I would not approve of you making them! Smithsonian Magazine explains how she decreed in 1592 that hot cross buns could only be sold on Good Friday, Christmas, or for burials.
And don't think you can get away with baking them yourself secretly at home – because if you were caught they'd be confiscated and given to the poor.
History is weird.
Yield: 12
Vegan Hot Cross Buns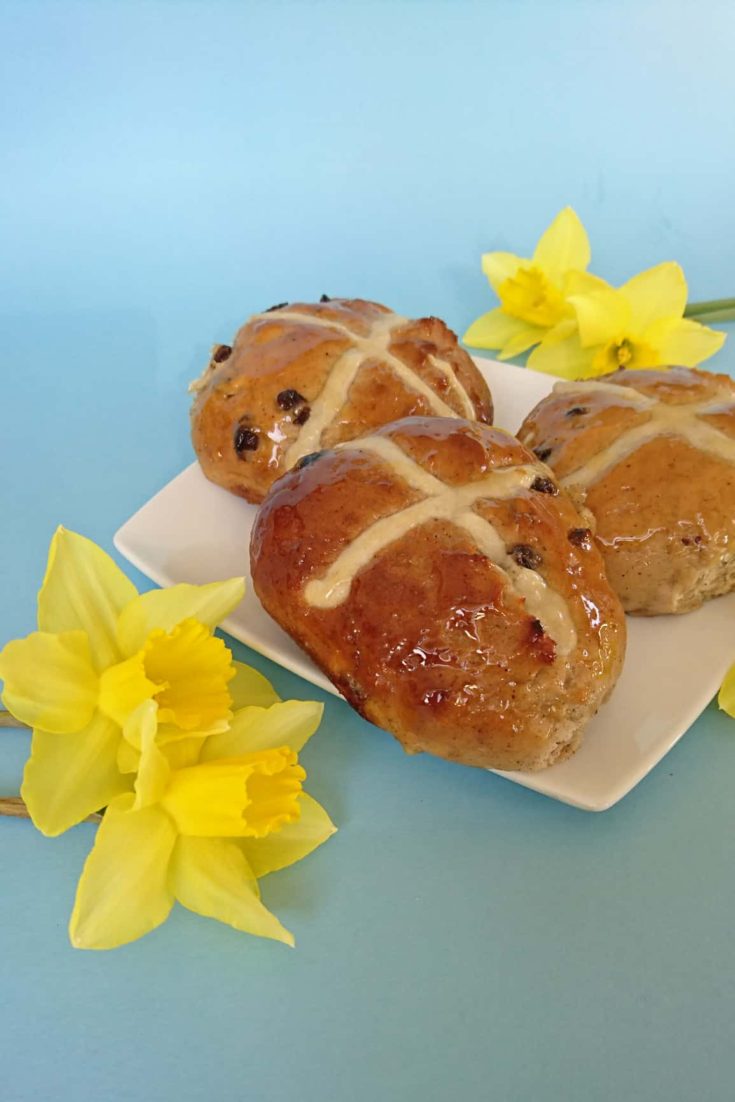 Springy, soft vegan hot cross buns are easy with this straightforward recipe. There's no hard to find ingredients here, and the finished buns taste just like my traditional recipe. Perfect at Easter, but you can enjoy them any time you like!
Total Time
2 hours
35 minutes
Ingredients
Tangzhong
125 g unsweetened soy milk
30 g strong white flour
Dough
470 g strong white flour
75 g caster sugar
2 teaspoon cinnamon
2 teaspoons mixed spices
1 small lemon (zest only)
1/2 orange (zest only)
1 teaspoon salt
2 teaspoons instant dried yeast
225 g unsweetened soy milk
50 g light olive oil
Fruit
200 g mixed dried fruit (Mixture of sultanas, rasins, currants and candied citrus peel)
Crosses
50 g plain white flour (aka all-purpose)
50 g water
Glaze
1 tablespoon golden syrup
Instructions
Making the tangzhong
Combine the tangzhong flour and soy milk in a saucepan and whisk until smooth. Place over medium heat and keep whisking. As soon as it thickens and forms a smooth paste that you can draw a line through, remove it from the heat and set it aside to cool until it reaches hand temperature.
Making the dough
In a large bowl, mix together the dry dough ingredients, then add the wet ingredients and the tangzhong. Stir with a spoon until it forms a sticky dough. At this stage, you can either tip it on to a lightly floured surface and knead until it forms a smooth, elastic dough, or use a mixer. Briefly knead in the mixed dried fruit by hand until evenly distributed throughout the dough.
Rise #1
Place the dough in a lightly oiled bowl, cover it and leave to rise in a warm place for one hour, or until doubled in size.
Shaping the buns
Briefly knead the dough to deflate it, then divide into 12 equal pieces. On a lightly floured surface, roll these into balls, then place them on a lightly oiled baking tray. Leave enough room between them so that when they've doubled in size they'll be just touching.
Rise #2
Loosely cover the buns with lightly oiled cling film and leave to rise in a warm place for one hour, or until doubled in size. Near the end of this rising, preheat the oven (220 °C, Fan 200 °C, 425 °F, Gas 7).
Making the crosses
To make the crosses, combine the flour and water to make a paste. Spoon in to a piping bag with a small nozzle and pipe lines across the buns to form the crosses.
Baking
Place the tray in the centre of the preheated oven and bake for 10-15 minutes, or until golden brown. Watch closely, they cook fast! Once they're baked, set the tray on a cooling rack until the buns are warm.
Glazing
Gently heat the golden syrup in a microwave-safe bowl for 5-10 seconds in the microwave, or use a saucepan over low heat. When it's warm enough the golden syrup becomes a thin liquid and you can brush the buns with it.
Notes
Storage: Once cooled they can be stored by wrapping in a cloth. Best eaten the same day they're made, but they'll be acceptable the next day.
Nutrition Information:
Yield:
12
Serving Size:
1
Amount Per Serving:
Calories:

286
Total Fat:

5g
Saturated Fat:

1g
Trans Fat:

0g
Unsaturated Fat:

4g
Cholesterol:

0mg
Sodium:

184mg
Carbohydrates:

55g
Fiber:

3g
Sugar:

16g
Protein:

6g
Have you tried these, or have a question? I'd love to hear from you in the comments below.