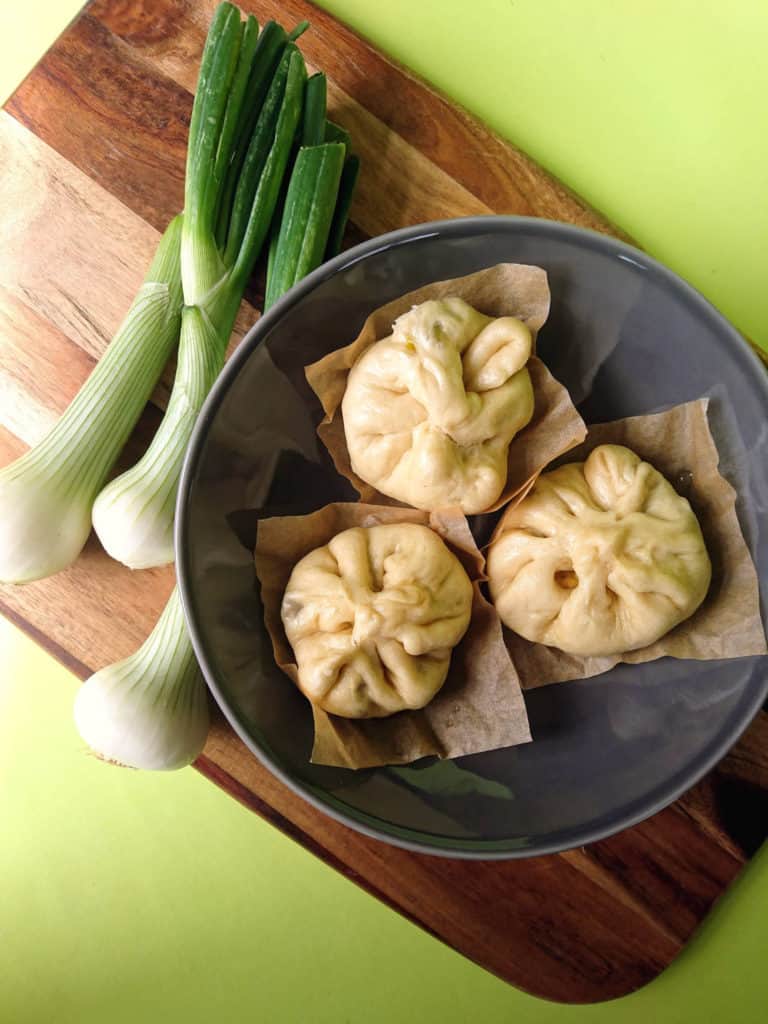 These vegan bao buns combine a super-soft steamed dough with an umami-rich filling made of mushrooms, leeks, and tempeh. Best enjoyed hot and fresh from the steamer.
I've been exploring more Asian cookery lately (check out my posts on creamy vegan peanut stir fry and how-to cook Japanese rice). I'm a huge fan of everything bread however, and a vegan version of these traditional buns looked like a great idea. Often they're stuffed with pork, but I'm using tempeh. This is my first tempeh recipe – and I'm sure it won't be the last.
Making vegan bao dough
I love making this dough, it's just so silky smooth and soft. It's the cornflour that does this. It also makes it a very easy dough to work with, since it holds on to water well and isn't wet or sticky to handle. It's a great recipe for cooks who are new to making dough.
You can knead by hand, or with a mixer's dough hook. Both options work well. I tend to use the mixer since I have one, it's easy, and it doesn't require a floured surface so my ratio of dry to wet ingredients doesn't change. This dough is very forgiving though, so an extra tablespoon or two of flour getting worked in during kneaded won't matter.
You can also make this dough and set it in the fridge overnight to proof. Perfect for making some fresh vegan bao for breakfast.
I love overnight dough because it feels like there's no waiting around. Just mix and knead it, stick it in the fridge overnight and the next day it's ready to go whenver you are.
Vegan bao fillings
You can put so many things in these little buns. I wanted something savoury, umam-rich and tangy however, so I picked chestnut mushrooms and leeks – which are fried to bring out their flavours and reduce water content. Then some finely sliced spring onion goes in. Since the spring onion isn't fried, it stays brighter and tangier – making a very rounded, full onion flavour. Season with toasted sesame oil and white pepper, and stir in some diced up tempeh.
We need to talk about the tempeh in this recipe. It soaks up the flavours wonderfully, but it also develops the best texture. It's like the perfect firmness.
Tempeh is also an excellent source of protein, and helps makes these buns a much more satisfying and healthy snack. Each bun has 8g protein!
How to steam the buns
It's pretty straightforward, but for the best results there's a few key rules to follow.
Start with a cold pan with cold water, leaving enough room under the steamer basket to ensure the water doesn't rise up and directly touch the bao. The goal is to steam them, not boil. Arrange the uncooked buns on paper squares around the pan, leaving room for them to expand without touching. Then put the lid on the steamer and bring the water to a boil. Steam the buns for ten minutes – keeping the lid on throughout. When they're done steaming, turn off the heat and leave them another ten minutes – also keeping the lid on throughout. After this, you can take the lid off and serve the buns.
I love their softness and fresh texture. The dough just pulls apart.
Yield: 12
Vegan Leek, Tempeh & Mushroom banh bao (Baozi)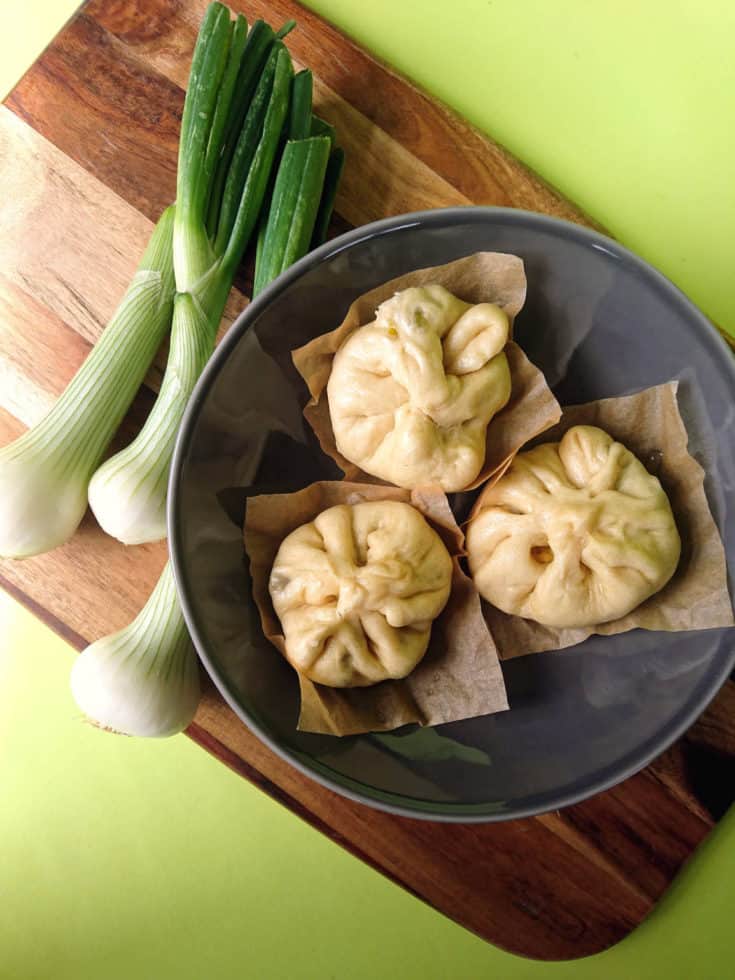 These vegan bao buns combine a super-soft steamed dough with an umami-rich filling made of mushrooms, leeks, and tempeh. Best enjoyed hot and fresh from the steamer. Recipe from veganrecipebowl.com
Ingredients
Dough
300 g white bread flour
25 g cornflour
1 tablespoon caster sugar
1 teaspoon instant yeast
1/4 teaspoon baking soda
1/4 teaspoon salt
175 g warm water
1 tablespoon sunflower oil
Filling
1 tablespoon sunflower oil
250 g chestnut mushrooms (washed and diced)
1 small leek (tough leaves discarded and thinly slice)
225 g tempeh (diced)
1 spring onion (finely sliced)
1/2 tablespoon toasted sesame oil
1 teaspoon tamari (or light soy sauce)
1/2 teaspoon caster sugar
1/8 teaspoon ground white pepper
1/8 teaspoon salt
Instructions
Start by making the dough. Combine the dry ingredients in a bowl, then add the oil and water and mix with a spoon to make a sticky ball. Turn it out on to a floured surface and knead until smooth and springy - about five minutes. Then place in an oiled bowl, cover with clingfilm and leave in a warm place to double in size – about an hour to an hour and a half.
While the dough is rising, make the filling. Heat the oil in a large frying pan. When it is good and hot add the mushroom and leek. Stir these briskly until cooked. The goal is to cook it hot and fast so that the water released is boiled off and doesn't collect in the pan. Once cooked, transfer to a bowl. Add the remaining filling ingredients and stir well to combine.
Once the dough is doubled in size, turn out on to a lightly floured surface, lightly knead and then divide into 12 equal pieces. With your hands, roll each piece into a ball, and then with a rolling pin roll them out to circles (~12cm diameter).
Place a dough disc in the palm of your hand, then place a heaped tablespoon of filling in the centre. With your other hand, bring the edges of the dough up and pinch them together to close the bun. Give the top a twist to seal it. Place each bun on a square of baking paper.
To cook the bao, set a steamer over a pan of cold water. Put the bao in the steamer basket, still on their baking paper mats with room to expand without touching. Put the lid on the steamer, and turn on the heat to medium-high. Once the water is boiling, reduce the heat to medium and steam for 10 minutes before turning off the heat. Leave the lid on for 10 minutes before removing and serving the bao.
Nutrition Information:
Yield:
12
Serving Size:
1
Amount Per Serving:
Calories:

166
Total Fat:

5g
Saturated Fat:

1g
Trans Fat:

0g
Unsaturated Fat:

4g
Cholesterol:

0mg
Sodium:

126mg
Carbohydrates:

23g
Fiber:

1g
Sugar:

2g
Protein:

8g
Have you tried these vegan bao buns or have a question? Whatever your thoughts, I'd love to hear from you in the conversation below!