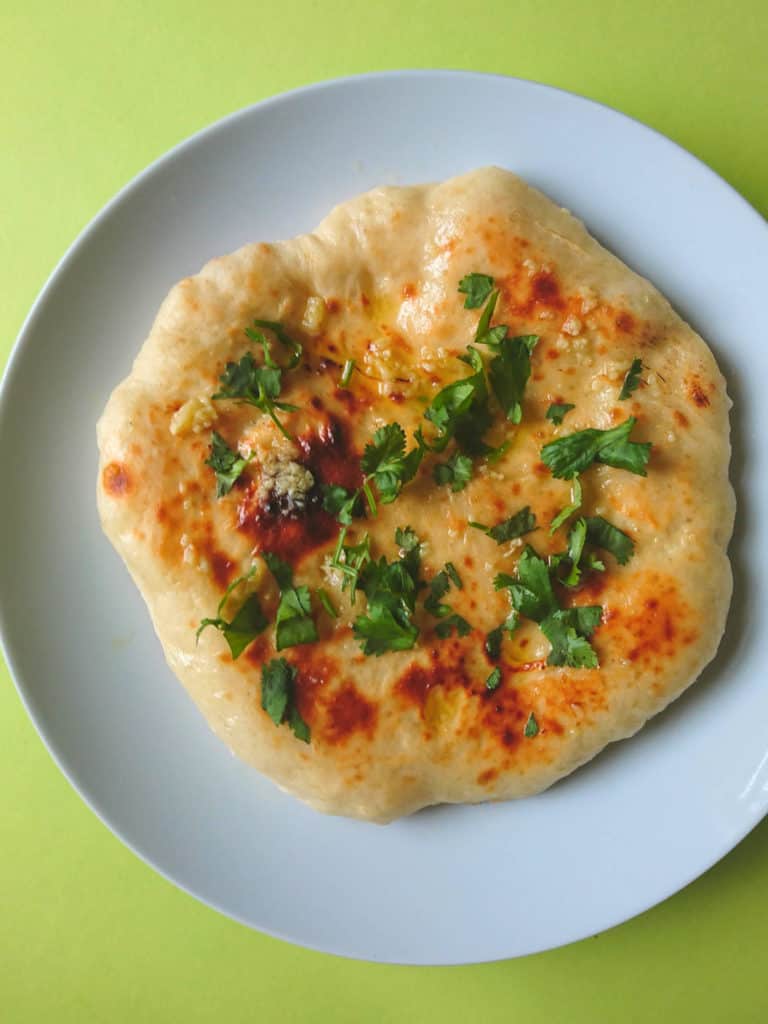 I've been enjoying and experimenting with this vegan naan recipe for years. I first created it long before I became a vegan. Fortunately, the dairy yogurt can be replaced with soy yogurt, so I quickly veganised my recipe and kept on making it.
There's a number of vegan flatbreads in Indian cuisine. Roti and chapatis are often vegan – or at least easily made that way. Naan isn't typically vegan however. But it's one of my favourite indian breads, so I had to make a vegan recipe. Home made naan is absolutely worth it too, because nothing from a packet has ever replicated the soft yet chewy texture of fresh naan.
The thing is, until now I've never had an exact, well-documented naan recipe. It just lived in my head and I would tweak and experiment with the recipe regularly.
So I set about developing something that's easy to make and tastes great. Crucially, get the ingredients, their ratios right, and most of all, the method right. A massive part of making good naan is using the right method.
How to make vegan naan that tastes authentic at home
Traditional naan is a yeast leavened bread that's cooked in a very hot tandoor oven. Most people in the UK don't have a tandoor, so I've improvised with various methods and recipes over the years. This recipe is designed for cooking in a skillet and grill. One of the crucial issues is the speed of cooking. Tandoor naan cooks in about one minute! I can't cook naan that fast with any method I've found, so there's a risk my naan will be drier because longer cooking drives off more water. To solve this, I'm using a strategy borrowed from my pizza dough recipe, which is to use a slightly wetter dough.
Wetter dough buys us some time to cook the naan a bit slower, but we still need to replicate a tandoor as much as possible. The method I like best has two stages. First cook the naan in a hot frying pan or skillet with a lid on. The hot pan creates that authentic, crisp brown bottom while the lid traps the steam and puffs the naan up. Then transfer to a hot grill to brown the surface. This replicates the intense radiant heat that naan bread experiences in a tandoor.
For the best flavour, put the bread close to the grill element and cook until there are some very dark patches. I love the darkest brown patches, they're so deeply and just a little bit smoky. They're the perfect compliment to a rich, tomato based curry.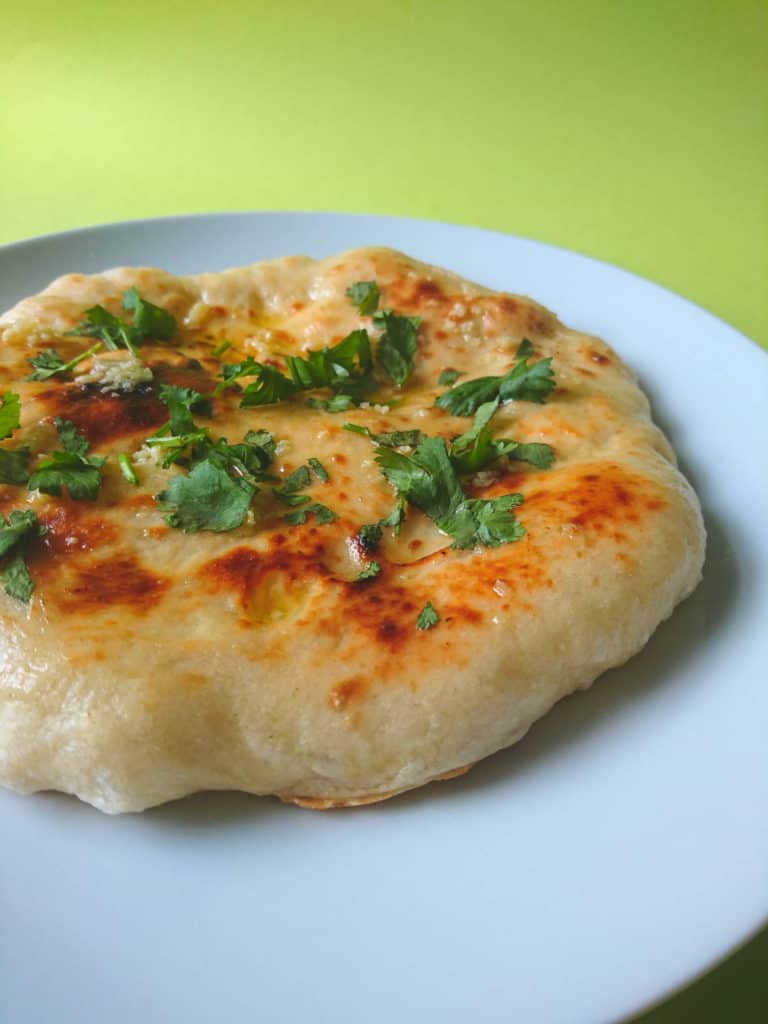 As for toppings, I experimented with various ghee alternatives. I've realised I like simply cooking down a little dairy-free margarine to remove the water. Cooked down margarine doesn't make the bread soggy. It also has the right kind of feel in the mouth, and the garlic and fresh coriander fill it with flavour.
Yield: 2
Garlic Coriander Vegan Naan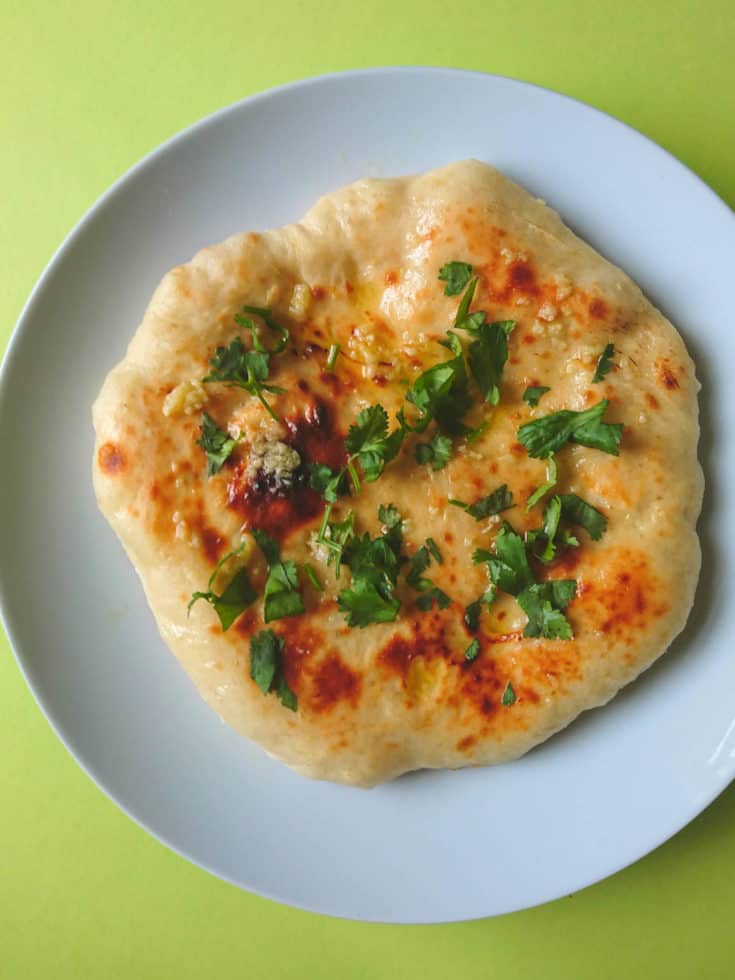 Soft, puffy and airy, this delicious vegan naan recipe is brushed generously with garlic butter and a sprinkle of fresh coriander
Total Time
1 hour
30 minutes
Ingredients
Dough
300g strong white bread flour
1 sachet instant dried yeast (or 1 teaspoon from a packet)
1 teaspoon caster sugar
1 teaspoon salt
125g plain, unsweetened, unflavoured soy yogurt
15g sunflower oil
90g warm water
Topping
1 tablespoon dairy-free margarine
2-4 cloves garlic, finely minced (adjust to taste)
2-3 tablespoons fresh coriander (finely cut)
Instructions
For the naan breads
In a large bowl combine the dry dough ingredients (flour, sugar, salt, yeast) and mix together. Add the wet dough ingredients (soy yogurt, oil and water) and knead until a smooth, elastic dough forms. You can knead with a mixer, or with lightly oiled hands on a lightly oiled surface.
Divide the dough in to 2 equal pieces, then with lightly oiled hands shape them into balls by pulling the sides of dough underneath and tucking them underneath the ball. Repeat this motion while roating the ball and the dough will come together into a tight, smooth round.
Place each ball in its own lightly greased bowl - leaving room for it to expand. Cover and set aside in a warm place to rise until at least doubled in size. This takes roughly 1-1.5 hours, depending on temperature.
While the dough is rising, make the garlic butter. In a small pan, heat the margarine. At first it will melt and bubble, but once the bubbling stops turn off the heat. Allow it to cool to lukewarm before mixing in the minced garlic, then set aside for later.
Once the dough has risen, transfer each ball to a lightly floured surface and gently, without heavily working the dough, stretch each ball out to around 25 cm. I tend to gently lift the dough by the edge and just let gravity stretch it out.
Set the shaped dough aside on a lightly floured surface while heating the skillet and grill.
Heat the skillet with the lid on. I like to use an electric skillet set to 380 °F / 200 °C, but you can use a skillet on the hob too. Set the gill to it's highest setting.
Once the skillet is hot, place a bread inside it and put the lid on. It won't take long to cook, so check after 2-3 minutes by lifting the edge of the naan with a spatula. When it's dark brown, the bread is ready to transfer to the grill. Place the naan close to the grill element and watch closely. Once it's dark and speckled, remove it from the grill.
Brush each naan with the garlic butter and sprinkle with fresh coriander. Serve immediately.
Notes
Storage: Naan is best served fresh, but you can wrap it in a clean, dry cloth and save for later.
Can you make this as an overnight dough? Yes, in fact this is typically how I make naan bread. Just place the dough in the fridge at step 3 and allow it to rise overnight. Remove it an hour or so before you need it the next day and continue from step 4.
Nutrition Information:
Yield:
2
Serving Size:
1
Amount Per Serving:
Calories:

792
Total Fat:

23g
Saturated Fat:

3g
Trans Fat:

1g
Unsaturated Fat:

18g
Cholesterol:

0mg
Sodium:

1074mg
Carbohydrates:

124g
Fiber:

4g
Sugar:

11g
Protein:

20g
Have you tried this vegan naan recipe? Or have any questions? Join in the discussion below!