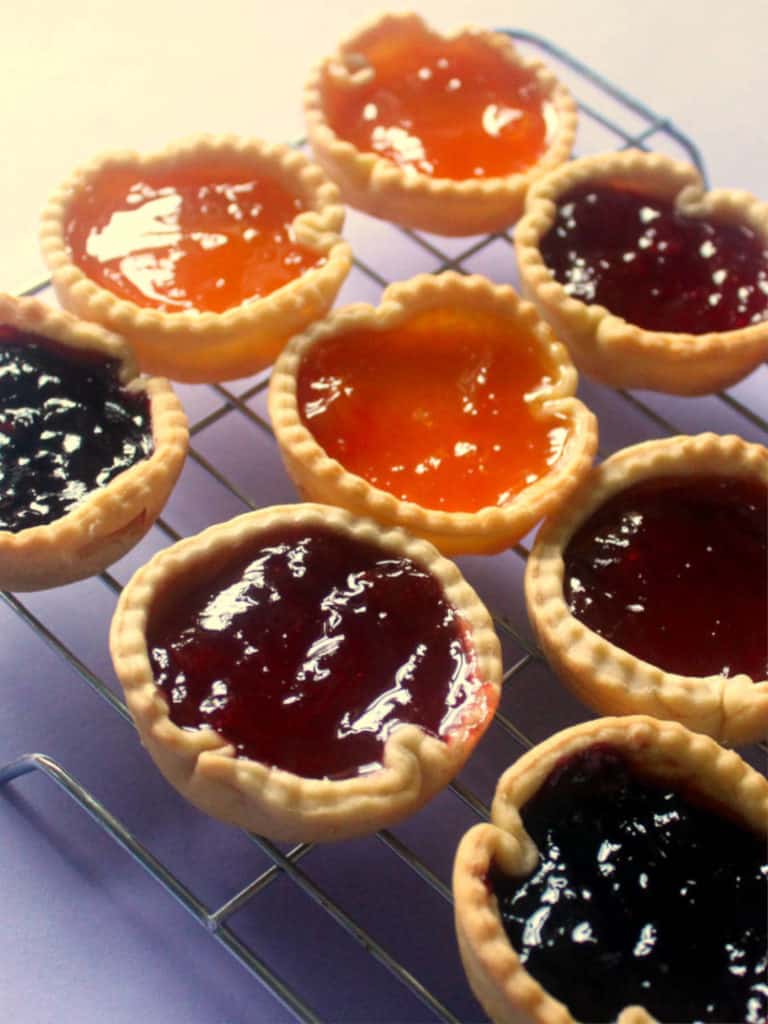 Vegan jam tarts are easy with the right recipe. It only takes a handful of common ingredients to make a plate of fresh, home made jam tarts.
Frankly, it's pastry cases with jam in. Some are better than others though, so it was well worth figuring out a good recipe.
How to make perfect vegan jam tarts
To ensure they're flaky handle the uncooked pastry lightly. The problem with stretching or kneading pastry dough is that it tangles up the protein in it and makes it go tough and hard.
Crisp, flaky shortcrust pastry is a crucial feature of a good jam tart.
To make them crisp, bake in a hot, preheated oven. Heating them quickly expands the pastry a little before it sets, giving it just enough lightness to be flaky.
I've opted for thin pastry. I roll it about 1/2 cm thick, but it does get a bit thicker when it puffs up in the oven. I like them this way, but you can always increase the pastry quantities by half to make them a bit chunkier if that's the way you like them.
Green Tip – You don't have to throw out leftover scraps of shortcrust pastry from other recipes, they can be easily used up by making a few jam tarts.
What kind of jam is suitable?
The classic jam tart most people think of is probably strawberry jam. But you can use anything you like – just don't overfill them as the jam bubbles up during baking. A selection of flavours is good, so I've used some shop bought apricot, blackcurrant and strawberry for these. However, home made preserves – like this easy strawberry jam – are my favourite when I have some.
Any questions or suggestions?
If you have any thoughts about this vegan jam tart recipe, join in the comments below! I also love when people tweet their recipe photos to me at veganrecipebowl
Yield: 12
Vegan Jam Tarts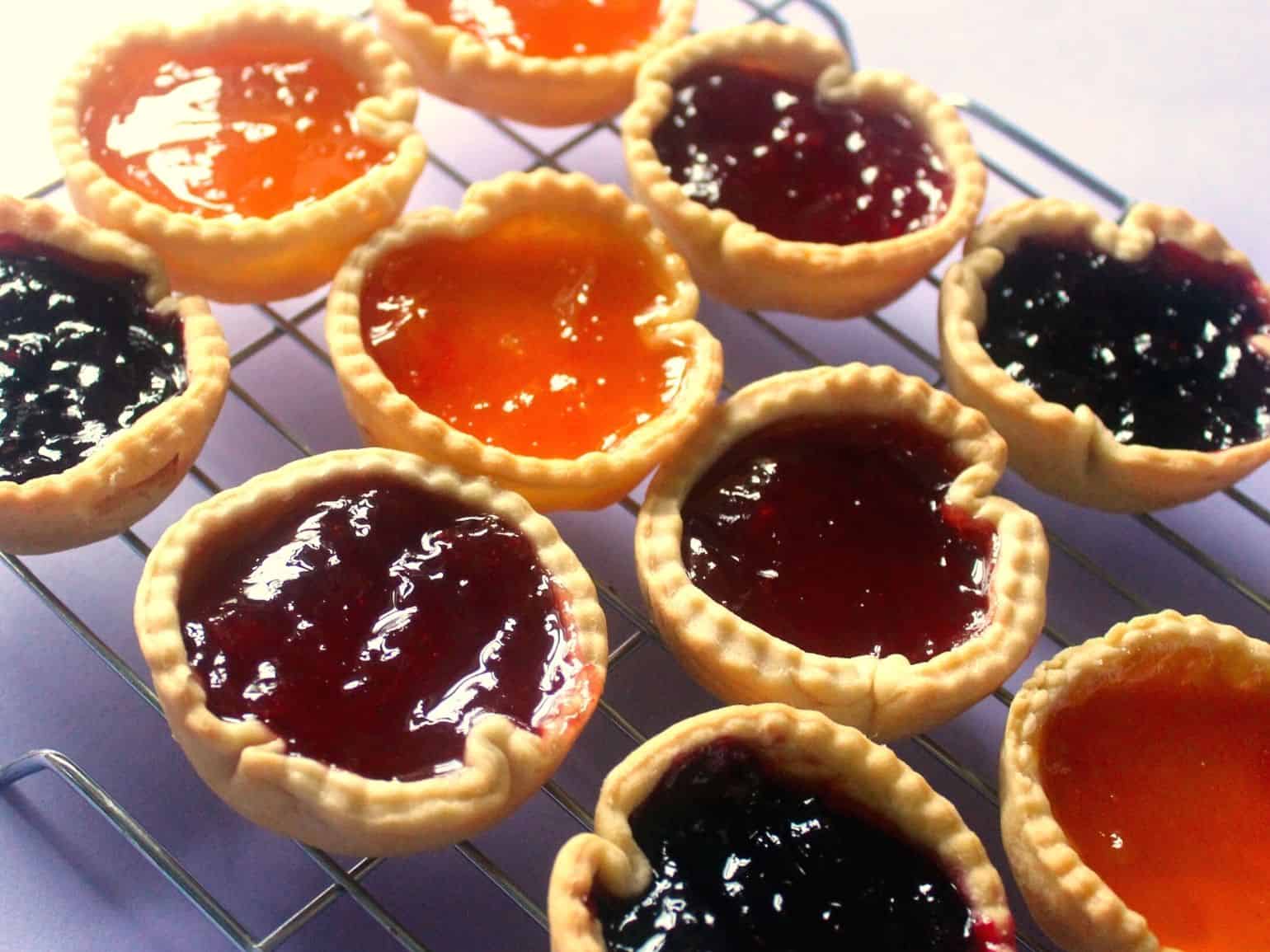 Vegan jam tarts are easy with the right recipe. It only takes three common ingredients to make a plate of fresh, home made vegan jam tarts.
Ingredients
250g plain flour (aka all purpose)
125g dairy-free margarine
75g cold water (approximately)
400g jam (any flavour)
Instructions
Preheat the oven to 200 °C/Fan 180 °C/400 °F/gas 6.
In a large bowl, combine the flour and margarine. With your hands, gently rub them together until they resemble breadcrumbs. Pour in the water a bit at a time, mixing with a table knife after each addition. The important thing is to cut through the pastry as you mix, rather than knead or stretch it. This avoids the pastry becoming tough. Once the pastry comes together as soft, smooth dough, stop adding water and place the pastry in the fridge for ten minutes to rest.
Once the pastry has finished resting, roll it out on a lightly floured surface to about 1/2 cm thick. Use a 9 cm round pastry cutter (or large glass) to cut out 12 circles. You will need to bring the scraps together and roll the pastry out once or twice to make all the circles.
Place the circles in a muffin tin, then evenly divide the jam between them.
Bake for 15 minutes, or until the pastry is a little golden and the jam has melted. Allow to cool to room temperature before serving.
Notes
Storage: You can store jam tarts in an airtight box or tin for a couple of days.